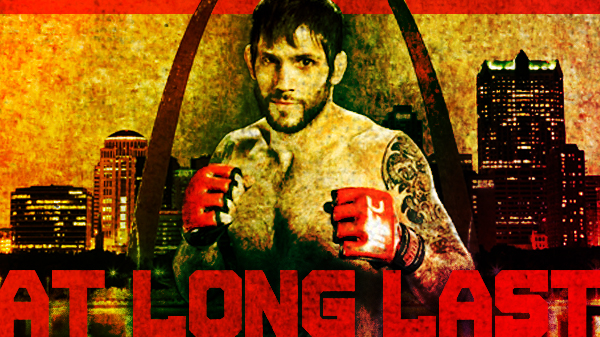 Luigi: At Long Last
He's trained here, he's coached here, and he's cornered here. Come Saturday, Luigi Fioravanti will get to do what we've all wanted him to do since he landed in the Gateway City.

Fioravanti is slated to take on Josh Thorpe in the main event of Shamrock Fighting Championships: Relentless at the Lumiere Casino.

Fioravanti has as decorated a fighting pedigree as there is in St. Louis.

A former Marine, he was deployed to Kuwait for five months in 2003 and then started fighting professionally in April of 2004. He has mixed it up in Italy, Russia, Japan, and Guam.

With four wins in the UFC Octagon, he has seen plenty in the welterweight and middleweight divisions. The nine-time UFC veteran has fought some big names along the way in Jon Fitch, Diego Sanchez, Chris Leben and Anthony Johnson among others. Fioravanti was a long time member of American Top Team of Coconut Creek, FL and he earned his Brazilian Jiu-Jitsu black belt from ATT mastermind Ricardo Libario.

After a year-and-a-half away from the sport, Fioravanti got back in the cage this spring when he traveled to California to face Edwin Aguilar at Flawless FC. Fioravanti made quick work of Aguilar, submitting him in just a little over 40 seconds into the first round.

Now he gets the chance to do the same in the city he now calls home.

"I needed a fight and I wanted to jump on it and get something," he said.

Fioravanti (23-11) is somewhat familiar with his upcoming opponent. He worked the corner when Thorpe faced a teammate of his at a M1 event.

"He's scrappy," Fioravanti said. "He scrambles well and uses his wrestling background."

Fighting since 2009, Thorpe (13-10) is an Alabama native and is 1-2 coming out of a three-fight run for the Kentucky-based Absolute Action MMA. He has fought as light as 145-pounds while Saturday's fight will be at a catch-weight of 180-pounds.

While some may think Fioravanti will run through Thorpe like a freight train through a house of cards, the "Italian Tank" is way too seasoned to let such thoughts venture into his head.

"I've gone into fights over confident, I don't do that anymore," Fioravanti said. "This sport is way too unpredictable. If you're too confident, you get lazy and then you get caught. I'm always very cautious."

Fioravanti was supposed to make his St. Louis debut in June at MMASF Journey to the Top 2. There he was going to take on talented young pro Chris Heatherly. But a bad case of food poisoning a night before the fight caused Fioravanti to drop out just hours before he was set to touch gloves.

"I was really down and felt really bad afterwards," Fioravanti said. "I felt bad for the fans. I would still like to fight Chris. Hopefully down the road it can happen. It just depends where our two career paths take us."

Since landing here from Florida in the spring of 2012, he bounced around and even owned a gym for a brief time, but now Fioravanti has found a home at Finney's MMA where he teaches BJJ. What Fioravanti found the most inviting about Finney's was the bevy of quality training partners at his disposal. On any given day he can train or spar with the likes of former UFC middleweight Adam Cella, boxing expert Kevin Engle, fast-rising star Andrew Sanchez, wrestling specialist Ryan Sutton, and the brutishly strong Josh Weston.

"There are a bunch of different body styles from wrestlers to strikers," Fioravanti said. "It's diverse and they're all pros in every sense. It's just a good group of guys."

Also at Finney's, he's been given the opportunity to swap secrets and learn a few new ones from BJJ superstar Ezra Lenon. Lenon is considered one of the top BJJ players in the entire world, demonstrated by his recent invitation to compete in the 2013 Abu Dhabi Combat Club Submission Wrestling World Championship in Beijing, China.

When this writer mentioned his love to be a fly on the wall during a roll between the two black belts, Fioravanti didn't mince words.

"He's been a black belt longer than me and I haven't competed in a jiu-jitsu tournament since 2004," Fioravanti said.

But what about in a gi?

"He'd still smoke me," he added. "He's on a different level."

Fioravanti is considered to be on a different level inside the cage. When we released our first ever Power Rankings, where the staff ranked, pound-for-pound, the top 10 pros in St. Louis, Fioravanti came in at No.9. While no denying his talent, many fans and internet chats asked if he should even be considered a fighter from the STL considering he had, at the time of the voting, never fought here before.

"I can see where those people were coming from," Fioravanti said. "They have been following these guys since they were amateurs up through the pros and they have built quite a following and all of a sudden here is a guy who isn't necessarily from St. Louis. I understand."

As of now, the career path for Fioravanti is simple; string together some wins, build some momentum and grow his St. Louis fan base. Hopefully all of that will lead back to the UFC Octagon.

He will have ample opportunities on the horizon. Along with this week's fight, he is slated to be the main event at a MMASF Nov. 15 card, where he is scheduled to face Tiawan Howard.

And by the looks of things, he has settled in St. Louis. His wife is from Kentucky and they both enjoy the combination of urban and rural life the region has to offer, not only sampling the fine cuisine and spirits but also spending time hiking at Castlewood State Park and meeting up the friends and training partners at Fort Leonard Wood.

"We like it here," Fioravanti said. "It's a good town and we're enjoying it."

And now it's time for St. Louis to enjoy a little Fioravanti.