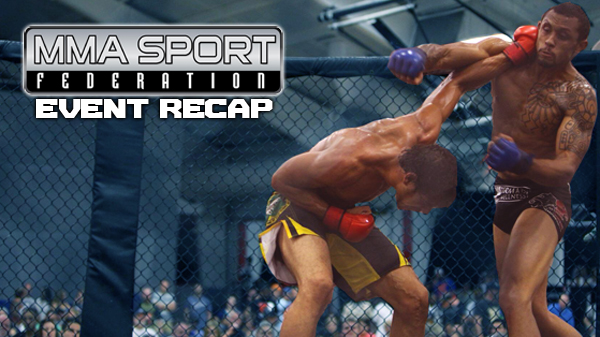 MMASF: Freeman vs Budnik - Recap
It speaks of the quality of the card MMASF put together for Saturday that two anticipated bouts could drop off the main card yet the night was brimming with exceptional pro/am action at the Center of St. Louis in Affton.

The main event bout between Zach Freeman and Mike Budnik didn't come to fruition due to Budnik suffering an injury in the final days leading up to the fight and a replacement opponent could not be agreed upon. The pro debuts of Matt Helm versus Clay Mitchell was scrapped on fight night. Though not confirmed, it was reported to be dehydration that caused Mitchell to visit with medical officials and a decision was made soon after.

Thrust into the main event was a fight worthy of its new time slot.

Veteran lightweights Eric Irvin and Sal Woods displayed their seasoned ground skills in a quick, back-and-forth position exchange that ended in Irvin winning by rear naked choke in the first round.

The win was Irvin's third straight as he improved to 8-3.

Irvin went in early for the takedown and nearly got caught. The wily Woods clamped down tight on a guillotine and was tightening the pressure. When the choke didn't take, Woods transitioned to Irvin's back but Irvin was able to dump Woods over the top and ended up in side control. Irvin stayed heavy on top and eventually worked his way to Woods' back. The two former standout wrestlers jockeyed and inched for position before Irvin locked in a body triangle. Woods did a fine job keeping out of harm's way but at the 3:05 mark, Irvin, out of Destruction MMA, got the tap.

"That guillotine was tough, it took me off guard," Irvin said. "I'm always training from tough positions like that and that's a position I've been in before and training kicked in. It was instinctive."

For video interviews with Irvin and other winners from MMASF available here on Monday.

Dan O'Connor was persistent and consistent.

O'Connor faced Malshon Ball in the evening's co-main event and did what he does best. Ball started the fight with a big takedown, that O'Connor quickly turned into a guillotine attempt.

Ball eventually worked his way to side control but O'Connor snared him back into his guard. As Ball tried to get the fight back to its feet, O'Connor went for another guillotine and this one took, getting the first round submission victory.

O'Connor, in his first fight for St. Charles MMA, improves to 6-2 and earns his fourth submission victory.

Adam Meredith knocked the rust off his game against the never-say-die Joel Blair.

Meredith, a SCMAA product, got the TKO win in the third round but it didn't come easy. Meredith put on two, tight rear naked chokes during the first round but Blair staved off what looked like certain submissions.

Meredith's size, strength, and grappling ability gave Blair problems all night.

Blair did open up a nice cut about Meredith's eye and in the third round the central Illinois product threatened with a triangle but Meredith broke free, eventually trapping Blair's arms and landed several elbows to get the stop at the 2:34 mark.

Meredith is now 2-1 as a professional.

Impressive clinch work early on was key to Fazlo Mulabitinovic's win over Nick Dioneda.

Mulabitinovic landed some hard knees and an elbow that opened up Dioneda. A bloody Dioneda pressed the action in the third round, pinning Mulabitinovic against the fence but there was little left to finish. Mulabitinovic won a unanimous 29-28 decision.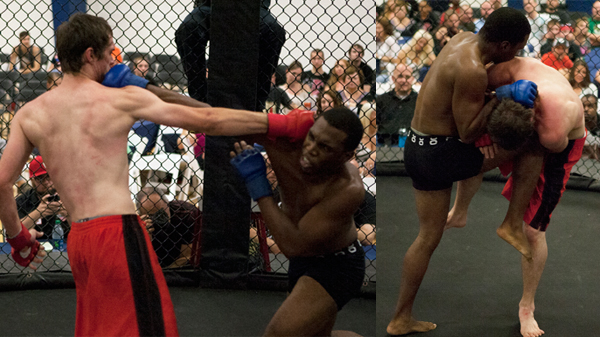 MMASF: Freeman vs Budnik - Recap - Part 2
By Jason Carr - Photos by Jimmy Range

There are so many things that can go wrong putting an MMA event together, and most of the time, a number of them do. A good promoter is able to overcome these obstacles and turn out a product that doesn't leave the fans unsatisfied. Jim Jenkins proved Saturday night that you can lose your main event, have issues with construction at the facility, and have fights drop off the night of the show and still crank out a show that the fans will be talking about for days to come.

Having to be shuttled in from a satellite lot, due to construction at the venue, didn't stop a crowd of over nine hundred from pouring in to see MMASF's pro/am card. The many vendors and concessions gave the crowd plenty to do between fights as well.

The second pro bout of the evening proved to be yet another early stoppage as Bernard Thomas made an impressive pro debut against a very tough Jason Powell. Powell answered the bell ready to throw down, swinging and missing with a spinning kick and looping right hand. Thomas trips Powell up and lands a big shot on the way down that rattled Powell. Thomas ends up on top and brings down a couple of big shots before Powell is able to scramble to his feet, still visibly shaken. After a short exchange on the feet, Powell shoots in for a double leg, putting Thomas on the canvas. Thomas seemed unaffected as he finds his way out from under his opponent, is able to take his back, and submits Powell with a rear naked choke midway through the first round.

John McLaughlin and Matt Murphy got things underway for the first bout of the pro segment of the card. In what appeared to be the beginnings of quite a slobberknocker, Murphy checked a leg kick from his opponent that sent McLaughlin on the canvas in a scary Anderson Silva-esque moment. Though not as devastating as The Spider's gnarly leg break, McLaughlin was very hurt and unable to continue. Murphy secured the victory via ref stoppage in just ninety seconds in the first round.

In the final bout of the amateur portion of the card, Justin Maramba and Jon Rosener
squared off in yet another quick bout. Rosener appeared to be the more confident fighter
from the moment he stepped out from backstage. Maramba looked a bit skittish and
uncomfortable until the bell sounded to start the fight. Once things got underway, it was
evident that Maramba was just fine. The fight went to the ground early, both fighters
working submission attempts, many transitions along the way. It was Maramba who had
the final word as he secured a choke that brought the fight to an end just over midway
through the first round.

The third matchup of the evening pitted Billy Marcee against AOC's Ricky Bell. Round one saw a lot of healthy, aggressive exchanges with Bell really pushing the pace. After a round of solid action, the fighters retreated to their corners, with Marcee sporting a cut under his left eye.

The second stanza proved to be just as entertaining as the first with both fighters landing a number of solid blows. Bell managed to get a hold of Marcee and landed a brutal knee to the body that had Marcee reeling as he crumpled to the mat. Bell pounced on with a few more blows and referee Josh Stewart called a stop to the action. CMMA's Jordan Dowdy made quick work of Wayne Phillips in the evening's fourth contest. Dowdy seemed in control from the opening bell, securing a solid takedown and applying a healthy dose of ground and pound to his opponent. Phillips was forced to tap to strikes after a series of throttling blows from Dowdy.

The second bout of the evening, although entertaining, wasn't nearly as technical. Chris Seip and Ace Anderson, meeting at 175lbs, threw it all out the window as they came at each other with a barrage of overhand rights. Seip scored a takedown that put Anderson on his back and he started working on a head and arm choke. Being too close to the cage to spin off and sink it in deep, the round came to an end with Seip on top.

The second stage wasn't nearly as engaging as the first, as both fighters seemed less anxious to exchange. After a number of feints and jukes, Seip secured another takedown and rained some shots down on Anderson. Anderson, noticeably hurt was forced to tap to strikes.

The evening started off with a 140lb catchweight bout between Greenville, Illinois' Zach Allen and St. Charles MMA prospect Josh Augustine. After a few exchanges with little damage, Augustine took the fight to the mat. Once there, Augustine started firing through submission attempts, nearly ending the fight with a very slick transition from a guillotine to a triangle. Allen was able to weather the storm and survived the round. When round two got underway, it was more of the same, but this time, Augustine was able to sink the triangle in deep. Allen wasn't able to survive and the fight came to an end halfway through the second round via submission.