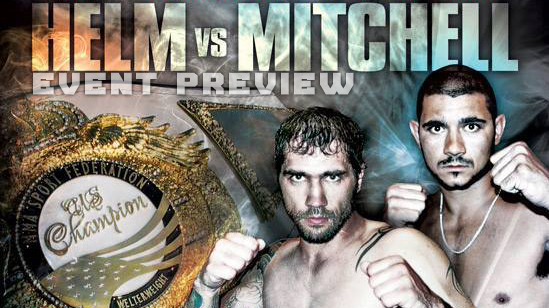 MMASF: Helm vs Mitchell - Event Preview
Following on the heels of an exciting night of pro and amateur K1, Jim Jenkins and the MMA Sports Federation return to their roots with an all-amateur MMA card.

Jenkins is rewarding two of his most loyal amateur fighters with a chance at a title belt as Clay Mitchell, from Carlyle, IL, will take on St. Charles' Matt Helm. This bout was originally scheduled to take place in November but a nasty case of the flu left Mitchell worse for wear and unable to compete. The bout will now move from the undercard to top billing on Friday.

Mitchell has made a bit of a name for himself in St. Charles having fought almost entirely on Jenkins-produced events. An unfortunate injury stoppage cut short a July fight with Scott Futrell. Mitchell tore tendons in his shoulder that prevented him from answering the bell between rounds. Mitchell is tall and athletic, and while not extremely technical, is hard to put away. He'll look to use his range to keep Helm at distance while he work his stand-up.

Helm trains with the animals at St. Charles MMA and while a future run at the UFC is probably not in the cards, there's plenty of fight left in the 33-year old constructions worker. The Wolverine look-alike Helm is riding a three-fight win streak, and his well-rounded ground game could prove tough to handle for Mitchell should he get the fight to the ground.

Helm's teammate, Erion Zekthi, will compete in the opening round of the bantamweight tournament that is part of a cooperation between Fight Hard MMA and MMA Sports Federation. Levi Rose was successful in the opening round at last month's Fight Hard and will face the winner in April.

Zekthi will take on Jordan Collins, a well-traveled amateur who's shared the cage with several of the area's best including Ken Porter, Trevor Ward, and Ira Lukowsky. Zekthi is looking to rebound after dropping a decision K1 loss to Garrett Armfield in February which should fuel the fire of the very competitive young prospect.

On the undercard, Nick Kreutz from Moriarty MMA and Watson's Martial Arts is someone to watch for. He's a very athletic, strong fighter with great takedowns. He'll be taking on the tall, rangy Jamese Taylor from Modern Combat System who looked very impressive at the February Fight Hard. If Kreutz can figure out the range of the southpaw Taylor, he should be able to finish the fight on the ground, but don't count out Taylor who trains with the likes of Hugh Pulley and Cjay Hunter, and will be difficult to take down.

It has been said many times before, Jenkins is one of the area's best matchmakers and despite losing some of his top talent to other promotions, he always seems to find that diamond in the rough.


Clay Mitchell vs Matt Helm - MMASF Welterweight Title
Jordan Collins vs Erion Zekthi - Bantamweight Tournament Match
Dustin Hiesse vs Patrick Sparks
Jamese Taylor vs Nick Kruetz
Quentin Garrison vs TBA
Cory Tinnon vs Irfan Mulabitinovic
Dee Cannon vs Dan Essenpreis
Nick Hunt vs Chris Seip
Tim Berry vs David Jordan
Ryan Brickford vs Peter Paplanus
Brad Oelzen vs Anthony Boyd
Ryan Shelton vs Justin Williams
Justin Davis vs Colin Parr
Zach Allen vs Caleb Springer

MMASF: Mitchell vs Helm
Friday, February 28th
Heart of St. Charles, St. Charles, MO

Original artwork by Jan Speelman-Jenkins at Dimensional Design.