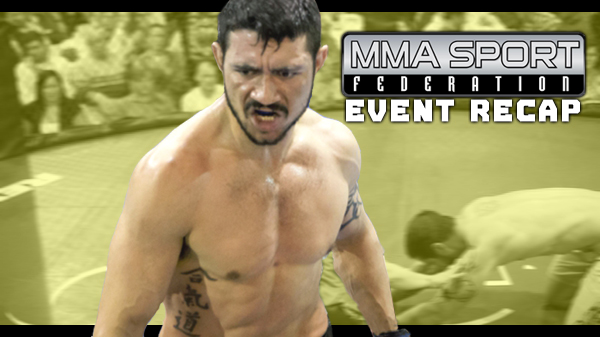 MMASF: Helm vs Mitchell - Event Recap
The MMASF welterweight belt was there for the taking Friday night at the Heart of St. Charles. A packed house witnessed Clay Mitchell and Matt Helm vie for the vacant title.

In the second round, Mitchell pulled off the upset when he seized the opportunity that he created to pound-out a TKO victory in the second round.

"Clay has really grown a lot," MMASF's Jim Jenkins said. "They are absolutely two of my favorite in this business because they're class guys and they work real hard. It's tough. There's that pit in my stomach. I wanted to give them both a hug when it was done."

Helm, who came in riding a three-fight win streak, started the second round with a jab that popped Mitchell's head back and followed with an on-point leg kick. When Helm over-extended himself on a looping right, he fell to the canvas and Mitchell knew the moment had arrived.

The Carlyle, Ill product swarmed on Helm and landed some major ground and pound, including two powerful hammerfists. Once he took Helms' back, the barrage continued and Mitchell then landed a nice shot from underneath that sent Helm to his stomach. From there, Mitchell (6-3-1) landed more shots before the fight was stopped.

"One of the reasons, I think, the secret to Clay is that he started cross training with Jay D'Amato," Jenkins said. "Jay D'Amato is the master of stand up and I think he is the most underrated guy around here. He started taking some stand up work with him and improved his game. Clay told me that he was going to be a different fighter and he looked different."

Helm survived an energy-sapping first round. Mitchell clipped him with a solid left on a takedown attempt and followed him to the floor. It was there where Mitchell latched on to a guillotine choke that he refused to let go of. For over two minutes Mitchell kept locked on and the fight didn't go anywhere. Once Mitchell finally surrendered it, Helm got back to his feet and went after him with the ferocity that crowd had been waiting for, ending the round with a flurry of action.

The finals of the bantamweight tournament, - that is part of a cooperation between MMASF and Fight Hard Hard MMA - was determined as Erion Zekthi defeated Jordan Collins by submission in the third round.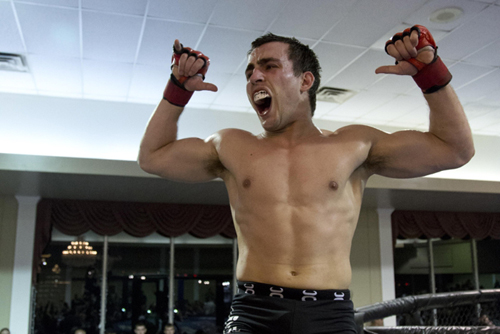 With the win, Zekthi, out of St. Charles MMA, will face Levi Rose on April 19 at Fight Hard for the bantamweight crown.

Collins took the fight on three week's notice and proved to be a tough out for Zekthi, who appears to be bubbling with potential.

While Zekthi no-questioned controlled nearly 100-percent of the fight, Colllins' work off his back was enough to stave off multiple submission attempts in the first two rounds. Collins absorbed a truck-load of shots to the body during the second round and made things a little interesting to start the third when he pulled guard and threw first a triangle attempt and then an omoplata. But Zekthi powered through and escaped harm's way and eventually landed the submission that he coveted, winning with an arm triangle at 3:10 in the third.

"That's only Erion's sixth MMA fight and you are talking about a guy who has only trained for a year-and-a-half," Jenkins said. "That kid's ability is limitless. I'm much more aware of him than Levi, because Erion has fought on my shows but Levi is tough and has fought a who's-who of amateurs in Illinois and Missouri."

In the feature bout, Dustin Hiesse won in just 45 seconds over Patrick Sparks.

The highlight bout of an exceptional undercard saw Nick Kruetz, out of Moriarty MMA and Watson's Martial Arts, win a close 29-28 unanimous decision over Jamese Taylor from MCS.

Welterweight Burr Hunt exploded on Chris Seip and tore into the former pro bull-rider with some ground and pound before finishing the fight in just 25 seconds with a rear naked choke.

Featherweight Dee Cannon set a MMASF record with an eight second KO of Dan Essenpreis.

Kevin Roper won by rear naked choke in the third round over Tim Berry. Chris Perry showed off his explosive striking with a first-round TKO of Peter Paplanus.

Anthony Boyd won by rear naked choke over Brad Oelzen, Justin Williams triangle Ryan Shelton to earn a second victory and Colin Parr started the night with a second round rear naked choke of Justin Davis.

MMASF returns to the Heart of St. Charles on May 2.