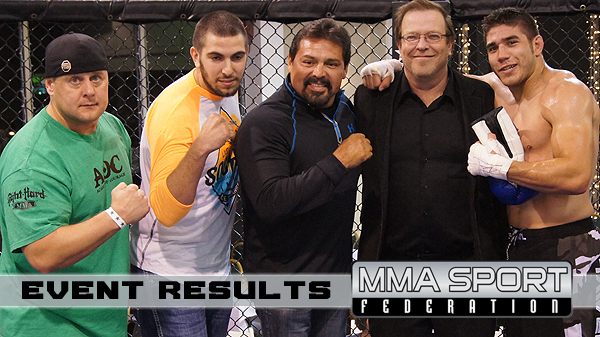 MMASF: Highfill vs Cockrell - Event Results
Literally in the shadow of the Ameristar Casino, the MMA Sports Federation forged ahead despite a postponement two weeks prior that would see them going head-to-head with its St. Charles neighbors, Rumble Time Promotions.

Armed with a main event featuring top amateur Aaron Highfill. Matchmaker Jim Jenkins put together 11 exciting bouts. Highfill, out of Finney's MMA and the War Room, was looking to tighten up his striking game against a relative unknown to this area in Matt Cockrell.

Fighting under the tutelage of Moses Flores, Highfill's superior boxing opened up the defenses of Team Z's Cockrell long enough for Highfill to show an evolving muay thai arsenal.

Highfill peppered Cockrell with knees and punches to the stomach that eventually forced his opponent to take a knee. With only a minute left in the third round and Cockrell's offense completely stalled, referee Jay Damato had seen enough and waved off the match.

Late addition Joe Roye showed up in shape and dominated John Grayson in three rounds of MMA that served as the evening's co-main event. Roye neutralized the striking of Grayson and kept the much bigger Grayson on his heels. Roye used inside leg trips to take Grayson down and smothered his opponent with positional grappling.

Although Roye did not inflict much damage on the ground, fighting from the top was enough to see the judges hand Roye the decision.

Kevin Roper came to the cage wearing USA Wrestling trunks tipping his hand to the strategy he would use. After briefly trading with his opponent and eating the punches of Carl Jefferson, Roper began to use his takedowns. He controlled almost the entirety of the second, although little damage was done from side control. In the third it was more Roper, who cruised to a unanimous decision with an unrelenting top game that held Jefferson in place and neutralized any offense.

Jeff Kankolenski and Justin Davis entertained the fans with a wild K1 affair that saw both fighters swinging wildly. Long and rangy Davis seemed to take the lead in the match midway through the second and controlled most of the third round. The frenetic action re-invigorated the fans who had just returned from intermission. After three rounds, Davis - from the Academy of Courage - would take home the victory.

Heavyweights Doug Washburn and Dre Cannon battled toe-to-toe for three rounds in a K1 match that was marred early by low blows from Washburn. After the fight was able to continue both fighters took turns in the driver's seat, but after three the judges saw it deadlocked declaring the match a draw.

James Harris wasted little time defeating Chris Brickeen with a guillotine in the first. Izik San Miguel defeated Dennis Sturgeon in an exciting K1 fight between two short, stocky fighters.

Gage Marston and Zach Allen had an exciting back and forth battle before Marston landed a standing power guillotine to secure a third round submission.

The submission of the night was decided early when Shane Pearman from St. Charles MMA hit an inverted triangel on Kenny Murray Jr.

Chris Petty landed a brutal KO on Jason Sieckman that saw Sieckman motionless in the cage for several minutes.

Billy Robinson and Caleb Springer started the night off quickly with Robinson hitting an armbar from the bottom to earn the night's first victory.

The MMA Sports Federation returns in July.