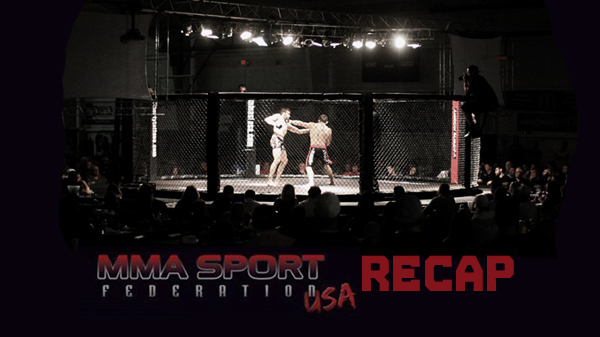 MMASF: Journey to the Top 2 - Recap
Chris Heatherly was getting photos taken with fans and it took all he could do just to raise the corners of his mouth.

Heatherly was set to face-off with Luigi Fioravanti in Saturday's main event of the MMA Sports Federation Gateway to the Top 2. The matchup had been widely anticipated with the winner earning the MMASF welterweight title.

Shortly before the co-main event, promoter Jim Jenkins addressed the well-attended St. Louis Sports Center with the deflating news the Fioravanti was declared unable to fight.

Fioravanti, a veteran of nine UFC fights and 34 pro appearances total, was seen wobbly-legged leaving the men's bathroom and even more-so while hitting mitts during warm-ups.

"Luigi had to be taken to the hospital," Jenkins told the crowd. "There was a health issue that happened last night and it had not cleared up and the doctor's are not letting him fight. I apologize, but we'll be back with another badass show on September 21st."

Heatherly drew the ire of many when at Friday's weigh-ins he came in at four pounds over the contracted 170-pounds. A last-ditch effort shed two more pounds before finally agreeing to surrender 25-percent of his purse. Fioravanti weight in at 168.8.

Steve Berger, Heatherley's coach at Fit or Fight, felt the frustration.

"Yesterday, my guy didn't make weight. I was very, very upset about that," Berger said. "My guy was upset with himself. He didn't handle it right. I had to work and I couldn't be there to push him through it. Chris got on Facebook and apologized to everybody and has given up his 25-percent. I apologized for my part of it and that was that. Now look what happens; here we are, time to fight, Chris sold 90-plus tickets and it's time to go. My guy didn't make weight? Luigi didn't cut weight the right way. Now all of the sudden he's too sick to fight and leaves. It's very unfortunate. I hope Luigi can get his act together. We'd rather he'd made 172, like Chris, and been here to fight then cut down to the weight and not be able to fight."

Eric Irvin's bout with Adam Ward was suddenly thrust from co-to-main event status.

In a gritty, greasy, grinder of a fight, Irvin got the better of Ward

The second and third rounds, especially, were Irvin's. Some solid clinch work in the second round precluded a third in which Irvin sent Ward to the canvas after a nice flurry. The judges scored the bout 30-27,29-28, 29-28 for Irvin, who got back in the win column after suffering a defeat early in 2013 to Charlie Brennamen.

"Eric got comfortable standing, especially in the second and third round," Destruction MMA coach Joe Worden said. "We have been working on his striking a lot. He used to be just a wrestler and I don't know if he even attempted a takedown. Our striking is getting good. We used to be a ground school now everybody is scared to stand with us."

Dan O'Conner defeated Carson Gainey for the second time and again with a first-round submission. Gainey roughed O'Conner around early in the first round and even opened up a cut on O'Conner's nose. But O'Conner, out of Fit or Fight, found a will and a way. After a big takedown by Gainey, O'Conner secured a guillotine and got the tap out to improve to 4-1.

"I don't care if it's an Olympic wrestler, I've seen (O'Conner) tap out a guy who is 6-foot-7, 350-pounds," Berger said. "He is a jiu-jitsu wizard."

In one of the night's more impressive performances, Jimmy Donahue choked out Sal Woods in the first round.

Donahue, in his first fight under the SCMMA umbrella, took Woods, a decorated wrestler, to the mat after landing a solid right. Woods did a good job of locking Donahue down with his guard game and eventually got side control, but Donahue transitioned from one submission attempt to another before putting on a triangle and putting Woods to sleep.

"He trained really hard with Justin Church on his striking and Jake Roberts and Justin Slattery have helped him a lot during the day time," SCMAA coach Mike Rogers said. "The game plan was don't throw any kicks and punch him in his face but (Jimmy) caught him and wobbled him. He's been doing a lot of takedown rounds and a lot of ground rounds. He's confident with his ground game now. It's the first time that he's ever trained ground for MMA for real."

Yohance Flager, out of Fit or Fight, put together one of his better performances as a pro with a convincing unanimous decision victory over Adame Dunnavant.

Flager sustained multiple guillotine attempts in the fight but was the aggressor throughout the first two rounds.

Dunnavant tried two guillotines in the first, one early and the other late. But in between, Flager was landing effective strikes while in Dunnavant's guard.

Flager eventually won 30-27, 29-28, 29-28.

"There are two Yohances that show up; there's a Yohance who gets scared and timid and there is the Yohance that you see tonight," Berger said. "We talked a lot about it, that he has to deal with those inner demons. The only man that can beat Yohance is Yohance. He's very tough, very technical, a very skilled standup fighter and a very skilled grappler. The right Yohance showed up tonight."

Jeff Robinson made his pro debut against Wisconsin's Josh Schiesl. Robinson put together some interesting and effective strikes early but eventually succumbed to the veteran's rear naked choke.

Charlie Alaniz and Trevor Ward kicked started the main card with an excited back-and-forth flyweight bout. Alaniz, from Australia, was sliced from a Ward elbow over his eye and the ringside physician declared him no longer able to continue and Ward was awarded the TKO victory.

Kyle Walker's superior wrestling led to his first win as a pro. Walker was able to neutralize most of Jake Buehler's offense in a back and forth battle and eventually walked away with an unanimous 30-27 win.

Fierce Taylor connected with a power right-hand that led to a quick victory over Charles Johnson in the first round. The victory made Taylor the MMASF Amateur Bantamweight champ.

"He trained really, really hard for this," Modern Combat System's coach Jared Daniels-Block said. "I think this was little more than a two-month camp. We knew that Charles was going to be a potential opponent. Fierce is like one of the hardest working people in the gym. He is there before me a lot and that says something because I'm there early. It all shows in a performance like that."

Also on the amateur card, Tim Mantle won by guillotine over Jeremy Sherwood early in the first round. Hannah McNitt looked impressive with her win via armbar over Cynthia Kues.

Erion Zekthi made quick work over Cody Winistoerfer to win by submission. "The Mutant" Mark McLean slapped on a nice triangle and got Zach Burcham to tap early into the fight.