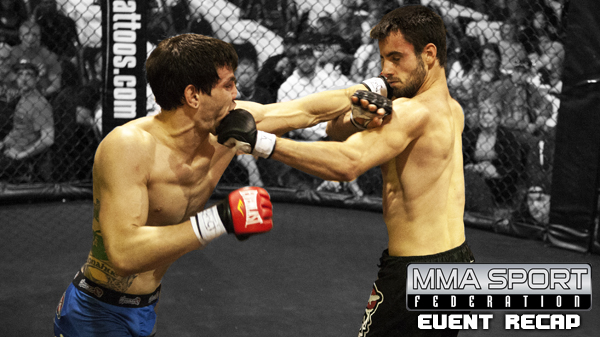 MMASF: Journey to the Top 3 - Event Recap
Although most Halloween festivities were over, things got weird at the Heart of St. Charles

It was a night where the popular, hometown kid got dropped in the main event, an eagerly anticipated match-up of two local fan favorites ended in bitter controversy, and an undefeated local talent proved he's worthy of all the buzz.

Brady Hovermale made the long trip in from Marion, Ind. and went home a winner, stopping Jimmy Donahue's recent hot streak with one punch in the main event.

Donahue came out with crisp striking and was landing early and often. Both fighters seem comfortable on their feet exchanging stiff punches. A vicious knee from Donahue looked to spell doom for Hovermale, but the game slugger from the Hoosier state kept marching forward.

Shortly before the first bell, Hovermale connected with a punch that sent Donahue to the canvas. Referee Robin Veale, who was the subject of much post-fight discussion, quickly stopped the fight awarding Hovermale the victory.

In the co-main event, The "Spartan" from Ironton, MO continued to impress. It took Alex White just a shade over two minutes to dismantle Will Shutt in a brutal display of dirty boxing.





Surviving early takedown attempts from Shutt, White looked to work his clench game. White forced his opponent into the fence where he worked a variety of elbows including a vicious upward elbow that seemed to find it's mark. After a well placed elbow forced the retreat of Shutt, White chased him across the cage and finished the fight.

White's performance impressed many including his coach, Destruction MMA's Joe Worden was all smiles after the fight.

"I'm telling you man, Alex is the real deal." Worden said. "He just proved it, 8-0 now. He is nasty. Knees and elbows, he was very aggressive tonight, and an aggressive Alex is a scary Alex."

One thing that plagued White in his last trip to the Heart of St. Charles back in April was the ability to stop the takedowns from Adam Ward.

"We worked for the last month on takedown defense," Worden said. "We went everywhere, from Berger's to St. Charles MMA. Working with the top wrestlers. When Heatherly and Alp can't take him down, nobody around here will be able to take him down. We proved that tonight, he never got to the ground one time."

The strawweight clash between Dan O'Connor and Ken Porter was eagerly anticipated bout that sent most people home scratching their heads.

Porter's speed seemed almost too much for O'Connor early as the elusive Porter proved hard to grab a hold of landing hit and run strikes on his opponent.

A minute and a half into the fight, a kick to the face from Porter caused a short break in the action when Porter's toe grazed his O'Connor's eye. Shortly after the break Porter landed another kick flush, this time below the belt of his opponent, forcing yet another break. After losing a point, the action resumed and a pissed off O'Connor looked to get the take down before time ran out.

In the second round, Porter continued to work his game plan until a solid punch from O'Connor sent Porter momentarily to one knee. This forced Porter to switch up his game plan and the "Sensation" started to use his wrestling. As Porter went for the takedown, O'Connor caught him in a tight guillotine. After about 15 seconds of holding onto the submission, O'Connor caught a finger in the eye forcing a break in the action. Shortly after being evaluated by medical staff, the fight was called and ruled a TKO as O'Connor was not allowed to continue.

Never at a loss for words, O'Connor had plenty to say after the fight.

"I had the guillotine in." O'Connor said. "He reached up, it felt like he felt around on my face. The ref yelled at him three times to watch the fingers in the eyes. He went right into the eye, and you can see my eye is damaged. The EMT wanted me to go to the hospital immediately, but I was still trying to fight. Most bullshit fight ever. Three fouls, she said two were intentional."

In a bout that featured two very large lightweights, Hugh Pulley won convincingly against Corey Barreiro improving his record to 2-0. Barreiro came out guns blazing but an explosive hip toss by Pulley put Barreiro in a bad position and the "Wolverine" from Modern Combat System was able to force the referee stoppage. After a about a sic month layoff, Pulley has put in about 2 minutes of ring time in his first two professional fights.

Malson Ball was victorious in the evening's first pro fight. After a competitive first round, Ball got his opponent's back and stopped Wil Alfaro by TKO.

Matt Murphy won via doctor's stoppage in the second round. Murphy had to survive nasty armbar attempts from Cody Winstoefer in both the first and second round to get the victory. After the fight it was apparent why Doctor Holloway called a halt to the action, a bad looking cut under Winstoefer's right eye was the culprit. This fight evened the record between the two fighters to 1-1. This was a very competitive and exciting amateur match-up that hopefully we'll see again soon.

Micha Sensel was victorious against a later replacement fighter in what was a very entertaining, competitive fight. Irfam Mulabtinovic defeated DJ Jones with a text-book americana that left Jones holding onto his shoulder in obvious pain.

Nick Sanders from Watson's Martial Arts caught Brian Klenc early in the first via armbar in the evening's first contest.

MMASF returns in just two weeks on November 15th for an event headlined by Andrew Sanchez taking on Keith Smetana. Adam Meredith vs Joel Blair, and Mateo Callazo will take on Kirk Huff.

Embedded photos courtesy of Jimmy Range Photography. See the full gallery here.