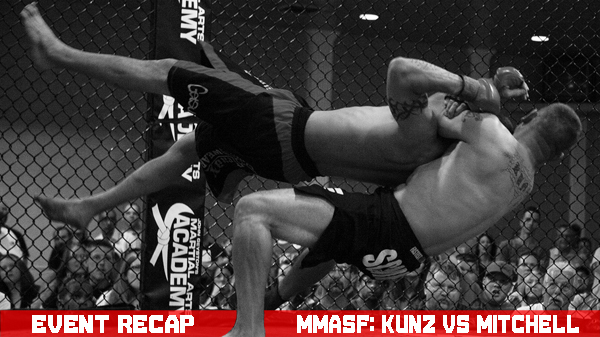 MMASF: Kunz vs Mitchell - Event Recap
Promoter Jim Jenkins was all smiles after the event on Friday. Building upon his reputation as a first class matchmaker, Jenkins put together an exciting show from start to finish that featured several fighters making their debut.

"Sometimes you just get lucky," Jenkins said.

In the main event Clay Mitchell from Generations Studios in Carlyle, IL put up one heck of a fight against Bo Kunz. Mitchell survived a rear naked choke scare in the first, and a nasty looking kimura in the second before finally losing to an arm triangle in the third. A large, vocal crowd traveled with Mitchell from Illinois and kept him in the fight when things looked bad.

Kunz has been sharpening his submission skills since moving his training to St. Charles MMA, and the victory on Friday marks the second straight submission win for Kunz.

After the fight "Bad News" announced he would be turning pro, and hoped to get a fight scheduled by end of the summer.

Speaking of pross, Jenkins, who's next show will be June 22nd at the St. Louis Sports, had most of the pro fighters competing on his next card on hand including main event competitors Luigi Fiorvanti and Chris Heatherly as well as Daniel O'Connor, Adame Dunavant, Yohance Flager, and Eric Irvin to help promote the upcoming event.

The co-main event of the evening was cut short when an unfortunate shoulder injury to Jason Alicea forced a no contest early in the first.

Daniel Schaab looked lean and mean in his fight against Eric Vasquez. Schaab used his reach and strength to keep Vasquez out of range when the fight was standing up and pressed him up against the cage when it got close. Schaab controlled most of the first round on the ground and had Vasquez mounted at one point, but the fight went the distance and Schaab got the nod from the judges.

Erion Zethki nearly had a stoppage in the first round, but time ran out. As the fight went deep into the second, Zethki gained controll of opponent Antion Johnston and after Johnston gave up his back kept landing punches until the referee was forced to stop the fight.

Jon Rosener from Watson Martial Arts looked sharp and was able to make his mentor Kyle Watson proud with a second round guillotine.

Quentin Garrison and Alex Murphy had one of the bloodiest fights in recent memory. Murphy got cut badly on the bridge of his nose in the first and bled profusely throughout the contest. The fight should have been stopped shortly after the doctor's examined Murphy, but instead the fight continued deep into the third round before the ref had finally seen enough.

Tylor Flores landed a nice arm bar on Brad Marhsall in the first.

Also victorious on the night was Cody Sparks by unanimous decision, Dave Stevens via first round TKO, Kyle Inman via first round TKO, and Cody Wille by unanimous decision.

Nick Kreutz and Tre Crawford started the night off with an exciting couple of rounds before Kreutz was able to get the stoppage in the second.

After the event, UFC Hall of Famer Matt Hughes was on cage duty and assisted his twin brother Mark and their team in tearing down the cage.

Jenkins and the MMA Sports Federation return June 22nd.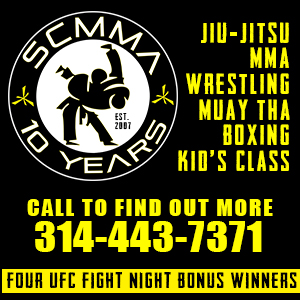 Shamrock FC: 317
| Sat, April 6th
Ameristar Casino, Kasnas City, MO
Nemesis Fighting Alliance
| Sat, April 13th
Casa Loma Ballroom, St. Louis, MO
Shamrock FC 318
| Fri, May 10th
River City Casino, St. Louis, MO
Shamrock FC 319
| Sat, June 8th
Ameristar Casino, Kansas City, MO

Tweets about "KnuckleJunkies OR @knucklejunkies"