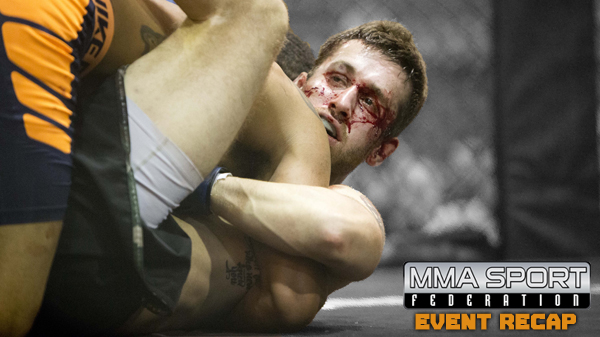 MMASF: Mitchell vs Helm - Event Recap
Jim Jenkins and the MMA Sport Federation wrapped up their 2013 with an all-amateur show at one of the area's best fight venues, the Heart of St. Charles.

The story of the night was the flu bug that forced the cancelation of three of the scheduled fights including main event participant Clay Mitchell who was not medically cleared to compete due to a high fever in the pre-fight check-up. It was announced after the event that Mitchell and Helm will fight at a future date for the MMASF US Title.

Taking their place in the main event was Cort Wahle and Jon Rosener. Rosener was simply overwhelmed by Wahle who came out firing, landing a thunderous kick to the body. Wahle's lighting quick pace confused Rosener, who couldn't find his rhythm. Wahle hit a sweep against the cage, and then finished the fight with strikes.

Wahle improves to 3-1 with his only loss coming at the hands of Erion Zekthi.

Ben Huskic and Chuckie Brooks provided the evening's only theatrics as Bosnian-born Huskic proved has a very high pain threshold.

Brooks came out firing, getting the better of his opponent on the feet, and looking determined to keep the fight standing. Brooks landed several punches against the awkward stance of Huskic, and quickly reset any takedowns Huskic landed.

Midway through the second Huskic began to gain traction on the ground, where he eventually secured the tap via triangle.

In a weird moment post-fight. Cutman Matt Marsden had to put Huskic's shoulder back into the socket in an impressive show of toughness by Huskic who fought most of the second round with a dislocated shoulder.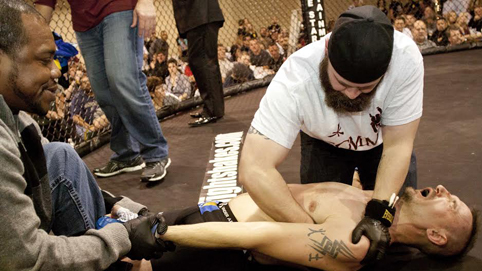 Patrick Sparks quickly defeated Joseph Galasso by TKO. Sparks closed the distance and hit a massive slam to setup the ground and pound victory.

Quentin Garrison showed quickness and creativity on the ground spinning out of takedown attempt to take the back of his opponent, before finishing with the rear naked choke.

Garrison's teammate Demitrious Cannon battled the flashy Chiavy Rith to a split decision. Cannon looked to slow down the quicker and more athletic Rith with his wrestling, scoring points with his ground control, and getting the eventual decision in their 160lb catch-weight battle.

Trevon Crawford continued his winning ways getting a second round guillotine over Joe Edgeworth. Thomas Hobbs III received the loudest cheers from the crowd with his first round submission win over Hunter Kim. Mike Giller and Connor Trexler rumbled to a split decision with both fighters taking some serious punishment.

A bit of deja vu in the night's opening contest. Steve Berger (not THAT Steve Berger) received an eye poke from Joshua Neil and the doctor called a stop to the fight between rounds in what was turning out to be an exciting scrap.

MMA Sports Federation returns on February 21st for an all K-1 show.

Photos courtesy of Sara Levin