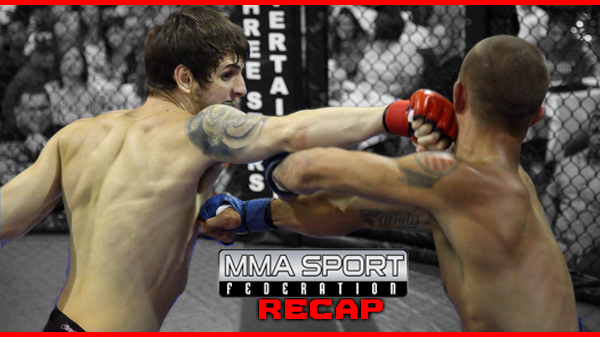 MMASF: Petty vs Evans - Recap
On the busiest weekend for MMA in St. Louis in recent memory, Jim Jenkins and MMASF put together a promising ten-fight card that had a little something for everyone. There were submissions, there were TKOs, there were quick finishes, there were title implications, and there was a lot of fast-paced action. A decision was about the only thing this card was missing.

The energy from the crowd at the Heart of St. Charles banquet center was electric. The amount of tension in the air was obvious as fighters were entering the cage. Groups of fans trying to see whom could be louder as they would cheer for or boo their favorite combatant.

The night was capped off with a main event between Reggie Evans and Chris Petty that looked like it was going to be an absolute war. As the opening bell sounded, they used only about the first ten seconds to feel each other out. Then both fighters started loading up and throwing big shots.

Petty seemed to be getting the better of the early exchanges and used that to secure a solid double-leg, putting Evans on his back. Evans scrambled to his feet, but Petty had his arms securely wrapped around Evans' waist and proceeded to lift him off the ground and slam him to the canvas. Again Evans quickly finds his way to his feet, but with Petty once again securely latched on. Petty again lifts Evans up and slams him hard to the mat, but this time Evans managed to get his forearm under Petty's chin as he landed in guard.

Sinking in a deep guillotine, Petty found himself forced to tap out at just under two minutes in the first round.

The co-main event of the evening was a 185lb clash with title implications. Ace Anderson faced off against Kevin Roper for a shot at the MMASF middleweight belt.

Anderson came out with bad intentions as he threw a few big looping shots that Roper calmly avoided. After trading a few leg kicks, Anderson throws a few more big shots, but again Roper stays calm and looks comfortable countering with crisp, straight shots. The fighters tie up with each other and Roper scoops Anderson off of his feet, takes a few steps forward and throws him (literally face first) where the fence of the cage meets the cage floor. Visibly stunned and rattled, Anderson taps to strikes as Roper lunges in to put on a couple finishing blows. The official time was 1:05 in the first round.

The events feature bout was between two prospects looking to make a move up the featherweight ranks. Brandon Seidelman and Cort Wahle flew out of the gate with a super-fast pace. Trading big shots, both fighters were looking to end the fight early. Wahle lands a vicious head kick and Seidelman, staggered from the blow, grabs Wahle and drags him to the mat. Wahle almost immediately sweeps and gets to his feet. Seidelman is slow to get back up as the action continues. Wahle is privy to the fact his opponent doesn't have his legs back under him yet and capitalizes with a combination of big shots to the head and body. Referee Josh Stewart steps in and stops the action at 1:21 in the first round.
In another one-round contest, Chris Brikeen had one more submission attempt than Caleb Springer was able to defend. After numerous escapes, Springer found himself the victim of a very slick modified kimura at 1:59 of round number one.

In one of the few fights on the night to go past the first round, 19 year old prospect Gage Marston finished Joe Galasso at 0:54 in round two with a deep standing guillotine.
Demetrius Cannon showed speed and power as he put his resilient opponent, Devin Roach away via TKO with just seconds left in the first round.

Wesley Powers will see a future title shot against Kevin Roper due to his round one armbar victory over Carl Jefferson.

In the longest bout of the night, Trevon Crawford takes the TKO victory over Bart Johnson with just nine seconds left in the third round.

A very flashy and explosive Lucas Clay finished 18 year old Tyler Madding with an arm triangle in 1:19 of the opening round.

Nick Madrey sunk in a rear-naked choke to defeat Dustin Friedrich also in 1:19 of round number one.

Don't miss MMASF's biggest show to date Sept. 20th in Afton at Sports Center St. Louis. Scheduled are ten pro and five amateur bouts with a lot of the area's biggest names. Event pending State approval.

Photo courtesy of Sara Levin Photography.