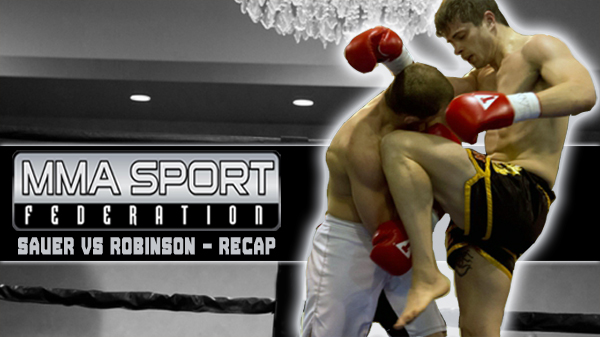 MMASF: Sauer vs Robinson - Recap
The fists were flying on Friday as MMA Sport Federation USA in partnership with WAKO brought professional and amateur kickboxing to St. Charles.

The main event featured heavyweights Doug Sauer and Jeff Robinson. Robinson stalked Sauer in the first, but the experienced Sauer was able to stay out of trouble. Sauer perfectly executed his gameplan to avoid Robinson's punches punches while staying elusive, and dragging the taller Robinson into deeper waters.

Midway through the second round Sauer dropped Robinson with a big right that sent Robinson flat to the canvas. The very pro-Sauer crowd erupted sensing victory, but the resilient Robinson found away to get back to his feet to continue the fights. Moments later Sauer would land another straight right that would end the fight.

Sauer improves to 10-2 as a professional kickboxer and plans on staying active. Look for interviews with Sauer and the rest of the main card winners coming soon.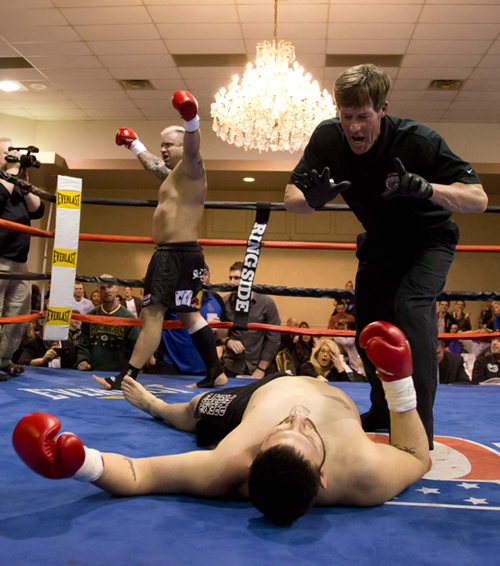 Elmir Kulosman overcame major adversity to win in his professional debut. Kulosman had injured his hand and foot in the weeks prior to the fight, but was still able to outmaneuver Colton Creason for the win.

Kulosman fighting out of Watson Martial Arts had a large continent of Bosnian fans in attendance, and at times the Heart of St. Charles ballroom sounded more like a soccer game than fight night. A veteran of several amateur fights, Kulosman looked poised in the ring, but a very game Creason came to fight and managed to steal the first round away from the big Bosnian.

Early in the second Kulosman dropped Creason with a combo. Kulosman continued to heat up landing more combos and dropped his opponent for a second time before the bell rang.

The third round saw Creason getting warned for grabbing the leg. After a few more exchanges, referee Mike England would take a point putting the decision almost out of reach for Creason. Kulosman was more active in the third and landed a higher number of quality shots to win the third round.

The final cards read 28-26, 28-27, and 29-25 with Kulosman picking up the unanimous decision.

Kirk Huff entered the ring in traditional Muay Thai headgear, leaving no question as to what his gameplan was. Huff looked for the clench early and often punishing his opponent with knees to the body. Stiff knees to the body would send Mateo Collazo to the canvas twice in the first and only round before referee England would wave off the fight. Huff wins by TKO in the first.

Quinton O'Brien battled nerves in the first round to win a decision over a very tough Frank Sloan in the evening's first pro fight.

Sloan gave up a lot of height and reach to O'Brien and looked to stay in close landing hard punches. O'Brien highlighted the first round with a vicious knee to the head (pictured).

O'Brien picked up the pace in the second and landed hard kicks to the stomach of Sloan. Midway through the second, Sloan caught O'Brien with a hard punch that gave his opponent a momentary pause, but O'Brien continued to apply pressure, abusing his opponent with powerful kicks.

In the third, Sloan sensed he was behind and begun loading up for the big punch. O'Brien stayed out of danger and was able to land hard kicks to the body and head. O'Brien highlighted the third with a flying knee sealing the decision.

The evening's top amateur bout was a battle between traditional Muay Thai trained Jake Duff, and the new school Tae Kwon Do stylings of Cort Wahle. Wahle landed a kick just seconds in the round to drop Duff. Duff recovered after the standing 8-count and came out firing, blasting Wahle with a hard punch that send the 18-year old Wahle to the canvas.

Duff would continue to land hard punches as Wahle tried to stay elusive and pick his strikes. Wahle would find a home for his jab, but in the end Duff landed more quality shots and picked up the unanimous decision.

Seventeen year old Garrett Armfield looks to have a very bright future, and looked very impressive against another of the area's top young talents. Armfield battled Erion Zekthi tooth and nail and worked vicious inside leg kicks to slow down the rangy Zekthi.

Armfield was relentless with his attack and never let Zekthi settle into his comfort zone, taking home a unanimous decision victory.

Bryant Hurt looked very good in his bought with Jeremy Evans. Other winners included Jake Elston, Bart Johnson, and Jarod Overby.

Here are the full results:

Doug Sauer def Jeff Robinson - TKO R2
Elmir Kulosman def Colton Creason
Kirk Huff def Mateo Collazo - TKO R1
Qunton O'Brien def Frankl Sloan
Jake Duff def Cort Wahle
Garrett Armfield def Erion Zekthi
Bryant Hurt def Jeremy Evans - TKO R1
Jake Elston def Anthony Hostetler
Bart Johnson def Jeff Kankolenski
Jarod Overby def Matthew Evans - TKO R2

MMA Sport Federation returns March 28th to the Heart of St. Charles for amateur MMA, before coming back on May 2nd with another Pro/AM Kickboxing event.