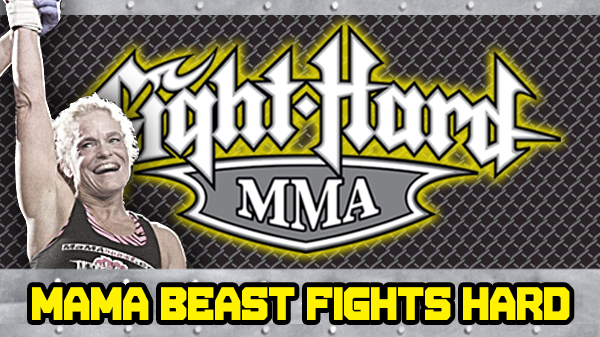 Mama Beast Fights Hard
By
Debo
| Knuckle Junkies
The latest trending in the world of combat sports is without question the increased popularity of women's mixed martial arts. We happen to be rich with quality WMMA competitors in our region. One of the most popular area females will be jumping right back in the cage Saturday, fighting out of Finney's MMA and also fighting on her first time outside of a Shamrock FC event.

Climbing back in the cage will be flyweight Susie "Mama Beast" Wyatt (5-2), who is ready to put her June 15th loss to Brittany Dugas behind her as fast as possible. Wyatt felt it was important to move forward quickly so when a good situation presented itself for her eighth MMA fight she took full advantage. The 48-year-old fitness lifer who hails from Boulder, Colo. will take on veteran WMMA opponent Liz Turpin from River City MMA at the Family Arena in St Charles, MO.

Wyatt has a strong following of faithful fans throughout the local area and the Midwest. She has been a lifelong fitness enthusiast dating back to her days at the University of Colorado when she became interested in karate. Ironically enough her initial interest in karate lead her down the path of fitness instruction, aerobics instruction and human wellness initially.

Wyatt jumps back into the cage just five weeks after dropping a unanimous decision to undefeated Brittany Dugas June 15th at the River City Casino.

"That was a tough fight for me against an opponent I knew well" said Wyatt. "I just felt like I'm more focused for this fight and the timing was right for this opponent"

It is also a plus when you get to train with the same coaches for each fight. Wyatt's coaches at Finney's MMA are Ezra Lennon for Brazilian Jiu Jitsu, Jesse Finney for MMA and David Mirkitani as wrestling coach.

Wyatt loves to teach and enjoys teaching females and kids. She has dedicated her life to fitness and combat instruction. She is the owner and the lead massage therapist at Human Touch Wellness Therapies. You can also find her at St Louis Fitness where she is the fitness coordinator. Wyatt has worked as a physical education instructor at Washington University for years.

It almost makes you wonder how she has time to fight and train. The No. 1 thing you learn when you spend time with Wyatt is she extremely passionate about the promotion of MMA and more importantly WMMA. Training, teaching and practice are all fun for her as long as that is the case she intends to keep going strong.

In her own words she got serious about WMMA after she began doing some kickboxing under the instruction of Finney in 2009. She quickly moved on the Brazilian Jiu Jitsu nearly three years ago. She recently received her blue belt in Brazilian Jiu Jitsu and is the first female to earn a blue belt from Lennon.

One of the main issues Wyatt deals with is training with men and larger training partners. This is also the same issue that helps Wyatt excel from working with larger and stronger male opponents in practice. She has been fortunate enough to hone her skills with teammates she can trust and great coaching.

"I'm little so I have developed a strong game off my back" said Wyatt "A lot of times in BJJ people think when you're on your back you're in a bad position and with me that is not the case because that is strength"

With such a strong following, Wyatt is really looking forward to this Fight Hard MMA match. It allows her to bring friends, youth students and followers who might not normally be able to attend her fights. "I enjoy working with kids and the kids I train. Most importantly my own kids, friends and family get to see me fight" said Wyatt

It is nice to be familiar with your opponent. Most of her MMA fights in the cage are with young woman in their 20's. Wyatt is looking forward to matching up with Turpin, a veteran fighter. Wyatt and Turpin competed in the NAGA tournament a year ago with Wyatt coming out on top and Turpin finishing in second place. Wyatt has worked a lot on her standup in this camp and she continues to fight tough competition. Wyatt is known for her chokes and arm bars and if those situations present themselves she will capitalize quickly.

"I like to think of myself as a reactive fighter" said Wyatt. "I like to take what my opponent gives me and capitalize on their mistake".

Fight Hard MMA returns to the Family Arena on Saturday. Doors open at 5:30 with fights on this all-amateur card scheduled to start at 7:00. The co-main event should be very entertaining with Montuelle Prater fighting out of Cahokia MMA matching up against Jeremiah Curtright from the Academy of Courage. The main event features Ira Lukowsky (7-3) the No. 1 ranked Spire bantamweight going to battle against Damian Newman (14-2) in the Main event.