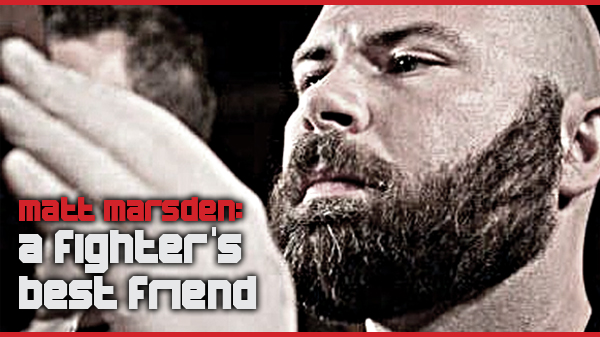 Matt Marsden: A fighter's best friend
Those moments when the camera zooms in on a fighter and you shout an expletive or two. Those same moments when the girl next to you covers her eyes, that is where Matt Marsden sets up shop.

Marsden is a MMA cutman. From the local amateur shows to the big bright lights of Titan Fighting Championships and Bellator, Marsden has pretty much been there and done that.

"You never know what is going to happen," Marsden said. "You never know what I'm going to see in there."

When the bell rings to end the round it's show time. He has 60 seconds to get in there and do his patchwork.

"The biggest part of the job is keeping composed," Marsden said. "I tell people all the time, if you go in there and freak out, the fighter will freak out. Because they are already upset when they see me come in because they assume that they are injured. I already have a negative cloud hanging over me."

Aside from assessing the damage, Marsden's main focus is the keep the fighter's calm. No matter who the fighter is, the question coming out of his or her mouth is usually the same; 'How bad is it?'

"I tell them, don't worry about it. You're going to be OK," he said.

Marsden moved to the St. Louis area when he was 14 and graduated from Oakville High School. The 31-year-old learned medicine in the military where he went to surgical and medical school. He currently works in an operating room at a local hospital where he does orthopedic and emergency surgeries.

"I see the exact same injuries that I see in a fight," Marsden said. "It's what I see
all week in the operating room."

Marsden has been a fight fan for a long time, boxed when he was younger and still trains today. When he worked his first show, he didn't know all of the tricks of the trade and was armed with little compared to what he knows now. But much like a fighter, he worked his way to bigger promotions through strife and sacrifice.

"I tell anybody who wants to do it, you have to be able to work for free," Marsden said. "You have to get that experience and lose money doing it. When you do that and get the experience and people trust you, then you can move on to bigger shows."

That is how Marsden got his start with Bellator. He travelled to a show in Oklahoma and worked an undercard that wasn't televised and thus begun his tryout for the promotion.

"There are not that many of us that do it but there are lots that say they do," Marsden said. "You have to weed them out. There are those of us who want to do it and this is our focus in the fight game. I want to help (the fighters) and I want to give everyone them a chance to not have their fight stopped out of their own power and an injury is not the reason their fight gets stopped."

The most common injury Marsden comes across is cuts under or just above the eye; the raccoon mask area. Cuts to the lip are rare but they can be brutal to manage.

"They are harder to deal with because they are bleeding from multiple areas," Marsden said. "When you have a cut there is a central area, but something like a lip, you have a split and you have both sides to deal with. There is a lot of flow coming from everywhere and it can be hard to get stopped."

The No. 1 question he is asked is always; 'What's the worst thing you have seen in the cage?'

"The worse injury that I have ever seen was Chad Lamar, an amateur at an old Cage of Fury show," Marsden said. "I think he ended up coming out of that fight with a punctured lung and a torn ligament in his ankle, and both eyes were completely swollen shut. It wasn't a matter of this is the worse single injury that I have seen it's the worse overall train wreck. But give him credit. He won that fight."

Marsden would like to take his cutman career as far as he can do it full-time, though his docket is filled nearly every weekend already.

"It would be great to only do this," Marsden said. "There are not very many. The major organizations, like the UFC bring in six guys and they use that same group of six guys. Bellator has two main guys and I'm sort of the third person. And it's completely different for boxing because boxers higher their own cutmen."

Until that time comes, he will continue to work his side job with zeal and embrace the variety of challenges that come with it.

"I'm busy pretty much every weekend," Marsden said. "It's pretty rare that a weekend comes by that I'm not. But I've had nights where I've gone 10 fights and never had to get out of my chair and other ones I've been up every single round."