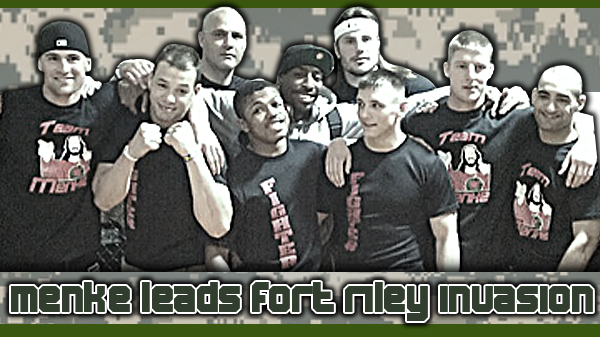 Menke leads Fort Riley invasion
The local MMA community is buzzing about a group of amateur fighters from the army base in Fort Riley, Kansas that have arrived on the scene and taking home victories aplenty.

The Fort Riley Combatives Team is currently sporting a perfect 12-0 record in amateur fights. They went 5-0 at MMA Hostile Takeover, 6-0 at Cage Rage, and most recently Israel Lopez was victorious on the biggest of stages at the April 7th Fight Me event.

The team is looking to continue their dominance this weekend at Gateway Fight League 8 in De Soto.

The soldiers from Fort Riley Combatives are lead into the cage by jiu-jitsu "wizard" Jon Menke, a familiar name in the MMA circles of St. Louis.

Menke, a Festus high school grad, started training tae kwon do with his dad when he was just six years old. He moved onto judo when he was eight, and once he got a little older began training BJJ by watching videotapes. Eventually he found a trainer and mentor in Rodrigo Vaghi. Vaghi would eventually award Menke one of his two black belts (Menke also has a black belt in judo). While he still competes, Menke's focus lately has shifted towards coaching.

In 2006 he started working with the military on hand-to-hand combat and that took him to Fort Riley. Quickly building a nasty reputation for himself as a coach, Menke, who is quick to credit Staff Sgt Francsico Portillo for a lot of the team's success, started training the troops on their off time on different aspects of MMA.

It didn't take long before he learned that he would have to overcome something most MMA trainers never have to consider and that is troop deployment. Most of the athletes he would be working with would only be passing through Fort Riley before getting shipped overseas. This created large gaps in their training regiments preventing them from reaching their full potential.

"I have a very high turnover rate," Menke said. "I would have guys that were very serious for 6-8 months to a year, and then have to send them on to someone else."

One of Mekne's top students is Lopez. After Lopez made it deep into the grappling round of one of the All Army Combatives Tournaments, Menke convinced him to take an MMA fight. Lopez went on to win his fight convincingly, but before his budding career can get off the ground Lopez gets deployed overseas for a full year.

Now fresh from deployment and re-integration training, Lopez is back training with Menke and has racked off two quick wins.

While his record is a mere 3-0, Menke believes he's poised to breakthrough to the UFC in short order.

"If get continues to get the proper guidance you will see him in the UFC," Menke said. "He's every bit as talented Lance (Benoist) was, every bit as talented as Matt Ricehouse was."

Lopez most recently fought Daniel Baynton at Fight Me and looked very good in doing so. He worked a variety of arm submissions finally getting Baynton to tap with a brutal kimura that left his opponent with a damaged limb.

Also looking good is Justin Overton, a lightweight who trains under Menke. Overton has finished both of his fights in the first round.

Menke also spends time with a former Fort Riley Combatives teacher Joe "The Nose" Wilk who runs a gym called Combatives Sports Center. One of the members of the CSC team is Bellator welterweight Dave "The Caveman" Rickles. Rickles recently scored a 20 second KO in the first round as part of the Welterweight Tournament quarterfinals.

For more information on this Saturday's Gateway Fight League 8 card, check back on Friday for our weekend preview.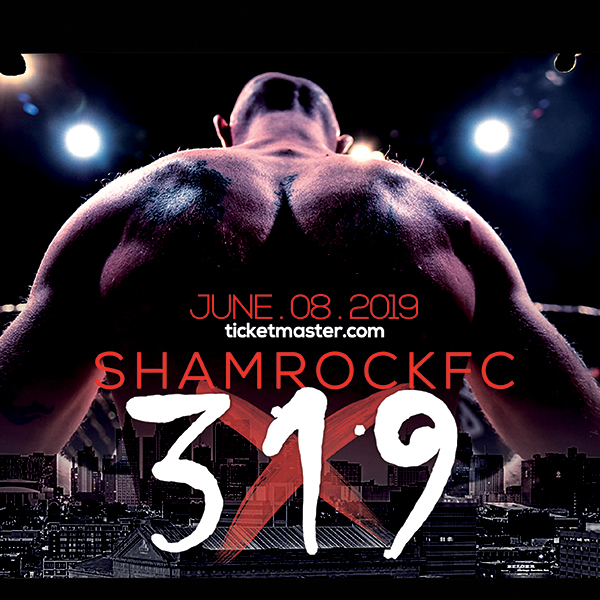 Shamrock FC: 317
| Sat, April 6th
Ameristar Casino, Kasnas City, MO
Nemesis Fighting Alliance
| Sat, April 13th
Casa Loma Ballroom, St. Louis, MO
Shamrock FC 318
| Fri, May 10th
River City Casino, St. Louis, MO
Shamrock FC 319
| Sat, June 8th
Ameristar Casino, Kansas City, MO

Tweets about "KnuckleJunkies OR @knucklejunkies"