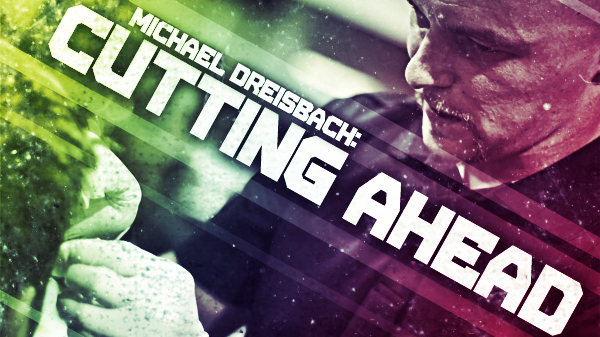 Michael Dreisbach: Cutting Ahead
In the world of professional cutmen, St. Louis is turning into a hotbed.

Bearded Matt Marsden has been living the cutlife for over a year as one of Bellator's full-time cut specialist. Now another familiar face, Michael Dreisbach, is getting a call up to the big show.

Dreisbach, an O'Fallon, IL resident, has been quickly building a formidable resume. He has graduated from the local fight scene to the major leagues of mixed martial arts that includes Titan FC, the all-women's fight promotion Invicta, and now pinnacle of the sport, the Ultimate Fighting Championship.

While a student of McKendree University, Dreisbach pursued a career in athletic training. A connection with a local gym served as the catalyst for what now has become his full-time gig.

"I was working at a local gym, they had a fight show and said 'You want to come out and learn some things?'" Dreisbach said. "Next thing I know I was wrapping hands."

Fortunately the first show didn't have any cuts, but he was immediately hooked. A friend showed him a basic hand wrap, but through research and help from a DVD from legendary cutman "Stitch" Durand, Dreisbach learned the art of wrapping hands.

"First big show was Titan, thanks to Matt Marsden," Dreisbach said. "He called me up and said 'You want to work Titan show?' A couple years passed working with Titan and then Invicta 3 came a long. I called Shannon and they needed a hand wrapper."

As fate would have it, "Stitch" wasn't able to work the Invicta show, and Dreisbach landed the full-time job.

"Meeting a legend like "Stitch", making that transition," Dreisbach said. "Wow, that was huge. He gave me some pointers, between his DVD and the pointers, he's given me a firm base."

While in town for UFC Fight Week, Dreisbach had lunch with UFC mainstays Stitch and Don House. After touring a few of the Vegas gyms, Dreisbach got the call he had always dreamed of.

"Stitch called me back after dropping me off at the hotel and said 'We can meet with the UFC head guys, you wanna do it?" Dreisbach said. "I took the biggest bet in Vegas and came out aces."

A typical UFC cutman crew consists of six people. With the growth of the organization, new talent is needed.

"My first show was the Indy event," Dreisbach said. "They're wanting to develop the new guys, make sure they can hold their snuff. Day of the event, Burt (Watson) called us down to a meeting. Told me I was going to wrap one hand of Rudy (Hernandez), and one hand of House."

With the pressure on, Dreisbach came through.

"I'm standing there in front of everyone," Dreisbach "They start grilling me, asking questions, showing me the ropes of what to expect. Next thing you know we're on the bus to the show, working. It's fire in the furnace. You're sweating. It's do or die right there. You have to show what you got, what you know, and you have to be on point."

The performance impressed his peers enough that he was asked back in November. Dreisbach will be backstage again at UFC 167: GSP vs Hendricks. Dreisbach will be joining another local, Tyron Woodley, who will return to the octagon to take on Josh Koscheck.

Not taking anything for granted, Dreisbach draws on a quote from the UFC's handler Burt Watson who said "It's easy to get here, its harder to stay here." That's exactly what Dreisbach plans to do.

"Whether it's this show we're at, or another local show," Dreisbach said. "I always give 100%."