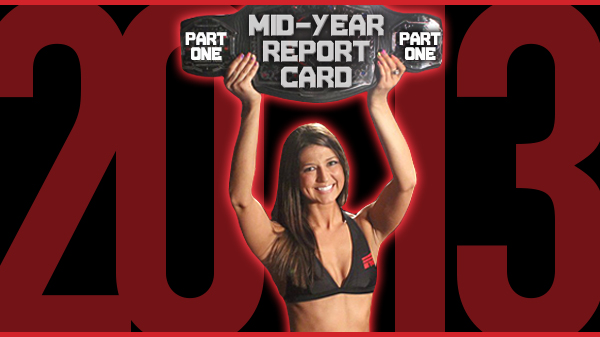 Mid-Year Report Card - Part 1
As the last sparkler smolders and the final can of beer is crushed and tossed into the waste can, we reach the halfway point of 2013.

Much like the sport, the waters in St. Louis MMA have been choppy with many a peak and valleys.
Like looking for change under the couch cushions we're going to take a quick look at the first half of 2013, assess the damage, and rate its impact.

You can read about each and every one of these events in our news section and let it all unfurl.

January
It started off with likely the best night of the year.

On January 19, three blockbuster fights featuring four prominent local fighters took place, though only one was on Missouri soil.

As Fight Hard MMA took over the St. Charles Family Arena once again and in the main event, Zach Freeman and Rob Washington put on an instant contender for Fight of the Year as Freeman earned a decision victory.

Meanwhile, Freeman's teammate from St. Charles MMA, Josh Sampo was in warmer climate garnering the biggest win of his career. Sampo went to Florida and defeated Alexis Vila to become the CFA flyweight champion.

Then in the dark country of Pennsylvania, Destruction MMA's Eric Irvin ponied up and went to the home turf of UFC vet Charlie Brenneman, Brenneman eventually got Irvin with a rear naked choke and has went on to win two more fights in 2013.

Also in January, Steven Mann looked razor sharp in his win in the main event of Shamrock Fight Championships: Fury. It was Mann's debut for the local promotion and bright sign of things to come

And on the national front, Finney's MMA's Adam Cella won his bout via arm bar to make it on to The Ultimate Fighter 17 reality show. Cella was eventually picked to be on UFC light heavyweight champion Jon Jones' team. It was just the start of a very eventful run for the local middleweight.

Synopsis: It doesn't get much better? Maybe if Irvin would have pulled off the upset, we would have added a '+'.
Grade: A

February
The month started off with two big bangs, one good and one not so much.

First, on Feb. 2, Tyron Woodley made an explosive UFC debut. Woodley flattened vet Jay Heiron in 36 seconds. The victory put 'The Chosen One' in the forefront of everyone's mind when it came to the welterweight division.

But just three days later, Cella got caught by a spinning wheel kick from fellow TUF 17 classmate Uriah Hall. The KO, unfortunately, exploded throughout the Internet and social media. But Cella showed real grace and professionalism in how he dealt with the unfortunate circumstance.

In Rumble Time's first MMA show of the year, Rage on the River, Alp Ozkilic's debut at flyweight was explosive.

He scored a big win with a second round TKO of Josh Robinson in the main event. Ozkilic, out of St. Charles MMA, ended the fight with some strong, heavy elbows followed by big punches that connected while on top of Robinson. Referee Mike England stepped in to stop the fight and a demonstrative Robinson reacted to the decision and at one point even shoved England.

Also that month, Spire announced its 2012 winners and on the amateur end, Matt Helm, of St. Charles MMA, won in the main event of Cage Fighting Event's first show of the year.

Synopsis: Another strong month but it was a bummer seeing the Cella/Hall kick over and over and over again.
Grade: B

March
While the start of the year was heavy with the pros, it was a strong three weeks for the ammys.
Cage Champs returned to the Fat Cats sports complex for an all amateur event when a new Spire Heavyweight State Champ was crowned.

In a match that saw the No. 1 and 2 heavyweights in the state, Jason "Shrek" Ostrowski from Ft. Leonard Wood took on Travis Edwards fighting out of Jefferson City. Shrek made quick work of his opponent finishing, with a choke 1:17 into the first. Cage Champs also saw foreshadowing of a young lightweight out of Springfield named Christian Camp who began his personal vision quest against fighters from St. Charles MMA submitting Jason Powell in the first.

Proving Grounds League started its lightweight tournament at the South Broadway Athletic Club. Nemesis Fighting Alliance was back with Black Cat Bash 2 at the Fredericktown National Guard Armory.

It was a night of upsets at Shamrock FC: Fusion at the Lumiere Casino, Iowa's Dan McGlasson was patient and caught lightening in a bottle against Brazilian Jiu-Jitsu black belt Lucas Lopes with a first-round TKO victory. Ken Porter, who had tallied together an impressive amateur career, fell short in his pro debut.

Synopsis: It was without any blockbuster local victories and just handful of amateur events, it was a pretty average month.
Grade: C

As the weather warms, so does the temperature in St. Louis MMA. Check back later this week when we retread content from the final three months.