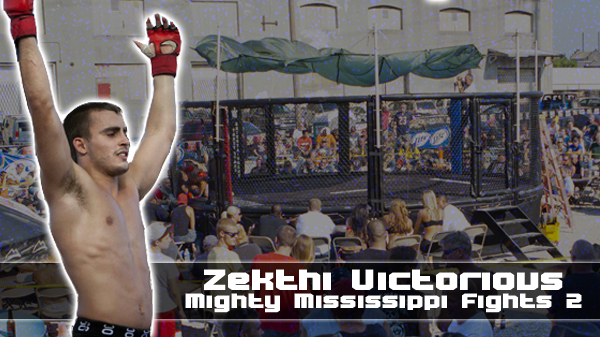 Mighty Mississippi Fights 2 - Event Recap
For the second straight year Shady Jack's has played host to amateur mixed martial arts. The biker bar in the shadow of Lumiere Casino on North Broadway was the perfect outdoor venue for fights. The event was hosted by the Hells Angels MC and El Forastero MC was put together by Jim Jenkins and Cage Fighting Events.

While the sun made for a warm day, the action in the cage was even hotter.

The marquee match-up of the afternoon featured rising phenom from CMMA, Erion Zekthi taking on his stiffest test to date in the form of 18 year-old Cort Wahle from Alton.

Wahle wasted little time, taking his first amateur MMA bout a month after he turned 18, the legal age in Missouri. After racking up two first round wins, Wahle's will would be tested, and although he came up short on the day, he did prove he has what it takes to be a top talent.

Zekthi showed why several members of the MMA community are very excited about his future. This bout saw Zekthi taking on a game, undefeated opponent, one weight class higher than he typically fights, and coming out victorious.

The first round was very technical featuring a couple of great exchanges before Zekthi forced the transition to the ground. Wahle nearly landed a a couple of submissions in the first round but the athletic Zekthi executed his escape plans.

Showing great composure, Zekthi rallied after losing the first round to take back control of the fight. Zekthi's more advanced ground game made the difference and he was able to grind out the victory in an exceptional match of two young prospects both of which seem to have a very bright future.

Wahle's teammate from the War Room, Wendy Julian, wasted little time in her match with Jen Reed, submitting Reed one minute and 58 seconds into the first by triangle. Reed and Julian are very familiar with each other having tangled in July in an amateur Muay Thai battle with Julian winning by decision.

Anthony Hostetler and Demetrious Cannon battled for three rounds. Hostetler was just a little crisper standing and a little bit sharper in his ground game. Had it not been for a head scratcher of a scorecard from one of the judges, Hostetler would have won a unanimous decision. Instead a 30-27 the other way saw Hostetler from Watson Martial Arts victorious by way of split decision.

Dillian Schreiter and David Grant gave the crowd their money's worth with the fight of the night.

Schreiter nearly had the armbar in the first but the the bell saved Grant from having to tap. The two battled to the distance that saw both fighters in position to win the fight. The judges felt Schreiter was a little more dominant and awarded him the unanimous decision.

Dre Cannon defeated Colby Gibson in round 2 by TKO and then the heavyweight celebrated with a cartwheel to the center of the cage. Cannon rebounds after a very tough fight against Korey Smith back in July and evens his record at 1-1.

Johnny Cox from Fearless Fighters defeated Tre Crawford with a guillotine in round one. Cox primarily known for his strong muay thai is starting to add a budding ground game to his bag of tricks as well.

Billy Kreup defeated Aaron Clark by TKO in round one to the loudest cheers of the night. The very popular Kreup always travels with a large group of fans of which followed him into battle at Shady Jack's. Kreup improves to 2-3 winning his second straight fight.

In earlier action Michahl Senseil defeated Randy Porter by guillotine after an ill-advised take down attempt left Porter's neck exposed. Chris Campbell won by RNC after jumping onto his opponent's seconds before the round ended. Rodney Cotton defeated Ethan Cotton by armbar, and Jason "Snowman" Snow defeated Code-Red Cody Jenkins by armbar in round two in a very competitive fight.

Cage Fighting Events returns to the Heart of St. Charles on November 1st for the first of two Pro/Ams in November. Card will feature the highly anticipated Ken Porter vs Dan O'Connor match-up. Mighty Mississippi Fights will return next August to Shady Jack's.