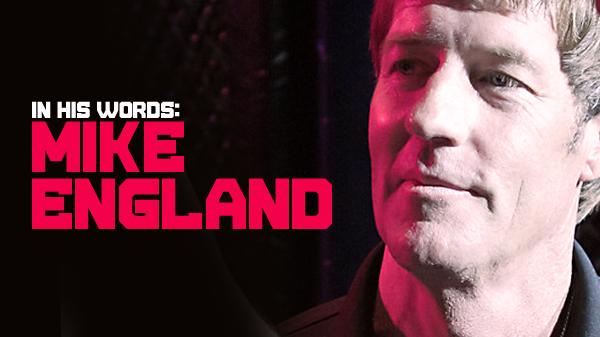 Mike England, In His Words
If you have been a fighter, coach, or spectator over the last 15 years then you have surely caught a glimpse of Mike England.

England is the foremost referee in combat sports in not only St. Louis but in Missouri and possibly the Midwest. Plug in any regional fighter's name into Sherdog's database and more times than not, England's name will pop up on his or hers dossier. England not only knows the game, but he has lived it. With a fighting background of his own, the 51-year-old has been a fighter, trainer, and a judge all prior to being a respected ref in the sport.

I tracked England down before another busy card to learn the ins and outs of a decorated career both in the ring and inside the cage. Here is Mike England, In His Own Words.

I was born in Montgomery, AL and was adopted in Alabama. My dad worked for a rural electric cooperative. I went to 15 different schools. I went to school in Thailand for awhile and I went to school in Singapore for awhile before we came back to the states.

I worked at Thomas Hill Power Plant for 18 years in the engineering department.

I started training as a young kid in boxing through foster care. I was in foster care for several years and one of my foster parents was a trainer and I started out with him. In the 70s, karate came to America and back then movies like 'Billy Jack' were big. When I went overseas, I did muay thai and shootfighting over there from when I was about 14 up until 19.

When I came back, finished college, and started working I still trained and I had a buddy of mine who was training for fights so I took him to some fights and then we started training some fighters. We were doing a Tough Man in Sedalia and the commissioner asked me if I would be interested in judging. So I did some of that and that led to some professional judging in boxing in '94. I did that pretty strong through the 90s to where I was in the WBC, then the NABF and then I started doing title fights for them.

A friend of mine in Columbia, Mo, Jeff Powell, kinda brought MMA to Columbia in the 90s before it was really popular and he was doing amateur shows. Maybe 150 people crowded into this little bitty bar. We were doing it in a boxing ring and he wanted the traditional referee so he wanted me to wear the bowtie and the whole works.

I was reffing muay thai, shootfighing and kickboxing before I even did boxing. And judging also. With MMA, the only major difference was the grappling so that's when I went into a gym and grappled with a guy to learn it.

I was doing at least five shows a month for boxing and when MMA became legalized, as far as professional fighting, it just kind of took over. Within two years I was doing mostly MMA. About four MMA shows a month to one boxing.

When I first got into it I had a lot of people who were skeptical because I was a big time boxing referee and was doing some world title fights but they just didn't know my background. They never asked. They just assumed.

When I'm at home I watch a lot of fights. I have a lot of videos and I get sent fights to watch.

The longer (MMA) is in America, the longer it grows and the better these guys are getting and that's what I love about it. It's getting so technical now that it's fun to watch it. It's not sloppy. Guys really know what they're doing, they're defense is good so you're seeing some really good competition now.

I did 51 shows last year. And there's how many? 10-12 fights on a card. I've been doing it 16 years. There was one time I was doing seven shows a month. I did a Showtime fight and Rumble Time told me that if I looked on boxrec.com I had refereed more fights that year in the world than any other referee.

Your work speaks for itself. I've always told people that are (reffing) this sport; don't hang out with fighters, don't hang out in gyms, don't gripe about what you get paid, and don't call the commission and ask for a job. They will call you. And when you go do your job, be serious about it, do your job good and walk away. Don't stand around and talk to all of the other people. Even though you want to be buddies with them, but you can't.

MMA is the most respectful sport that I have ever done, counting muay thai, shootfighting, kickboxing and boxing. Boxing is probably the worst because it is an individual sport. MMA is a team sport.

They'll pick a guy up off the ground and say, 'Hey man. Come over and sleep on my couch and train at our gym.' You don't see that in boxing. You don't even touch gloves in boxing.

These guys are good guys and they have brought the sport along. The training for this is just phenomenal. People don't understand. The conditioning is tough so I try to stay in shape and condition myself like these guys do. That way I have respect for them. I want to know what they go through.

I'm 51-years-old. Come to the gym and workout with me. I love to workout hard. I go to the gym and I weight train and people think I'm a madman.

It's all about protection. That's my main job. I'm not here to be in the show. I'm here to protect these fighters and make sure that they do the right rules and that's it. Usually when the fight is over, I'm right out of the ring. They did all the work. They deserve all of the credit and it's an honor to be in there with these guys.

There were times when I could have maybe (worked) full-time in boxing and maybe MMA on the side because boxing pays a lot more when it comes to doing world title fights. To do a world title fight, you have to put time into it, you have to go to their seminars, and it's just more time consuming and I had small children.

I have a 14-year-old and an 18-year-old still at home and I'm a single dad. When my boy was born, I was doing a lot of boxing and I was travelling a lot, so I had to say, 'Ok Mike. Maybe sit back and stay in the states right around you so that you're kids can go with you.'

My 18-year-old was in a pumpkin seat at fights. My 14-year-old boy was underneath the ring in a pumpkin seat. My kids have been everywhere and to every amusement park in every city. It's been a great ride for us. I don't make a lot of money but they do pay my expenses and so me and my kids get to travel and get to see things. I've been blessed. God's been very good to me.

Don't try to fake the referee out.

I believe that amateurs ought to have 12-ounce gloves. I think there needs to be a distinction between an amateur and a pro. Right now the only distinction is no elbows and no knees to the head. And some amateurs allow knees to the head and I don't think that is right.

I tell them in the dressing room, amateurs, I'm going to protect you. Pros, you're going to get beat up because that is what you're paid to do. I'm going to let you go farther.

With amateurs, you don't know what you're going to get. You don't know if a guy has been training for two years and it's his first fight and he's fighting a guy in his first fight who is only been training two months. The guy with two years experience is probably going to wipe him out. Just because they don't have a fight doesn't mean they're not good.

I have seen guys get bit. I have seen guys pull hair and grab the hair and drag them to the floor. I had a guy kick me before. I had a fight 12 years ago, in an (boxing) exhibition, after the second round I went to break them and they were fighting so hard we ended up all three on the floor and they were still fighting on the floor and we ended up out of the ring and onto the floor. I have seen trainers jump over the cage.

I had a guy get hit one time. I stopped the fight. The kid made $400 to fight a good fighter. I stopped the fight, one shot. They had no standing eight-count in boxing at the time. I knew the guy was hurt. He high-fived everybody in the ring went to the dressing room and went into a coma. Nobody knew that he went into a coma. I got booed because I stopped the fight.

I love every one of these fighters.