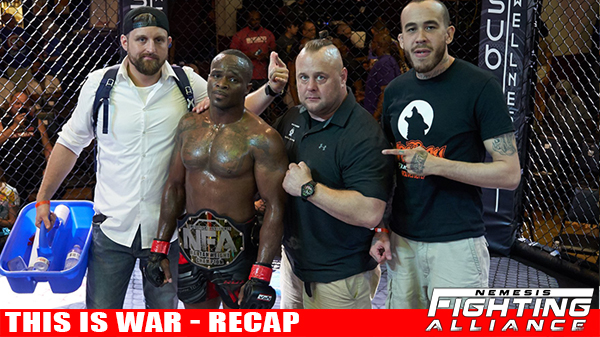 NFA - This is War - Recap
Three title bouts were among the many highlights on Saturday at the Casa Loma Ballroom in St. Louis as the Nemesis Fighting Alliance hosted "This is War!"

"There were a lot of well-rounded fights and some Fight of the Year contenders," NFA President Brad Cary said. "We have two more events this year. We are already getting our schedule together and planning for next year. You can expect to see us again for at least four-to-five fights next year. We're getting to capacity and we're going to continue to put on great fights."

In the main event, Eric Ellington defeated William Shutt via unanimous decision to become the new Nemesis Fighting Alliance bantamweight champion.

In a technical and exciting ground battle, Ellington and Shutt wrestled each other for position and worked hard to secure submissions. Ellington came out on top of most of the grappling. Shutt did an excellent job protecting himself from submissions and escaping positions despite Ellington nearly twisting Shutt's arm off with an Americana arm lock. Shutt did not tap, bridged out of the submission and the fight went back to the feet and then back to the ground. Shutt seemed happy to make this a striking match but Ellington was winning on the ground and kept taking the fight back to the mat. Ellington's ground and pound, positional dominance, takedowns and submission attempts kept the score cards securely in his favor.

Ellington improved to 7-1.

In a middleweight co-main event Jordan Dowdy defeated Kevin Brown via submission with a rear naked choke just 15 seconds into round one.

Dowdy's wrestling, striking and submission grappling were tactically sequenced perfectly in this match. Dowdy moved through all levels (standing, takedowns and grappling) ready to end the fight promptly, with speed and violence. Fifteen short seconds into round one Dowdy took Brown's back, secured the rear naked choke and ended the fight in style with confidence. The win was Dowdy's fourth-straight as he improved to 8-4.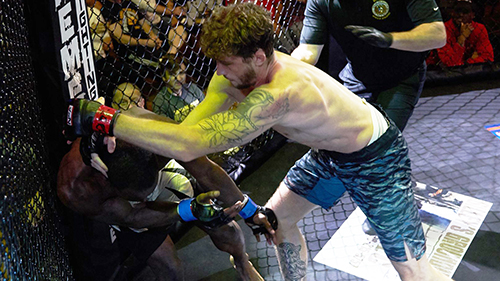 Josh Augustine defeated Tremiere Hollie via TKO in round one.

Augustine started the match with heavy and precise strikes and kept connecting like a telemarketer, over and over and over. Hollie hung in there but eventually, after taking several knees to the body, the referee stopped the fight. Augustine improved to 2-0.

Kemonjea "KJ" Jones defeated Justin Lankford via KO in round one.

Jones came out swinging early and hit Lankford hard. Lankford responded working great takedowns starting with a solid double leg followed by a powerful single leg, but Jones would not stay down and when Jones got his legs back under him his striking was unrelenting, ferocious, and precise. Lankford collapsed under the barrage. The punches were coming so fast and hard to Lankford's face it was difficult to tell which punch dropped him, but Lankford spent some extra time on the mat recovering from a volley of brutal, violent, and accurate punches to his face and head.

In the marquee fight on the all-amateur undercard, Chuckie Brooks defeated Orlando Sanders via rear naked choke in round three becoming the Nemesis Fighting Alliance amateur welterweight champion.

"I've always had submissions," Brooks said. "I was surprised the way I was landing on him with my strikes. He was kind of laid back and wasn't engaging. My speed might be a little different once you get in there with me."

Sanders and Brooks went back and forth trading punches and takedowns for three long grueling rounds. Brooks got the better of the striking and Sanders seemed to be getting the better of the grappling nearly arm barring Brooks in round one until round three when Brooks sprawled hard on a takedown, transitioned to side mount with Sanders turtling, Brooks then took Sanders back and locked in a rear naked choke to secure the championship title.

"The mindset (going into the third) was to wrestle him, get on top, and don't let him flip me over," Brooks said. "I think in the first round, I may have had it by a little bit. The second round was all him so I knew the third round had to be all me. Honestly, I think I can beat a lot of guys with my style as long as I use it correctly. I think I can be the top amateur around here but I have to hone my craft."

Keegan Irish defeated Sebastian Grant via split decision to become the new Nemesis Fighting Alliance featherweight champion.

In one of the most closely matched fights of the night these two warriors went back and forth, standing, to the ground, and back again fighting for every point and position. Irish's jiu-jitsu gave him control and dominance on the ground and Grant's striking was ferocious and unrelenting. In the end, Irish came out on top of the judges score card via split decision.

David Frasier defeated Dylan Hatley via rear naked choke 38 seconds into round one.
Hatley opened the bout with a hard right dropping Frasier. Frasier returned the favor with a solid double leg takedown. Hatley got back up attempting a guillotine. Frasier reversed the position and returned a takedown. Frasier, on the ground, worked to secure Hatley's back and applied a deep rear naked choke for the tap.

Aaron Lake defeated Joseph Brown via triangle in round one.

Lake used his reach to get the better of the striking exchanges. Brown responded with a powerful double leg takedown into Lake's guard. Lake was quick to start working a triangle choke. Once Lake locked the choke in, Brown tapped.

Daniel Skaggs defeated Micah Bell via TKO in round two.

Skaggs started the fight strong and stayed strong. Skaggs dominated all levels, striking, takedowns and grappling. Bell kept his chin despite a volume of precise strikes by Skaggs. Bell looked shaken but kept fighting and swinging until round two when Skaggs hit him with a clean roundhouse to the liver followed by a straight punch to Bell's face driving Bell against the cage, Bell slid down the fence and the referee stepped in and stopped the fight.

In the only K1 bout on the card Kaitlyn Jesse defeated Jett Bouckaert by unanimous decision.These two warriors went back and forth for three exciting rounds of technical striking. In the end the judges' cards all favored Jesse.

Tivion Taylor defeated Jason Akers via KO 22 seconds into round one of the opening match of the night.

NFA returns on August 17th and announced prior to the event that top prospect Sean Woodson would be back in action, potentially challenging for a title.