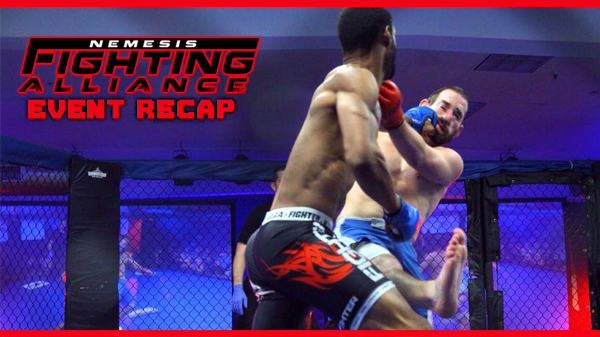 NFA: A Warrior's Welcome - Event Recap
Fans in Arnold were on their feet from the undercard to the main event as the Nemesis Fighting Alliance put together a stellar show.

Saturdays main event ended with a touch of controversy. Nikko Glasper defeated hometown hero Tommy Sthair early in the first round with a nasty knockout. The crowd was not happy with the Illinois natives showboating after the victory as paramedics were immediately brought in to attend to Sthair.

"It was a brutal KO," NFA promoter BeeJay Smith said. "No one wants to see anyone get hurt, but this is the sport. This is what we all come here to see. We dont want to see anyone leave here like that, that is the worst case scenario. Props to Nikko. He trained hard for this fight and as for Tommy, I hope he gets better and back in the cage soon."

After the fight Sthair was taken out on a stretcher with applause from the crowd.

The co-main event was a battle of heavy hitters as James Evans defeated Jon Stotler in the second round via rear naked choke.

"If you were to ask a lot of these guys they would have thought Jon would have the ground advantage," Smith said. "Stylistically this fight made sense to me though."

After an evenly matched first round, Evans was able to come out in the second with a flurry of strikes, take back control, and sink in the choke.

"It makes me feel great," said Evans. "It just took a lot of hard work and dedication working on the ground. My ground work wasn't very good but now I am happy with my ground game."

Jon Bucholtz defeated Matt Saller in a unanimous decision. Bucholtz and Saller put on a very technical display in a close back and forth fight.

Erik Newman weathered an early first round storm by Steve Barbee and was able to catch Barbee in a deep guillotine choke winning him submission of the night.

"There were quite a few people that said Barbee was going to be too much for Erik," said Smith. "I disagreed and you saw what happened."

Pete Saller was able to grind out a decision victory over Brian Borden. Saller was ultimately able to control Borden with his non-stop ground and pound.

Jason Newman, older brother of Erik Newman, made the undercard worthy as he defeated Kevin Mueller in a decision which earned him fight of the night honors.

"I'm happy with the Newmans, Jason put on one hell of a show," Smith said. "I love having debuts like that. It left a lasting impression on hundreds of people."

Full Results:
Nikko Glasper def. Tommy Sthair 1st rd. KO (KO of the Night)
James Evans def. Jon Stotler 2nd rd. Rear Naked Choke
Jon Bucholtz def. Matt Saller Unanimous Decision
Erik Newman def. Steve Barbee 1st rd. Guillotine Choke (Submission of the Night)
Pete Saller def. Brian Borden Unanimous Decision
(K1) Jake Martin def. Cody Winistoerfer TKO by injury
Jesus Garcia def. Troy Kayser TKO
Justin Jovanovic def. Ien Coleman Submission
Jason Newman def. Kevin Mueller Decision (Fight of the Night)
(K1) Jael Robertson def. Summer Davis TKO

Photo courtesy of Sara Levin Photography.