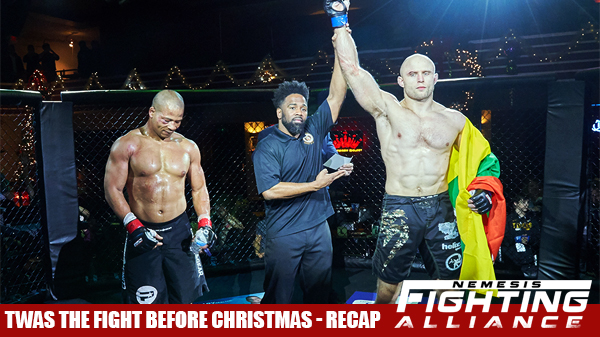 NFA: Fight Before Christmas - Recap
In the epicenter for Mexican Cuisine in St. Louis, MMA was the main course on Saturday night. The Nemesis Fighting Alliance returned to action at the Casa Loma Ballroom on historic Cherokee Street for an action packed night that saw finishes in the first five fights of the night, an incredible amateur bout that will be talked about in weeks to come, and a trio of professional bouts that didn't disappoint.

The main event saw Rashid "Black Spartan" Abduallah return to St. Louis for the first time in 5 years, and he had the hometown fighter Julius Anglickas in trouble early with a couple of big right hands. Sensing danger Anglickas launched a massive takedown to plant Abdullah on his back, working the ground and pound from guard. Abdullah seemed to have no answer from his back, and after a quick pass to side control, Anglickas turned it on and finished with brutal hammer fists to get the first round stoppage improving to 5-1.

BJJ black belt Andrew Ebers wasted little time dragging his opponent KJ Jones to the mat. Ebers executed a slick back take against the cage, took the back, and immediately went to work on getting his arm under the chin of Jones. Jones was able to turn out of a bad position with Ebers on his back into a worse one, getting mounted from Ebers who landed nasty elbows from top. When Jones turtled, Ebers once again looked for a submission, riding the back of Jones landing punches from the top forcing the ref to intervene and call a hault to the match. Ebers, the head coach at the Wolves' Den improves to 2-0 as a pro.

Pro kickboxers Drew Gigax and Kevin Brown got the crowd energized from the opening bell. Both fighters were throwing hard with bad intentions. Midway through the first Brown ate and over hand right that put him on his back, after answering the 8-count, Brown was a little more cautious and looked to stay out of danger and get to the second.

In the second, Gigax sensed blood in the water and put on the pressure, chopping away at the legs of Brown, and landed punches when Brown would retreat. The third round was all Gigax who stuck to his discipline and just waited for Brown to make a mistake. Midway through the round a body show from Gigax put Brown on the canvas, but not out of the fight. A big knee and a left hook put Brown down for a second time in the round. A third knockdown put an exclamation on the round, who cruised to a unanimous decision. This was the second professional win for the accomplished amateur kickboxer from Andre's Academy.

Leading off the main card was an amateur bout many local insiders had eagerly been waiting for. Kevin Roper and Orlando Sanders ran it back again in a bout from September that saw an inadvertent eye poke call an early stop to the match. Just like the last one ended, an eye poke on the first punch of the fight called the doctor in to check out Sanders. Fortunately for the fans in attendance, the poke wasn't too bad, and the fight restarted.

After the reset, a big takedown from Sanders put Roper on the defensive. Roper looked to find a home for his big right hand, but Sanders was able to stay out of damage and connect with one of his own that bloodied up the eye of Roper. Seemingly on the back heel, Roper reversed the tide and landed a takedown, maneuvering to the back of his Sanders. Both fighters had their moments but neither could gain the upper hand. After a close second round, Roper landed a big punch out of nowhere that had Sanders on wobbly legs and in serious trouble. Sanders somehow found a takedown to stay in the fight, and survived long enough to see a third round. Sanders was dominating the third round when Roper hit a miracle takedown to put Sanders on his back. Roper followed up for 15 seconds of ground and pound before the bell ring to send the fight to the judges.

After three razor close rounds, a split decision victory was announced. 30-27 Sanders, 29-29 Roper, 30-27 Sanders. Sanders wins the NFA Welterweight Amateur title with the victory for a late candidate an front runner for amateur fight of the year.

Alex Macias was just too strong for Zach Burcham, muscling his way to the NFA amateur featherweight title. After a brief exchange it was clear Burcham had plans for fighting this bout on the ground. Working from a headlock guillotine Burcham couldn't get into full guard to finish the choke, Macias was eventually able to pass, and started landing punches from top. After Burcham turtled up, Macias was able to get the hooks in and lock on a rear naked choke.

Middleweights Bryan Barkan and Randy Hawkins matched-up and didn't take long before the fight hit the canvas. Hawkins out of Arnold BJJ scored the first takedown, but Barkan was able to force a scramble to get the fight back standing. After a reset Hawkins landed a big scoop slam, falling into a guillotine, but Barkan was unable to finish. Working from side control Hawkins landed some good body shots while working for the mount. Hawkins finished the round with strong mounted punches. Deja vu in the second with Hawkins scoring another scoop slam, landing in side. A sweep from Barkan put Hawkins in a bad spot. Hawkins on his back locked up a nasty looking kimura, using it to sweep Barkan. In the third Barkan looked to setup a foot sweep, but Hawkins stepped over the foot to land a takedown of his own taking the back where he landed some nasty ground and pound forcing the ref to stop the fight. Hawkins wins via TKO in the third.

The highlight of the all-amateur undercard was an exciting back and forth kickboxing match-up between Brandon Beatty and Willie Henderson. Both fighters came out spunky in the first round, looking to capitalize on any mistakes from their opponent. Both fighters navigated the round without taking too much damage. The second was even closer, Beatty was able to land some long punches over the top, and chopped at the legs of Henderson. Henderson was agile and punched effectively out of the clench. Beatty looked to be on a mission in the third and chased Henderson around the cage. When the final bell rang it was up to the judges to pick a winner. Brandon Beatty wins with a unanimous decision.

In a kickboxing match, Patrick Keao scored a late knockdown with a headkick, to score round one in his favor. Tyler Horton came firing back in the second landing some counter punches, but Keao seemed to be winning the exchanges. Keao controlled most of the second round and headed to the third round winning on the judges scorecards. Horton scored a knockdown early in the third to pull himself back into the fight, and started to find a home for his right after the reset. Keao stopped any momentum from Horton with a thundering headkick. The round ended with both fighters exchanging in the pocket, with the bell sending the fight to the judges. When the scorecards were tallied, Patrick Keao wins with a split decision, winning the fight on two of the three judges's scorecards.

Lilie Helton and Stormie Kilgore looked for subs early and often in an exhibition grappling match. Helton scored more submissions in the match and was awarded the victor.

Bantamweights Aaron Fahr and Trevor Barnes wasted no time in a rematch of a previous bout. Fahr nearly landed a high elbow guillotine from standing, but Barnes wiggled his way free. A takedown sweep put both fighters on the ground, where Fahr maneuvered for a submission. Fahr worked a nasty looking belly down armbar, Barnes attempted to slam his way out, but only made the armbar deeper, Fahr landed on his back, leaned back and got the tap.

A women's kickboxing match entertained the fans with Karen Simoncelli taking on Tiffany Morriarty out of Watson Martial Arts. Both fighters were well coached coming out with strong technical striking in the first round. In the second Simoncelli began working her jab, finding a home for it early and often. Morriarty slowed down things and found effective clench work, landing knees to the mid section of her opponent. Just as Simoncelli started ot make progress in the third, Moriarty landed a head kick to slow down her opponents advance. After the fight went to a decision, Simoncelli wins a unanimous decision.

Nick Beck and Dan Liberson through out the playbook and decided to just punch it out. Both connected several times at the opening bell but it was a headkick from Liberson that swung the pendulum in his favor. A punch put Beck to one knee, from there Liberson turned the fight into a grappling match. Liberson takes the back and finishes with a rear naked choke. Liberson improves to 4-0.

An exciting bantamweight match-up between Johnny Brannon and Samuel Fragoza. After eating a couple punches from Brannon, Fragoza hit a massive pick-up slam carrying his opponent halfway across the cage. With Brannon on his back Fragoza maneuvered into mount landing punches from top forcing Brannon to turtle, setting up the rear naked choke from Fragoza.

Thad Roush wanted to take the fight down from the opening bell, but Kody McGehee displayed great takedown defense. With Roush looking for a single leg, back against the cage, McGehee landed a stiff hook which staggered Roush. With more punches starting ot land, Roush retreated across the cage with McGehee hot on his heels. A couple solid punches to the chin, Roush begin to wobble, an ref Dewayne Bess waived off the fight.

Tim Stockman out of Troy, MO took on Terry Copling out of the Smith Pit. Copling came out throwing with bad intentions dropping Stockman quickly with a punch. It wasn't clear if Stockman was out or just stunned, but with Copling throwing punches without much resistance, the ref had no choice but to stop the fight.

Kicking off the night was a match-up between John Meyere and Keegan Irigsih, two grapplers deciding to stand and test each other's chins. After the fight went to the ground, a scramble saw Meyere throw on a guillotine choke only to see Irish roll out and take the back of his opponent. Irish finishes with a rear naked choke.

NFA returns on Aprril 13th to Casa Loma.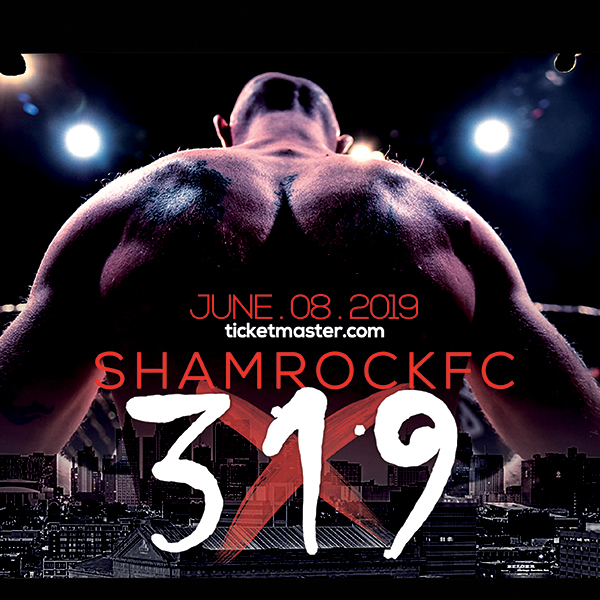 KCFA
| Sat, August 24th
Independence Event Center, Independence, MO
Shamrock FC: 322
| Fri, September 6th
River City Casino, St. Louis, MO
Sub 5
| Sat, September 21st
TBA
Nemesis Fighting Alliance
| Sat, October 5th
Casa Loma Ballroom, St. Louis, MO

Tweets about "KnuckleJunkies OR @knucklejunkies"