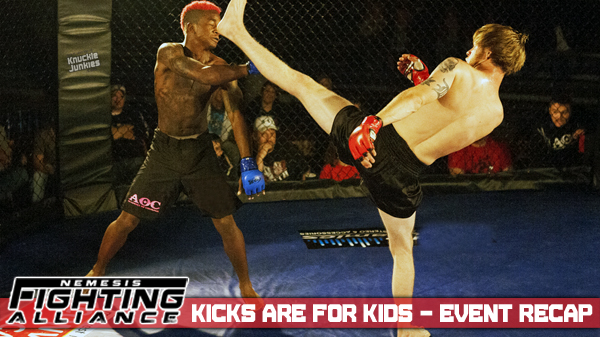 NFA: Kicks are for Kids - Event Recap
Maybe it was the close proximity to Halloween or the kids dressed like zombies and skeletons that led to the weird stoppages that haunted the Farmington Civic Center on Saturday night.

Either way, once again the Nemesis Fighting Alliance put together a memorable night of amateur MMA.

In the main event, Spire's No. 1 bantamweight was successful in his flyweight debut when Damian "D-Man" Newman submitted Matt Murphy halfway through the second round.

Newman got popped early, sending him off balance and down to one knee but it seemed to be the spark he needed. After exchanging with Murphy, Newman got the fight to the ground where he looked more comfortable. Midway through the second Newman pushed the fight against the fence and locked on a modified arm triangle.

"It was kind of a modified Von Flue, more of a head and arm," Newman said. "It just didn't have the legs. The fence was there and he couldn't roll away. He's heavier in the shoulders, once his arm came up it cut off the circulation pretty easy."

For Newman, the lower weight class seems to be a natural fit.

"The cut was easier than I expected," Newman said. "Initially I thought it was going to be hard. I just focused on my diet, not eating fast food. I felt my speed was good, my energy was there, I had plenty of gas. I was little gassed at the beginning, but after the first round I felt like I could have done ten."

The co-main event seemed to have the makings for a lengthy chess match with two durable ground fighters, but a big punch from the War Room's Brandon Lowe ended the fight with Justin Lankford quickly.

"I knew he was going be shooting for the takedowns," Lowe said. "I was just working on my training camp stuff. I heard my coach Jon (Menke) in the corner say 'plant the feet and fire the right hand'. As soon as I saw him come in I fired the right hand, watched him go down and went in to finish the fight."

The fight stopped a three-fight win streak for Lankford, who's only two losses have come in the Farmington Civic Center.

"This probably one of the biggest accomplishments I've had." Lowe said. "He's a game opponent. A big, strong wrestler. I'm just working to improve my game, keep going forward, and make it to the big shows."

Lowe improves to 10-5, and is now 3-0 in 2013 with wins over Joe Roye, Chris Welch, and Lankford.

A conversation that started on Facebook earlier in the weekend ended in the cage on Saturday night.

The incredible momentum of Montuelle Prater was temporarily derailed by a mean liver kick from CJay Hunter.

Prater was implementing his game plan well, stopping Hunter's only takedown attempt. The two traded on the feet with Prater landing a higher percentage of strikes, but as the old saying goes "it only takes one". Hunter landed a kick right below the short ribs on Prater and Prater had no choice but to take a knee.

"The original game plan was to go in there and work what I do best, get him to the ground and submit him." Hunter said. "I went in for a shot and wasn't successful. I didn't see enough openings to go for another one so I thought I might as well trade. I'm not going to sit here and get punched."

Hunter, primarily known for his nasty submissions, showed is very well rounded.

"As I started to trade with him, I got more confident." Hunter said. "I saw the openings he was leaving. I was able to land a kick to the liver, he folded up and I just pounced."

Hunter improved to 32-9 and has hinted that a fight with Buddy McGinnis is all he has left to do as an amateur.

Steve Barbee looked sharp in his flyweight battle with hometown favorite Pete Dugan. Barbee controlled most of the fight and while neither fighter seemed to inflict much damage on the other, Barbee did enough to gain the decision from the judges. This is the first loss in seven fights for Dugan from Destruction MMA.

A controversial referee stoppage marred the fight between Coty Shannon and Mike Counts. Shannon has become a bit of a cult favorite among NFA fans with his crazy submission victories.

Counts came out firing and seemed to be getting the better of Shannon on the feet. Shannon eventually hit a trip, but was caught in an awkward spot with Counts in position for an armbar. Fearing for the safety of the fighter, the ref stopped the fight, awarding Counts the victory much to the dismay of the fans in attendance.

Victor Horton came to fight in his match with Erik Newman. Horton was bullying his opponent in the cage before the youngest Newman brother got the fight to the ground. Newman seemed like a completely different fighter once the fight hit the canvas and the former Seckman wrestler dominated the ground battle. At one point Newman had Horton mounted and was firing off a barrage of punches before eventually losing position.

After two exciting rounds the fight was dead even going into the third thanks to Newman losing a point in the second via an illegal strike to the back of the head. Newman mustered up some heroics reminiscent of his brother Damian's fight with Ira Lukowsky, securing a rear naked choke with just seconds left before the bell. After the event, Horton and Newman were awarded the fight of the night honors from promoter BeeJay Smith.

Justin Jovanovic took home submission of the night honors with his beautiful triangle victory over Ed "ET" Oneal

Shawn Moore rallied late to get a TKO victory over William Wayne. Layth Bader looked impressive in his win over Austin Ganzinotti, winning by unanimous decision in the first MMA match of the night.

"Victor Horton and Erik Newman was a fight that after I scheduled it, I thought it was going to be one sided," NFA's Smith said. "Obviously it ended up being the fight of the night. Other than a few fighters here and there, all the fights were pretty competitive. I had a good time. Long night."

Smith, who doubles as an amateur fighter, is looking to get his second fight sometime in December and says Nemesis won't be back until after the first of the year.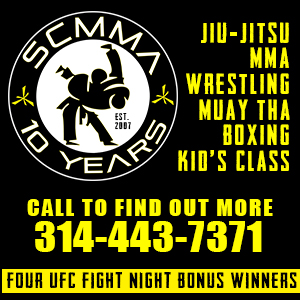 KCFA
| Sat, August 24th
Independence Event Center, Independence, MO
Shamrock FC: 322
| Fri, September 6th
River City Casino, St. Louis, MO
Sub 5
| Sat, September 21st
TBA
Nemesis Fighting Alliance
| Sat, October 5th
Casa Loma Ballroom, St. Louis, MO

Tweets about "KnuckleJunkies OR @knucklejunkies"