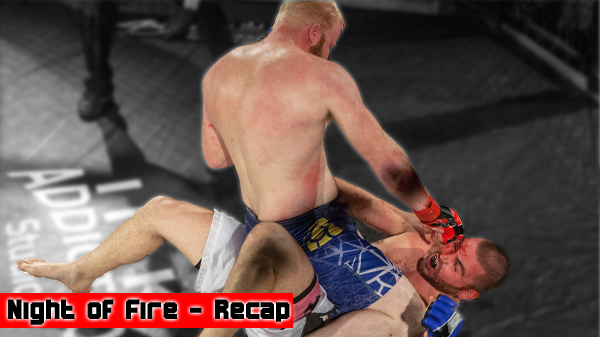 NFA: Night of Fire - Recap
It was a night of fists and fire in Farmington as the Nemesis Fighting Alliance returned to familiar ground at the Farmington Civic Center. With the addition of live music by the Greek Fire, the house was buzzing with over 1,600 paid attendees filling the stands.

In the main event, Tony Souders furthered his case as the area's top amateur improving to 11-1. Bil Dwyer presented a serious threat with dynamite in his fists and baited Souders into a slugfest early, but the battle tested Souders wisely took the fight to the ground and eventually finished with a TKO.

Souders has a fight scheduled with Tom Baker on May 18th in a rematch of Spire's 2011 Fight of the Year, and a possible fight in Kansas City in June for a ISKF title. Speaking with Souders post-fight, he greatly desires a rematch with Brandon Cronin, but with the possibility of that not likely, there isn't much left for him to do as an amateur.

Check back Monday for interviews with the top three winners on the night.

Co-main event participants Tom Baker and Jon Stotler battled to a decision with Baker getting the nod from the judges. Stotler had a tight kimura midway through the third and looked to have Baker in danger, but it was Baker's night. Stotler couldn't stop Baker's takedowns and the majority of the fight was spent on the ground.

Mike Wright from Berger's MMA dominated his opponent improving to 5-1. Wright bullied Travis Kelly to the ground and finished the fight with body shots. Wright known to his fans as "Rooster" is a big, athletic heavyweight and with coaching from Steve Berger, has the potential to do well in this sport.

NFA's Beejay Smith was proud of the in-ring performances.

"This was our best night of fights," Smith said. "Really exciting fights."

Smith, the matchmaker for NFA, had difficulties finding an opponent Nathan Whited (10-1), but did eventually find an opponent adding Whiteed vs Dakota Nelson to the card. The match was added so late that it didn't show up on the printed fight cards. Whited looked great and was simply too much for his opponent. Whited is a name you should definitely keep your eye on.

Dennis Moore was successful in his contest with John Bucholtz. Moore looked to be in incredible shape and was very athletic inside the cage. Moore highlighted his victory with a giant slam, lifting his opponent shoulder high before sending him crashing to the canvas. Moore eventually secured a rear naked choke for victory.

The performance of Moore and Bucholtz earned them both "Fight of the Night" honors in the awards ceremony following the main event.

Moore's coach, Destruction MMA's Joe Worden, sees a bright future for his student and is excited about his potential.

Independent fighter Dustin Shannon equaled the efforts from his cousin and training partner earlier in the night, finishing his opponent with a front face-lock guillotine. The other Shannon, Coty wowed the crowd with a bow and arrow choke earning him "Submission of the Night". The two Shannon cousins train in their home gym in Leadwood and are exciting to watch.

Sebastian Coxie overwhelmed his opponent Evan Whited in the first. Dan Uhlenbrock was victorious via triangle, and Evan Elder won a split decision in a K1 contest with Lucas Clay.

Eddie Martin, the oldest competitor on the card, started off the night and won via rear naked choke.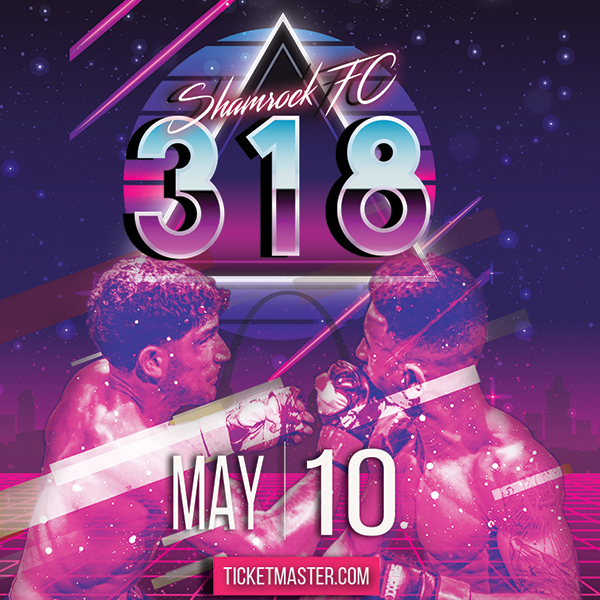 Nemesis Fighting Alliance
| Sat, August 17th
Casa Loma Ballroom, St. Louis, MO
KCFA
| Sat, August 24th
Independence Event Center, Independence, MO
Shamrock FC: 322
| Fri, September 6th
River City Casino, St. Louis, MO
Sub 5
| Sat, September 21st
TBA

Tweets about "KnuckleJunkies OR @knucklejunkies"