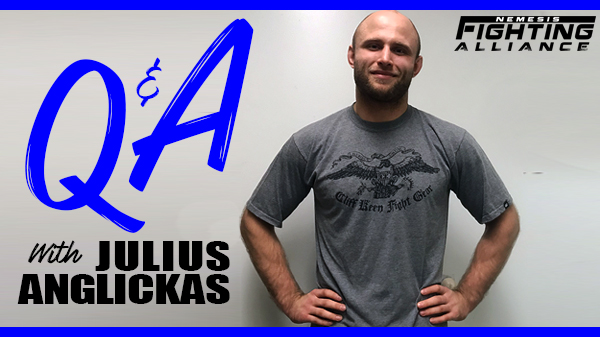 NFA: Q&A with Julius Anglickas
On Saturday, when the Nemesis Fighting Alliance returns, St. Charles MMA's highly-touted light heavyweight will also be back in action.

At 4-1, Julius Anglickas has a lot of eyes on him. An undefeated amateur, and competent college wrestler the big man from Lithuania is the odds-on favorite to be the next St. Louis fighter to make the jump to the UFC.

Following a boxing match in March to end a lengthy competition dry spell, Anglickas stayed busy with a televised fight on AXS TV in June with Legacy Fighting Alliance. A fight in North Platte, Neb., followed in the fall. Saturday caps off a busy year, and with eyes on the Contender Series next summer, there's still plenty of work to be done. A win over Saturday's opponent Rashid "The Black Spartan" Abudlla will make it a perfect year for Anglickas.

KJ: After a long layoff that started in 2016, how good does it feel to be back fighting so active this year?

JA: For like a year-and-a-half there was no fights. It was only injuries and people backing out of fights. It made me second guess a lot. I was feeling 'can I do this? Is it really going to happen?' It was really, really discouraging and I felt like I had no choice but to try because I didn't know what else to go back to. I just put all the eggs into one basket and eventually I got one fight, then another fight.

KJ: As many people know, you're originally from Lithuania, but you've seem to made St. Louis your adopted home.

JA: I moved to the United States in the summer of 2005, I moved to New York and went to high school there. I've been in St. Louis for 6 or 7 years now. I started my MMA training here while I was still at Lindenwood. I built a good system with the guys and the coaches and I feel leaving would be starting fresh. My coaches here have seen my evolution from day one to where I should be. If I went somewhere else, maybe I'd have a good training partner, but the coaches wouldn't know where I should go.

KJ: This is the first time in almost three years you'll be fighting back in from of the hometown fans.

JA: Everyone been asking me, 'Yo when you going to fight in St. Louis again' and it's finally happening. Hopefully I have a good performance and I can build a base. I'm training here, but I feel not too many people know I'm here because I haven't fought since my amateur days. I feel like I established my base here, but I couldn't fight here so people still didn't know me, and now they kind of know me. With this fight I hope I can grow my fan base here.

KJ: Competing in a larger weight class, has it been difficult to find suitable training partners?

JA: For a while I didn't have too many people to work with. I had some jiu-jitsu guys at open roll. I had Carlitos and a few of other guys in MMA, but there weren't too many guys who would always be there. I had to either work on my own or work with someone smaller than me. Now I've embraced that I'll never have it the perfect way. If I need some bigger guys, I'll grab a few and have them shark tank me, and that's how I would get my work in. It's not like I can't get my training in, it just takes a little more effort to plan it out. Plus now we're starting to get some more bigger guys, it's expanding.

KJ: It seems you've taken on more of a leadership role on the team as of late.

JA: There were a couple of times I felt like I hit a plateau. A few times I was just going through the motions, and then I realized I need to take this serious. Maybe the people around me were going a bit easier too. Something hit me one day, this is not going to work for me. I had to step it up. Some of the guys like Jeremiah (Curtright), Byron (Stevens), (Scott) Futrell, and the others that were coming in. I felt there wasn't enough yelling, and keeping each other accountable. I just forced myself to do it, and after doing it long enough I see Jeremiah yelling back at me, Futrell and Byron yelling back at me. Now it becomes easier.

I'm really proud of Jeremiah. I was on his case for a really long time. I'm yelling at him to coach me back, and he's now he's not letting me be lazy or if he sees something he's on my case. He just held mits for me and he told me all that I was doing wrong. I'm like 'thank you, you're not letting me off the hook' and creating bad habits.

KJ: Looking back at your second pro fight, how has suffering your first loss so early shaped you as a fighter?

JA: It was the fight that sort of taught me to stop working so much with smaller guys or if I did I only gave them enough power so they could still work with it. Soon after that it helped me to say screw this, I'll do it my way. I'll squeeze you like a 205-pounder and it will also help you too. After that loss I kind of realized I did too much striking and not enough raw, brute strength, wrestling workout. Whenever we was striking, I felt like I could still snap that punch, but when he pushed me against the felt he felt like he weighed 200 pounds more than me and I didn't have that wrestling motion anymore. Now I feel like I can wrestle, strike, go back to wrestling, still stay explosive and be fine no matter where I go. Sometimes I guess you need to lose to really learn from it.

KJ: Your opponent has a bit of a reputation locally, is that something you're aware of or is a concern?

JA: People told me about it, and I'm like 'this is awkward'. I don't like it, I've never liked it and it's not going to change anything, we're still going to fight. In the past I know he's done some crazy things, but I like to keep it neutral before the fight, keep it friendly. If someone likes to do some kind of bad boy-type of deal it just becomes more awkward. It's not going to change my performance, it's not going to change anything it's just annoying more anything, you're just making it awkward. If I do happen to lose, it's not that you intimidated me, you just won because you won. All the bad boy thing, it's just awkward and annoying more than anything, but it's not going to change anything.


KJ: What can the fans expect on Saturday night, if the fans haven't seen you fight in a while?

JA: I think a lot of people are going to come to see me that haven't seen me fight. I feel like the crowd is going to see how likable I am. Once I'm fighting they're going to see that everyone like's Julius. I hope a lot of the crowd will be cheering me on.