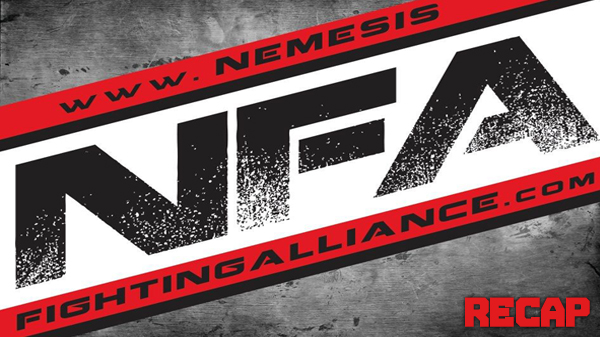 NFA: Salvation - Recap
It might have been a quick night at the Eagles Club for NFA: Salvation, but there was plenty of action to be had with the fight doctor playing a major part in the evening's story line.

Two of the main cards fights we nixed due to fighters failing the pre-fight physical and a no-show in the super heavyweight bout saw a total of three scheduled bouts cancelled moments before the first bell.

The strawweight clash between Josh Boyer and Dean Vaughan was promoted to the main event when Jason Newman, one half of the night's top-billed fight, was removed from the card by the fight doctor.

Boyer and Vaughan are two of the top amateurs in the 115 pound weight class and made for an interesting styles clash with Vaughan's gritty, smothering wrestling taking on Boyer's elusive, scrappy game.

From the first bell Boyer came out lighting quick from the get-go, looking to stay out of Vaughan's reach and peppered him with shots. After absorbing a kick, Vaughan shot in on Boyer and found a guillotine waiting for him. While it looked close to a finish, Vaughan fought his way out and ended up in side control.

In the second round, a failed attempt at a hip sweep saw Boyer give up his back. After Boyer forced a scramble getting him to guard, Boyer spent most of the round on bottom looking for a submission while Vaughan worked his ground and pound..

The third round was more of the same with Vaughan looking content to ride out the fight on top. Boyer was the more active fighter looking for submissions and punching when the opportunity presented itself.

After the judges tallied the scores it was a split decision for Vaughan with two judges for Vaughan (30-27, 29-28), and the third giving the fight to Boyer (29-28).

Kevin Mueller made quick work of Miles McLean in a fight that saw both fighters coming out swinging. When the fight hit the mat, it was all Mueller who worked for over a minute trying to secure a triangle before it finally stuck.

Ben Lashley, a tattoo artist from Farmington, left a mark on Nathan Leake in a first TKO victory. Lashley dropped his opponent early and wasn't unable to capitalize. Midway through the round Leake dropped his mouthpiece, shortly after Lashley dropped him again with a punch forcing Leake to turtle and ref Tim Francis to call the fight.

Derrick Davis caught Shawn Moore in a guillotine to take home a first round submission in the night's opening MMA bout.

In exhibition grappling action, Benji Massie and David Kennedy took home victories and James King and Mike Bucholtz battled to a draw.