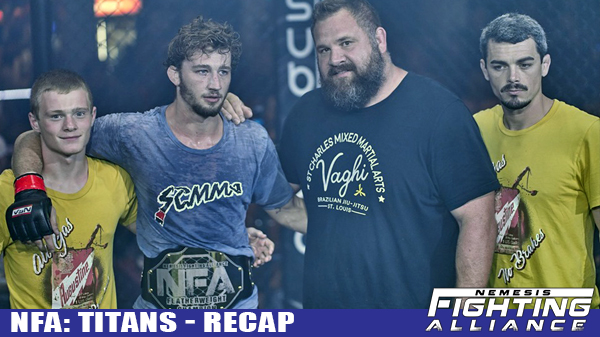 NFA: Titans - Recap
On Saturday, the Nemesis Fighting Alliance once again set up shop at St. Louis' Casa Loma Ballroom for a night of pro and amateur mixed martial arts and kickboxing.

In the NFA: Titans main event, Josh Augustine defeated Austin Peterson via TKO at 4:58 in round one to become the new NFA featherweight champion.

Augustine opened the round with high kicks and a flying knee, keeping the pressure on Peterson. Augustine used his footwork, reach and movement to maintain safe distance when Peterson retaliated. Changing levels, Augustine hit a perfect double leg takedown landing in Peterson's guard immediately dropping short elbows from above. Augustine's pressure was unrelenting, loading up heavy elbows and switching to heavy ground and pound. When Peterson covered up, Augustine worked for his back, Peterson responded and turned and Augustine ended back in Peterson's guard.

In the last few seconds, seeing Peterson in survival mode, Augustine went for the kill dropping heavy punches and heavy elbows passing to mount and brutally punching and elbowing Peterson in the face and head, with two seconds left the referee had seen enough and stopped the fight.

Capping off a spectacular night for Saint Charles MMA, Augustine (3-0) proudly proclaimed to anyone who would listen, "I'm the best featherweight in the world!"

And if he keeps ending fights with this ferocity and technique we will all likely get a chance to see him prove his claim true.

"It felt pretty good. I felt I could have gotten down a little bit sooner with some range control and a little more precision," Augustine, who has three first round finishes in three pro fights. "I got the job done. It'll do for tonight."

Drew Gigax defeated Feraris Golden via unanimous decision (30-26) in a middleweight professional K1 co-main event.

Gigax opened the fight with front kicks, which was followed by heavy exchanges by both fighters. Golden followed up hitting Gigax hard and precisely. The round ended in a clinch on the fence.
In round two, the fighters exchanged head kicks. After a low blow by Golden, stopping the fight, the two went at it again with heavy pressure, aggression. Another low blow by Gigax stopped the fight again, followed by another heavy exchange, clinch work, and head kicks by Gigax.
The third proved to be another round of exciting exchanges by both fighters, head shots followed by a heavy flying knee to the body of Golden by Gigax dropped Golden, he got back up and the fight continued with clinching. In the final seconds of the round Golden went ballistic with knees and punches. Gigax weathered the barrage and kept up an even and steady pace the whole fight to secure the decision.

Ray Grindstaff defeated Jake Willyard via TKO, referee stoppage, at 1:18 into round 1 in a bantamweight NFA featured fight.

Grindstaff opened with a clinch and a koshi-guruma throw landing in Willyard's guard. Grinstaff was quick to passed to side control and secure mount. In mount Grindstaff started dropping big, heavy elbows followed by referee stoppage. Spectacular performance.

Grindstaff officially made his return to MMA in June in Kansas City in a short-notice fight for SFC: 319 that ended quickly with the Granite City product tapping out in less than two minutes. Saturday night felt more like a restart, as "The Gator", who after five years away, looked fit and ready for action.

"This is me, right here," Grindstaff said. "That other fight wasn't me. I wish it would have lasted a little longer. It was still fun. I got the win. But I'm the type of guy, I want to brawl. I want a bloody war."

Grindstaff (6-5) put together a helluva stretch from 2011-to-2014 going 5-1.

"I had to get myself together and stay out of trouble," Grindstaff said about his return to fighting. "I'm here for the long haul."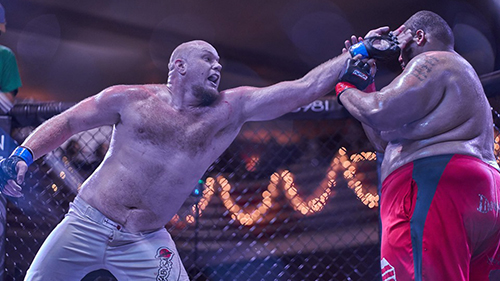 "Mad" Max McNeely defeated Charles Rodgers via unanimous decision (30-27) in a superheavyweight MMA bout.

McNeely opened the fight with legs kicks, keeping pressure on Rogers. McNeely used his leg kicks and jab strategically, getting little to no response from Rogers. McNeely's volume was high and his distance control and level changes were excellent.

In the second, Rogers began with more striking this round but McNeely went back to the legs robbing Rogers of power, forcing stance changes while following up with his jab. McNeely threw a few spinning back fists and went back to the legs. By this time Rogers was bruised and bleeding.

In the third, both fighters showed each other respect. Rogers goes for a leg kick and the fighters clinch up against the cage. Rogers tried for a hip throw but McNeely recovered and finished the round with superior combos.

This was the second-straight win for McNeely, who weighed in at 267-pounds to Rogers' 385.

"I knew I had to come in and fight smarter than I ever had before," McNeely said. "I knew I had to use my reach and my footwork.

McNeely's bread and butter is tying his opponent up, dragging them to the floor and smashing them. Against Rogers, he had to be extra careful because the last place he needed to be was caught underneath.

"This was good for me, honestly," he said. "I was so focused on my stand up, I started having fun there. It was almost like a hardcore spar in a way. It was one of the funnest fights I have had in a long time."

In the featured bout of the all-amateur undercard, Sam Paneitz defeated David Johnson via unanimous decision (30-27) in a bantamweight bout becoming the new NFA bantamweight champion.

Paneitz opened the first round by getting the takedown but Johnson came up quick on the fence. The round continued with Paneitz landing takedown after takedown and Johnson fighting to get back up and strike. Paneitz ended the round on top, throwing hard punches at Johnson against the cage.

Paneitz opened the second round with another takedown and ground and pound with Johnson fighting back but not gaining any ground. Paneitz's wrestling was on point and dominant but Johnson was not going to stop fighting for the win. The energy output by both fighters was impressive.

Same as before, Paneitz opened the third with takedowns and wrestling, eventually getting mount and working for a head and arm choke. Johnson fought out of it, but Paneitz kept the pressure. The fighters worked their way to the feet and Paneitz got another takedown, took mount and began repeatedly and violently slamming Johnson's head against the mat. Johnson managed to get back to his feet and threw leather going for the knockout, but Paneitz was good on his feet, stayed up and secured the decision.

"I was really wanting to get the finish tonight," Paneitz said. "I was a little slow starting out but I felt dominant and I felt in control the whole fight. I'm happy, but not satisfied. There is always room for improvement."

Panietz, 21, has one the STL MMA Amateur of the Year award two years in a row. The No. 1 question he is asked is, when will he go pro? That answer will come when he completes his degree at Missouri Baptist.

"Tonight was a good way to cap off my summer," he said. "There is nothing more I love doing."

Elizabeth Helton defeated Lisa Mucci via unanimous decision (30-27) to become the NFA women's flyweight K1 champion.

Round one went on with an even back and forth between the two fighters, both dropping hard strikes, kicks and punches, with no one dominating. In the second,Helton opened with high volume striking, unrelenting pressure. Helton ends the round with heavy strikes against the cage. Mucci came back in the third round, upping her striking, a fair exchange by both kick boxers. Helton again turned it up towards the end of the round with Mucci being precise but Helton being heavy in volume.

Harrison McCormick defeated LaMont Cortez Snipes via TKO 1:57 into round three in a amateur K1 bout.

Round one began with body kicks by McCormick and Snipes clinched and threw knees against the cage, followed by a strong back and forth by both fighters
Round two saw a strong back and forth exchange by both fighters with tons of output. In the final round, McCormick dropped hard hits and Snipes clinched. Harrison kept pressure, turning it up, punching hard, throwing high kicks, all around high volume striking by McCormick getting the TKO at 1:57 into round three.

Hunter McCormick defeated Kaehi Makekau via rear naked choke at 2:28 into round one in a bantamweight MMA bout. McCormick dominated the opening striking exchanges. The fight then evened out with back and forth striking between both fighters. McCormick then hit Makekau hard, Makekau turned and McCormick took his back bringing him down and locking in a rear naked choke.

Steven Needy defeated John Sarmento via arm bar, 53 seconds into a welterweight MMA contest. Needy opened with a takedown and maintained control on the ground, passed into mount, dropping ground and pound and establishing control. He continued with ground and pound and then positioned himself for an arm bar getting the tap out and securing the win.

Terry Copling defeated Austin Wright via TKO 30 seconds into round one in a light heavyweight MMA bout.

Copling, with a boxing background, opened with heavy and precise punching, overwhelming Wright, the referee stopped the fight with Wright on his back taking punches.

Clayton Berry defeated Brendan Wolf via rear naked choke 2:20 into round one in a featherweight MMA bout. Berry shot for takedowns twice, eventually getting the fight to the mat. Berry began dropping ground and pound and kept Wolf down with his superior wrestling. Wolf swept Berry and took top position but Berry was quick to counter sweep and get right back into mount. Berry took the back from mount, locked in back control, and dropped ground and pound eventually getting a rear naked choke for the submission.
Berry is a decorated wrestler, wrestling competitively since he was six years old through high school. His experience showed through in his tenacity and technique.

Da'rell Fulgram defeated Collin Barrett via TKO, 2:06 into round one in a bantamweight MMA bout. Fulgram began with pressure, opened with heavy kicks and got the takedown. Barrett had the guillotine choke in and worked it hard but Fulgram escaped and took mount and then secured the back dropping heavy ground and pound to get the fight stopped.

Davion Trotter defeated Tanner Gestes via TKO, doctor stoppage, 50 seconds into round one. After some back and forth and feeling each other out Trotter ends the bout with a perfectly setup and timed spinning hook kick to Gestes' head leaving Gestes with a fight stopping gash on his head.

Photos courtesy of Boy Aaron Photography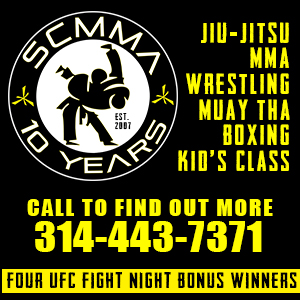 Shamrock FC: 324
| Fri, November 1st
River City Casino, St. Louis, MO

Tweets about "KnuckleJunkies OR @knucklejunkies"