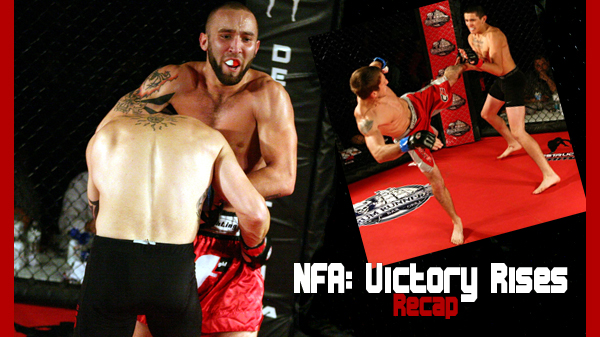 NFA: Victory Rises - Recap
A large and well-behaved crowd saw an exciting night of fights at the Farmington Civic Center. Nemesis Fighting Alliance returned after a two month break with their biggest show to date in their short tenure.

Shaine Moffitt seemed to have figured out the puzzle of Justin Lankford, something Lankford's previous 5 opponents could not do. Moffitt had an answer for all of Lankford's takedown attempts, and peppered him with jabs before eventually catching him in a standing guillotine to end the fight in the first round.

Moffitt looked impressive handing Lankford his first loss as an amateur. Moffitt's coach Joe Worden gave credit to a precise game plan that was executed to perfection.

"We trained hard for wrestling," Worden said. "Lankford takes everybody down. "

The counter-training seemed to have worked as Lankford was unable to secure a takedown on his opponent.

"Shaine sutffed him twice." Worden said. "Then held him on the cage."

Worden's Destruction MMA went a combined 5-1 on the night including co-main event competitor Luke Fulk also finding victory via choke.

Fulk battled rising prospect Andrew Sanchez in the first in a wild round that saw both fighters spending time in dominant positions. Sanchez was put in several bad positions in the first round. His luck ran out in the second when Fulk caught him in a rear naked choke a minute into the round.

"Sanchez was a good striker," Worden said. "I knew if we could get it down, it would be a quick night, and that's exactly what happened."

Fulk, a roofer by trade, was much stronger than his opponent and once the fight became a grappling match, used his grip to control the fight.

"Luke is strong," Worden said. "He's the strongest 125er I've ever seen."

Destruction's only loss of the night was taken by Wil Alfaro. Daniel Banynton battled Alfaro for three rounds before the judges were called on to decide the outcome. Baynton picked up the decision, finishing every round strong and out pointing his opponent. Training at Berger's MMA, Baynton showed off his trademark trickiness displaying a variety of submission attempt that surely made his coach proud.


Photos by Jim Range. Click here to see the full gallery.

While not officially the fight of the night, Bo Kunz and Bill Dwyer put on an epic K1 battle that gave the fans their money's worth. Kunz and Dwyer battled for three rounds with the judges giving Kunz the nod. Kunz's striking was a little more polished and he was able to use his technical advantage to score points. In the third it seemed as if Dwyer realized he was behind on the score cards and he began loading up for the one punch KO.

Megan Goodwin defeated Jen Crostic in the only women's MMA fight of the night. This was the first fight of both women's careers and it appeared Goodwin was a little more polished. Goodwin ended the fight with a rear naked choke after Crostic was forced to give up the back from Goodwin's mount.

Also victorious on the night were Tyler Kennedy, Brandon Aubuchon, Pete Dugan, Randy Cowsert, Bill Smith.

Gary Becker looked impressive in his fight. The "Diabetic Demon" overwhelmed ET O'Neil and forced the ref to step in after he downed his opponent with punches.

Kelly Burch was victorious in his grappling match, and Evan Whited was victorious in the first fight of the night.

Full results:
Moffitt def Lankford - R1, guilotine
Fulk def Sanchez - R2, RNC
Baynton def Alfar - Unan Decision
Kunz def Dwyer - Unan Decision (K1)
Goodwin def Crostic - R1, RNC
Kennedy def Shannon - R1, TKO
Aubuchon def Greer - R1, RNC
Dugan def Counts - Unan Decision
Cowsert def Diekman - Unan Decision (K1)
Smith def Wayne - Unan Decision (K1)
Becker def O'Neil - R1, TKO
Burch def Hampton - R1, RNC (Grappling)
Whited def Smith - R1, Sub by Strikes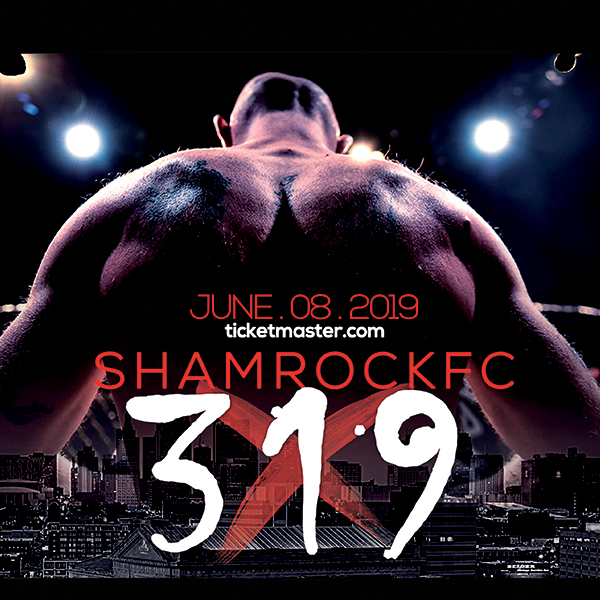 Shamrock FC: 317
| Sat, April 6th
Ameristar Casino, Kasnas City, MO
Nemesis Fighting Alliance
| Sat, April 13th
Casa Loma Ballroom, St. Louis, MO
Shamrock FC 318
| Fri, May 10th
River City Casino, St. Louis, MO
Shamrock FC 319
| Sat, June 8th
Ameristar Casino, Kansas City, MO

Tweets about "KnuckleJunkies OR @knucklejunkies"