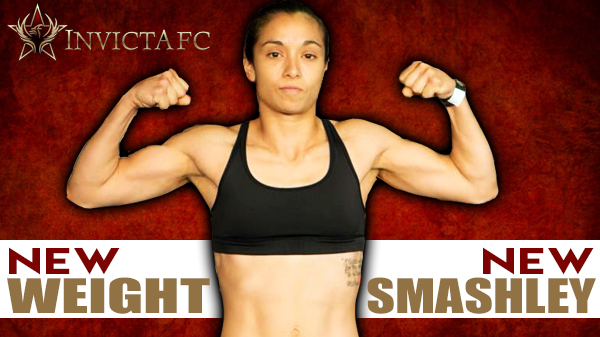 New Weight, New Smashley
Most don't realize it, but Ashley Cummins has been in this MMA game for quite a spell.

Cummins trained for two-and-a-half-years before taking her first amateur fight in December 2009. She amassed an undefeated amateur record, including winning three titles, before going pro in 2011.

"The sport has changed so much since when I first started," the 29-year-old Cummins said. "Invicta didn't exist. There were no females in the UFC. There wasn't much opportunity to spar other women. Hook-n-Shoot was it, as far as promotions. That was the big time."

"Smashley" makes her return to the all-female organization, Invicta Fighting Championships, this Saturday when she faces Amber Brown at Invicta FC 22 in Kansas City. The entire card will be streamed on Fight Pass.

Cummins made her Invicta debut on the promotions' first show, where she won by unanimous decision over Sofia Bagherdai in April 2012. Her next three opponents were all future UFC veterans (Joanne Calderwood, Emily Kagan, and Alexa Grasso) and Cummins tasted defeat in each of those bouts

All of those bouts – and including the loss to Lanchana Green to try to get into The Ultimate Fighter house - had one thing in common. Cummins has spent her entire pro career at strawweight (115-pounds). Saturday's fight with Brown will be Cummins' first-ever foray to antomweight, (105-pounds).

"This is something I wish I did seven years ago," Cummins said. "If you look at any of my pro weigh-in pictures, my opponents tower over me and are wider than me. In the TUF tryouts, there were 80 fighters and I was the smallest one. I was stubborn. I thought I could do it."

Cummins' last fight was at an 110-pound catchweight when she defeated Nicole Smith with a unique submission that earned her the STL MMA Submission of the Year award.

"Anyone who followed my career knew I went through a struggle," Cummins said. "I feel like this is a fresh start. I feel stronger, faster. After the TUF fight, I promised myself that I wouldn't fight at strawweight again and I didn't want to break it. I feel like I just stalled out at 115."

Brown (6-3) recently went up to Cummins' old weight class and the results were not what she was looking for. Brown – a well-rounded southpaw - was submitted by Ashley Yoder in the second-round at Invicta FC 20. Prior to that, Brown lost to Ayaka Hamasaki by armbar in an Invicta FC atomweight championship fight. Brown began her Invicta FC career with three straight wins prior to that.

"I haven't watched any video on her, I leave that up to my coaches," Cummins said. "They come up with the game plan and then it's just drill, drill, drill. She is one of the top ranked antomweights so I expect a tough fight."

Cummins, who trains out of the Wolves Den Training Center, Gracie Humaita, and Victory Performance Training, will be joined in Kansas City with coached Andrew Ebers and John Madaus.