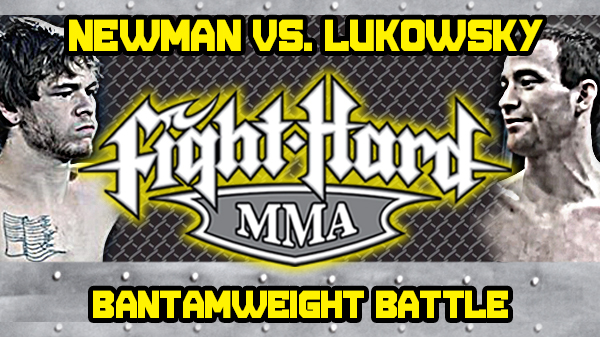 Newman vs Lukowsky - Batamweight Battle
By
Debo
| Knuckle Junkies
Area fans have been anxiously waiting for mixed martial to return the Family Arena. It all goes down Saturday when Fight Hard MMA returns to the with an all-amateur card.

The main event has the markings of a potential fight of the year candidate and will feature top bantamweights Ira Lukowsky from Belleville, IL taking on Damian "D-Man" Newman from Arnold. Lukowsky, 26, comes into the fight with a (14-3) record and Newman, 23, will enter the cage with a (14-2) record. Lukowsky is currently the top-rated bantamweight in the area.

Newman, a crowd favorite, enters Saturday match up on a three fight winning streak. He defeated Jacob Trigleth with a first round KO in March and also posted wins against AJ Siscoe and Andrew Berger during a busy 2013.

Currently in the midst of a gym transition, Newman now finds himself under the tutelage of Steve Berger at Fit or Fight in Fenton. He has welcomed the chance to work with a wide variety of experienced coaches and training partners such as Berger, Dan O'Connor and Yohance Flager.

"This has been my best camp ever," Newman said. "I needed to work on my wrestling and this is a wrestling and grappling based gym. "

The transition was a tough one for Newman, the doors at Southside Fight Club were closing which meant leaving a well-respected coach in "Mean" Mike Green. Newman was in search of a new home before landing at Fit or Fight also known as Berger's MMA.

"I appreciate all the hard work and time Mike put into to help me grow as a fighter and a man," Newman said. I owe all my success to Mike and all the thanks goes to him as I move forward."

Newman fell into the sport of MMA after high school. Not haveing experience with karate or wrestling, he started training because some friends were doing some wrestling and MMA training. The Arnold native has displayed a well-rounded game in in his 14 wins. This will be Newman's third time fighting in the Fight Hard MMA cage.

In this camp , Newman felt he needed to work on his wrestling and on the little details in technique and drilling new to get better. He also has plenty sparring help from his younger brothers Jason and Eric Newman.

Lukowsky who is part of the wrestling program at Lindenwood Belleville still has one year of eligibility remaining and is working towards completing his degree. He compliments his wrestling skills with strong boxing skills and lots of boxing experience. Lukowsky has won the Golden Gloves amateur boxing competitions in both Chicago and Missouri.

Lukowsky likes to keep to himself and focus on his goals and what he has to do to earn a victory. He trains at multiple gyms preparing and stated his number one training facility was his garage.

"I don't know anything about my opponent," Lukowsky said. "I focus on myself, my training and preparation.

"Styles have always made good fights. If you look at both of these guys this should be an outstanding main event in front of a packed house," Fight Hard MMA President Kenny Nowling said. "With the new video screen, our graphics package and the wrap around screens at the Family Arena this is going to be an exciting night of MMA.

Although change is always difficult it can be positive as well. Newman had great guidance and coaching from some tremendously well respected coaches at Southside Fight Club. The future is now for one of the area's top bantamweights and his new team at Fit or Fight.

Newman understands Lukowsky is a tough dangerous obstacle in front of him.

"I feed off the big crowd, the vibe is very moving," Newman said. "The goal is to stick to the game plan and focus on getting my hand raised."

The co-main event on Saturday should also be very entertaining with lightweight, Montuelle Prater fighting out of Cahokia MMA matching up against Jeremiah Curtright from the Academy of Courage.

The doors open at the Family Arena on Saturday at 5:30pm. This all-amateur card is scheduled to start at 7:00pm.