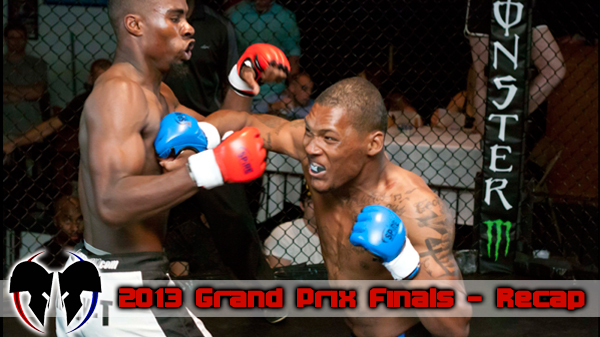 PGFL: Grand Prix Finals - Event Recap
It was a rubber match with a belt on the line.

Montuelle Prater and Joe Roye met in Saturday's Proving Grounds Road to Glory Grand Prix with a lightweight championship at stake.

It was the third time in less than 10 months that Prater and Roye had fought with each winning one apiece heading into the night's main event held at the South Broadway Athletic Club.

With some patient and opportune ground and pound, it was Prater who came away with the victory and the strap.

With just four seconds left in the second round, the fight was stopped as Prater rained down punches and elbows after a nice trip from the clinch to start the round.

"I wasn't surprised by the stop," Prater said. "You could see it in his eyes. I thought I was going to end it early in the second round. But he has a lot of confidence but I knew I could break him and once I got another opening I knew we were going to do it right here."

It could be argued that Roye won the first round, a frenetic affair that saw Roye willing and effectively trading with the hard-throwing Prater. Roye was busy and active from his back towards the later part of the round.

In the second round, Roye did a decent job of keeping Prater tied up but once the Cahokia MMA product broke loose, he landed strikes aplenty that even escalated after the 10-second clapper sounded.

"It's been one long year to get this. I had to show them who No. 1 was around here," Prater said. "I had fun and that's what it is all for."

In the evening's co-main event, AJ Siscoe showcased his submission skills in getting a first round submission victory over Matt Murphy to claim the Proving Grounds bantamweight title.

"He was strong as hell and he just kept coming after me," Siscoe said. "I went for the takedown but couldn't get. He had really good wrestling and so I had to fight off my back"

Siscoe was dangerous from his back from almost the onset. He locked in a triangle almost immediately that Murphy slipped free of. Siscoe also clasped on to a guillotine that once again Murphy escaped.

"He left one hand in and one hand out," Siscoe said. "I went to cinch up the first triangle and he picked me up and dropped me on my head."

Murphy then landed some solid shots while in Siscoe's guard but he again fell prey to Siscoe's rock-solid jiu-jitsu. Siscoe once again locked in a triangle and this time Murphy went completely out at the 2:50 mark in the first round.

"Gracie 101," Siscoe said. "I held it together and he went to sleep. He's a tough kid. I hope he keeps his head up. For being an independent fighter, his jiu-jitsu is phenomenal. He did not want to give up that belt at all."

Other winners on the night included Sheldon Smith by a unanimous 29-28 decision over Steve Barbee.

Some powerful ground and pound by Roddell Thomas led to a first round win over Chris Eveland.

Zach Gerllis won by injury default over Josh Davison.

Wayne Phillips won via a third round TKO over Dan Uhlenbrock.

Nathan Deickman earned a first round submission win over Jason Washausen.

Bryan Crites slapped on a laser-quick armbar just 19 seconds into his bout with Jake Willyard for the win.

In a wild donnybrook, LC Hamid landed a kick to the body that crumbled Michael Dorsey just 12 seconds into the third round.