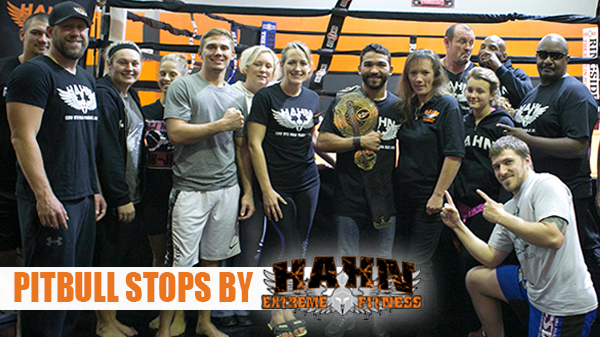 Pitbull Stops By Hahn MMA
The old and young and the big and small were at Hahn's Extreme MMA in Arnold Monday as the Pitbull held court.

Bellator featherweight champion Patricio "Pitbull" Freire held a meet and greet and an open workout at the plush, new facility heading up to his title defense Friday at Bellator 145: Vengeance.

Before he faces Daniel Straus (23-6) in the main event at the Scottrade Center, Freire - who boasts a sparkling 24-2 record - was warm and affable as fans snapped photos and had posters, gloves, and every thing else signed. And when that was over, he showcased his noticeable-improved movement on his feet with a little mitt work.

"I've been surprised at how well they've received me," Freire said. "Everybody has been kind and are being very hospitable. This is a great gym and they have great fans here. I'm making friends for life. (Hahn's) is great supporters of MMA and I'm proud to be here. If I lived here, this is the gym I would be at. It's fitting for a champ."

This week marks the second time in a mater of months the Brazilian has come to fight in St. Louis. In June, he defeated Daniel Weichel with a second round KO. In both of his trips to St. Louis Freire has stayed with Knuckle Junkies contributing photographer Sara Levin. Levin and Freire's wrestling coach Eric Albarracin became friends through their years in wrestling together.

"She is like our MMA mother," Freire said. "We come here and she had presents for us and she has been taking good care of us and I'm grateful."

When Freire was here this summer he was publicly chaffed about his slot on the card in the co-main event behind the novelty bout of Ken Shamrock versus Kimbo Slice. This week he will be in the main event

"I didn't like it but I understood what they were trying to do to get more followers," he said. "But I believe a champion should be the main event and now I am the main event and that's what the champion deserves."

As far as what's it going to take to get his hand raised over Straus for a third time (the two met in 2011 and in January of this year with 'Pitbull' winning each) is simple

"Whoever imposes their will and I plan on imposing my will," he said. "I love this city. It's an honor to be back. I have a lot of friends here and I feel like I'm at home."

Loving Bellator

For his second pro fight, Rashard Lovelace will make his second stop in the Bellator cage.

"It's pretty awesome and I'm honored to have this opportunity that was given to me," Lovelace said.

At June's Bellator, Lovelace won in 57 seconds with TKO win via leg kick over Matt Helm. On Friday, he meets Brandon Lowe in Lowe's pro debut.

"He's a boxer/wrestler but I don't think he has fought any one of my caliber with my speed and my explosiveness," Lovelace said. "A lot of people aren't used to the angles that we cut. It's going to be a whole new world for him once he gets in there. He's not going to expect me to be that guy that he thinks that I am."

Lovelace, 26, is a St. Louis native and a Hahn product. After spending four years in the Navy, Lovelace began working at the Boxing Gym in the Central West End. Lovelace was basically teaching himself and when Hahn's gym opened up he soon followed.

"I started off boxing as a kid and when I hit high school I kind of calmed down from it," Lovelace said. "I was on the dive team in high school and that's like completely different than fighting. Once I got in the military I boxed while I was in there but not for the military. Once I got back, MMA wasn't my cup of tea but now it's calling back. Now that I'm understanding the ground game and the wrestling game, it comes easier to me."

Lovelace went 7-4 as an amateur with the majority of his loses due to submission or ground and pound. Friday will be Lovelace's first trip to 145-pounds.

"I think I'll be bigger, stronger, faster at 145," Lovelace said. "I'm always training, always somewhat in shape. Right now I'm at 150, with a five pound water cut."

Tickets for Bellator 145: Vengeance, which start at just $30, are on sale now on Ticketmaster.com and at the Ford Box Office at Scottrade Center. Doors for the event open at 5:00 p.m. CT local time, and the first contest takes place shortly after.

Bellator 145: Vengeance airs live on Spike at 9 p.m. ET/8 p.m. CT, while preliminary bouts will stream on Spike.com at 7 p.m. ET.

Full card: (Subject to change)

Featherweight Title:
Patricio Freire (24-2) vs Daniel Straus (23-6)

Lightweight Title:
Will Brooks (16-1) vs Marcin Held (21-3)

Emmanuel Sanchez (11-2) vs Justin Lawrence (7-2)
Michael Chandler (13-3) vs David Rickels (16-3, 1 NC)
Bobby Lashley (13-2) vs James Thompson (20-14, 1 NC)

Prelims
Alex Huddleston (6-1) vs Augusto Sakai (8-0)
Garrett Mueller (2-0) vs Scott Ettling (3-0)
Kain Royer (1-2) vs Clay Mitchell (1-0)
Adam Cella (6-4) vs Chel Erwin-Davis (2-1)
Steve Mann (11-2) vs Kyle Kurtz (4-1)
Garrett Gross (6-4) vs Jeff Crotty (0-0)
Adam Meredith (4-1) vs Jordan Dowdy (2-0)
Brandon Lowe (0-0) vs Rashard Lovelace (1-0)

Bellator 145: Vengeance
Friday, November 6th
Scottrade Center, St. Louis, MO

Photo courtesy of Sara Levin Photography.