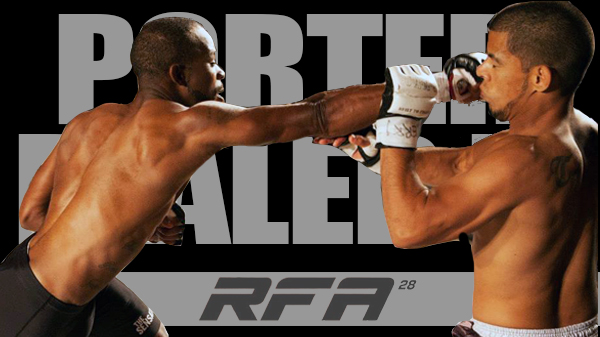 Porter Dialed In For RFA 28
Ken Porter radiates joy.

Positivity gushes from his pours and is found in the beaming smile of this St. Louis flyweight.

His skill and good-natured personality has led him to be a staple of the area fight scene for about as long as anyone can remember. You name a gym, a trainer, or promotion and odds are the 25-year-old has spilled sweat with them.

Porter will be in one of the marquee slots when the Resurrection Fighting Alliance comes to St. Louis on August 7 at the Chase Park Plaza and airing live on AXS-TV.

In the evening's co-main event, Porter faces fellow flyweight Matt Manzanares. Manzanares (7-5) has spent half his pro career fighting for the RFA, going 3-3 including a loss to current UFC vet Zach Machovsky in their flyweight title contest in late 2013. Manzanares has been on a bit of a skid, losing four of five.

"We're going to keep the crowd on their feet," Porter said. "There will be a lot of speed and a lot of fun. He's a really good counter striker. I like what he brings to the game. He's fast, tough. I'm looking forward to this."

Porter has been hanging his hat lately at Berger's MMA/Fit or Fight.

"I feel great," he said. "I've been adding to my repertoire. I'm super appreciative of this opportunity. I've matured enough and I am ready for that big shot."

Porter sports a nifty 8-2 record along with a 4-0 run in pro boxing. His ground game is no joke. Porter had a successful prep wrestling career in the famed Hazelwood school district and built that into a solid college career on the mat at Meramac and Missouri Baptist. He began boxing in kindergarten, learning under St. Louis pro Steve Young. Pairing his ground attack with his skilled hands and footwork made Porter think long and hard about mixed martial arts after college.

"I saw other wrestlers do it," he said. "And I knew I had that good boxing background."

Porter quickly became one of the top amateurs in the area, racking up wins by the bushel and gathering belts by the arm load. As a pro, he lost his debut but then rattled off three-straight wins. He's currently won four straight, including two this year.

The grappling advantage could easily be the difference maker in this match up. Of Porter's eight wins, five have come via submission.

"I have never really seen him finish a takedown," Porter said. "My grappling is legit. I have good hips and I'll take him down if I want to. "I don't feel like I will be uncomfortable in any situation. I'm looking forward to putting him in bad situations."

To prep for Manzanares, Porter has not only been grinding away at Berger's but also cross training here and there, oftentimes training three times a day. He also shoehorns driving a truck part time.

"There's never a dull day," he said. "I have been getting different stand up looks. He has good boxing and Muay Thai and is decent off his back but I will always have the speed advantage. No one has been able to match my speed yet."

Porter has scheduled a final push when it comes to his camp, traveling to Louisville, KY to train at Real Fighters Gym from Friday through Tuesday.

Fighting on national television. Making his RFA debut. All in front of his home town crowd. There's little spark needed to light a fire under Porter to prep for next Friday.

"With it being in St. Louis it gives me the fuel to work harder," Porter said. "I have been busy in every aspect of the game. It's all there. I'm ready for the moment. All of my hard work will show. From here, the sky is the limit. I'll be ready for the next test whatever it is."