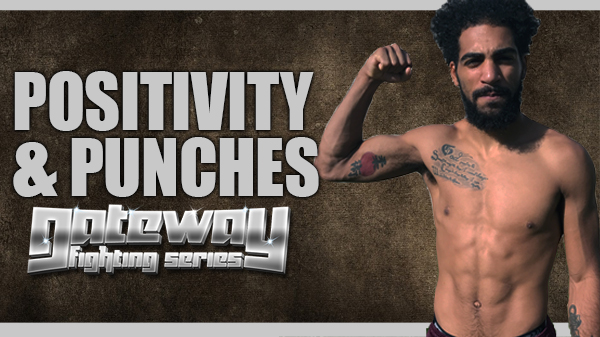 Positivity and Punches
Success doesn't come easy, but it does seem to come often for Charles Johnson.

The former second-team All-OVC distance runner at Southeast Missouri was also an All-State selection in high school in both track and wrestling while at Class 4 Hazelwood East. His powerful lungs and exceptional wrestling powered him to a record of 21-3-1 as an amateur, but his greatest asset may be his strong positive mental attitude.

Now on the eve of his fourth pro fight - in what will be his toughest challenge to date - Johnson is confident, poised, and ready to face an opponent with a matching undefeated record.

"In the early days, I was really raw," Johnson said. "I always had a winning attitude. Everything I was doing I was winning at. I was running track all my life, I was a two-time national champion, all-state wrestler in high school, all-state cross country runner, so I was used to winning."

Success on the track started early and the same happened in the combat sports world.

"I didn't start wrestling until my eighth-grade year, right before high school," Johnson said. "I wanted to box but my mom and dad were like 'nope, we're going to put you in wrestling.' I just took to it really fast. I had been running track all my life so I had the lungs, and I just have a knack for picking up things quickly."

Johnson took his first fight when he was just 20-years-old. Close friend Ken Porter, already a very established amateur fighter, brought Johnson in for training and it wasn't long before an opportunity at a debut fight presented itself.

"Funny story, I went out to Ben Noqueria's card at Blue Corner out in Kansas City," Johnson said. "I had only been training with KP for two weeks in his mom's garage at Larimore Park. He was like 'you wanna fight, you want to get on the card?' I was just working at Wal-Mart, saving up money for college so I was like 'alright'. We took the road trip. Me, big Charles Rogers, CJ Hunter, and KP. I fought some guy, he was a stand-up guy, blacked up my eye, but I took him down after that and beat him up and that's the story of my first fight. I was hooked. I was like, 'this is fun, let's do it again.'"

With buckets full of potential and natural ability, Johnson won his first few fights easily.

"When I came into MMA, I already had it in my mind I was better than these guys," Johnson said. "It wasn't until I went with KP to St. Charles MMA did I realize there was a whole new level of ass kickery. Alp (Ozkilic) and Josh Sampo put it on me. At the time I was working with Josh Augustine and he was doing all these submissions and frustrating the mess out of me. It definitely opened my eyes."

For a period between 2012-2014, Johnson would only take fights while on summer break from SEMO. He would swoop in, win a couple of fights, then disappear for a year back to student life on the campus in Cape Girardeau.

"That sucked," Johnson said. "I wasn't really training. I was just coming back and fighting because I wanted to keep myself active. I was constantly on the Knuckle Junkies threads trying to find out who was the top guy right now. I thought 'Let me see what he was doing. maybe I need to be doing that too.' I took a judo class in my spare time after running 12 miles a day. It was something that was on campus. The instructor actually gave me a gi and really allowed me to just come in and learn. I'm really thankful for SEMO Judo club."

With over 25 amateur fights and five-plus years of training, Johnson finally felt ready to take the next step.

"I had two tough losses at the end of my amateur career," Johnson said. "One was really close to Carlos Hernandez, and the other was to Demetrius Wilson. I had a lot going on for that fight, I had so much going on and I wasn't really training. I'm not making excuses, the dude beat me, but I didn't really show my true self there in that night. I took like eight-nine months and was just training and taking fights where I could. I tried to take tough fights, but it was tough to find fights."

Since turning pro in June of last year, the now 26-year old Johnson rattled off three fights in 6 months, before a five-month break leading up to this fight with Michael Graves.

"Since I turned pro, it's been kind of hard to find fights," Johnson said. "I had messaged Michael about fighting me. I was trying to get him to fight me on RFA, but he told me that he had a better opponent, that he had already signed for a 'better opponent'. Literally the next day I saw him at a wrestling tournament, I coach for Hazlewood East now, and saw him walk by, he stopped and we had a little conversation and he said the same thing, 'no disrespect, but I have a better opponent', and not to take it personal, but I take everything personal because fighting is personal."

Despite the extra motivation, Johnson was already very confident in his match-up with Graves, especially thanks to the help of a new sparring partner.

"I feel really good about this fight," Johnson said. "He's a wrestler, jiu-jitsu guy, he's going to be tough I'm assuming, but I just don't think his best can beat me. He's probably going to try to walk through, walk forward through everything, try and put me against the cage. All his finishes are from rear naked chokes with a body triangle, but I go to a jiu-jitsu school so I'm not giving up my back unless I want to. I've been boxing, I've been sparring with Joe Mueller. He's a freakin' amazing Muay Thai guy. I'm not getting anywhere near the best Joe Mueller but I'm learning."

Outside the training room, Johnson is immersed in fighting, even at home with his fiance Brittany Cloudy, a very skilled amateur fighter herself. Like Johnson, Cloudy was an accomplished collegiate athlete on the track and field team (Cloudy at St. Louis University) and thanks to Johnson, found her way to the mats at St. Charles MMA.

"I keep telling her, 'you're going to blow up way before me, babe," Johnson said. "There are not too many black women in this sport and she has the knack for it, the mind for it."

Johnson versus Graves will be the co-main event of Friday's Gateway Fighting Series: Inferno at the Moolah Temple in Creve Coeur.

"The fans can expect a win," Johnson said. "Fun, showtime, Charles 'Energy' Johnson. It's going to be a great fight, all my fights are exciting. No matter what happens it's always exciting. Everyone knows I have game, I have heart and I won't back down, even if I'm down."