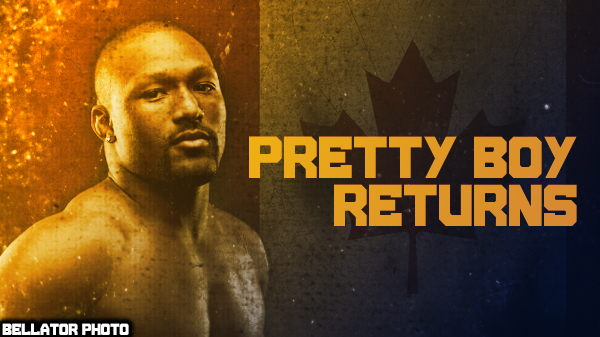 Pretty Boy Returns
EJ Brooks' bags are packed and his frame of mind is climbing high on the grumpy meter.

Brooks, the St. Charles MMA lightweight, landed in Canada on Wednesday for the final preparations for Friday's main event against Alex Ricci at the Ontario-based Substance Cage Combat 2.0.

Brooks' bout is expected to start around 10 p.m. CST and can be watched at http://worldcastlive.com/FNWCLIVE for $9.99.

After racing out to a 7-0 start to his pro career, Brooks has lost two straight, the latest coming in a somewhat controversial decision to Johnny Case at RFA 10 in October, 2013. Brooks has inked a multi-fight contract with RFA but garnering opponents has been hard to come by so the RFA has been willing and able to let him bounce around in order to keep active.

"RFA does a good job of taking care of me," Brooks said. "I had an opponent pull out the week of a RFA fight in March. In April, I was going to fight for another organization in Alaska but my opponent got cut the week of the fight. I was going to try and get on the upcoming June RFA card but they couldn't find me an opponent."

So now Brooks will journey into Ricci's backyard.

"I know I'm the guy they expect to lose," Brooks said. "This is their hometown guy. I appreciate the opportunity but I'm going to go in there, get the win, make my money, and get home safe."

In Ricci (7-2), Brooks faces a fighter coming off a loss to Ryan Healey (24-13) in March.

"(Ricci) is a pretty good opponent," Brooks said. "He lost to a wrestler, a sub-par wrestler at that. He's fought a couple of wrestlers but mine is beyond good. Mine is high-level wrestling. I think I bring too much to the table."

Brooks is a former NJCAA National Champion and went on to the University of Missouri where he earned all-Big 12 honors in wrestling.

Ricci has registered five KO/TKOs with no submissions. Both of his loses have come via decisions.

"He knows I am going to take him down and there is nothing he can do about it," Brooks said. "I'm going to keep my hands up and not get caught. I'm not just going to stand there and strike just to prove anything."

The loss to Case is still on Brooks' mind. Though he was able to successfully get Case to the floor, Brooks was unable to deliver much damage. Fatigue set in and Brooks was left to simply grind out the rest of the fight.

"This time I'm in better shape and I'm not fighting another wrestler," Brooks said. "That makes a big difference. (Case) had that wrestler's mentality and I had to exert more effort that entire fight. Wrestlers are trained to get up when people are holding you down and (Ricci) is not going to have that. He's going to try and play his BJJ and when I get on top I'm going to punch his face into the pavement."

Both Ricci and Brooks will be fighting with chips on the shoulders. At this point in both of their careers, loses can be borderline monumental setbacks as they are clawing to reach the UFC.

"I feel this is a make or break for both of us," Brooks said. "I definitely need to get that monkey off my back and get the win. He's big name in Canada and on the UFC's radar. He's a good name to put on my resume and I'm ready to steal what little thunder he has left."

And in order to do that, the 28-year-old Brooks, nicknamed "The Pretty Boy" knows what needs to be done.

"There will be no feeling out process," he said. "He's going to come out like a bat out of hell. I'm going to put my hands on him, put him on his head and finish him in the first round."