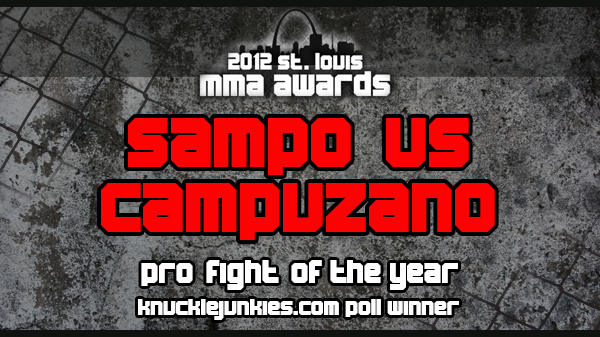 Pro Fight of the Year: Sampo vs Campuzano
There's something that happens to all local fighters when they reach a certain level. After they start beating down everyone in their division, it gets harder and harder to find fights. Often they are left with two options; wait for a promoter to bring someone tough in for you, while waiting for a big organization to offer you a contract, or pack your bags and travel.

Will Campuzano vs Josh Sampo is a perfect example of both.

When this match was announced, buzz quickly began to build. The highly touted Sampo would face his toughest test to date, an out-of-towner who's brush with the big time saw him fighting both in the WEC and UFC. Fans of Sampo, felt he was ready for his shot at the UFC, and this fight against Campuzano would be his ticket to the prime time.

Jim Jenkins, then the matchmaker and partner at Rumble Time's MMA division, put this fight together.

"This was the first big, ranked guy that any of our local guys fought," Jenkins said. "I've always had that desire to move our guys forward."

Jenkins saw an opportunity to not only make an exciting main event fight, but a chance to help Sampo climb in the national rankings by finding him a ranked opponent. Campuzano presented the perfect mix, a pro who had seen high level competition, but someone who also was coming off a long break.

"There's a lot of risk taking a fight against an unranked guy," Jenkins said. "Campuzano was coming off a layoff and he was more willing to come to a regional show. "

Jenkins began using FightMatrix.com's ranking system to create a short list of national, unsigned fighters to bring into the area, a formula he would use in his final two shows with Rumble Time.

By bringing in ranked opponents, the local pros have a chance for more national exposure. This method has proven successful for pros like Zach Freeman, Eric Irvin, Alex White, and Jake Collier, all of which have begun creating national buzz.

Campuzano at the time was ranked in the top 20's for flyweights, a division on the rise since being added to the UFC.

"He thought he was going to come in and get a tough, regional tune-up before bouncing back to the national spotlight," Jenkins said. "Boy, was he surprised. This had that big fight feel. As a promoter it's hard to duplicate and this had it."

When the fighters took to the cage, the place became electric.

"This was the most exciting live fight I've ever seen," Jenkins said. "And I've seen hundreds."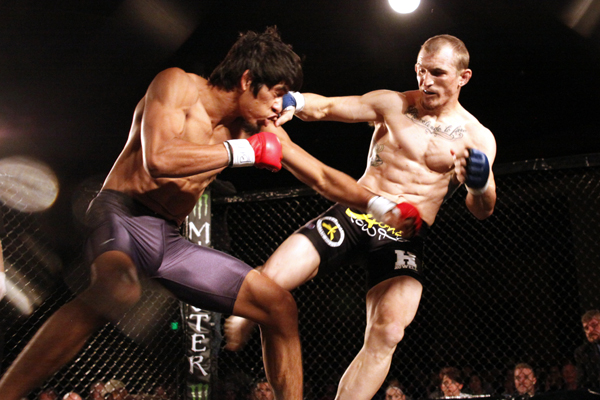 Both fighters sprinted out of the gate at first bell. Neither wanted to give up their position in the cage, neither wanting to back down. Punches and kicks were thrown and blocked with incredible speed and timing.

"The pace of the fight was what really set it a part," Jenkins said.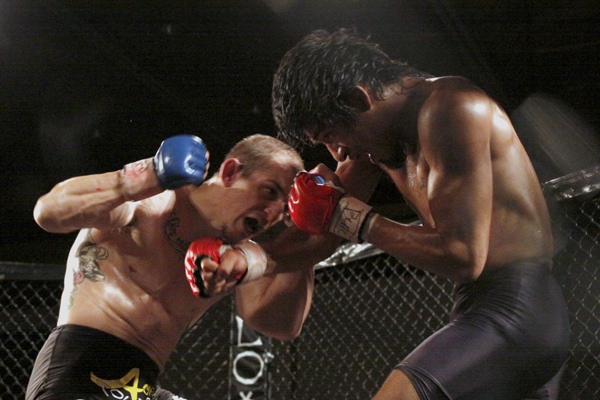 The early rounds saw Sampo getting the better of his opponent, wearing Campuzano down.

In the second round Sampo began using his wrestling, scoring points with takedowns, and gaining a noticeable lead on his opponent.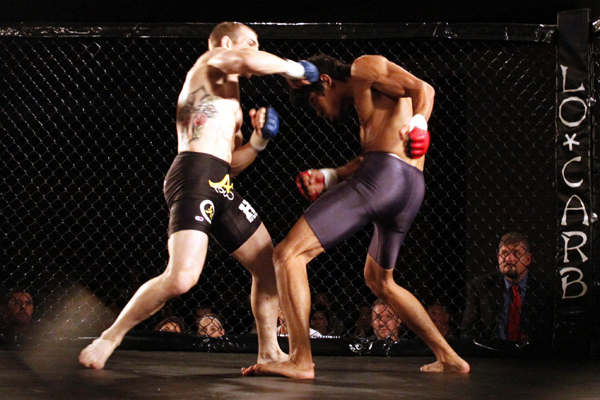 A physically exhausted Campuzano leaned against the cage gasping for air between the final two rounds.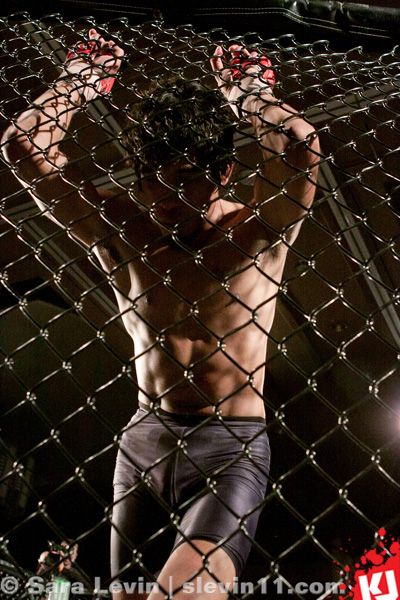 In the end it would be Campuzano's night. An ill-fated takedown attempt midway through the third saw Sampo absorb a vicious knee, temporarily knocking him unconscious. Campuzano seized the opportunity and quickly ended the fight.

As quick as the knee landed, the mood of the crowd changed instantly throughout the ballroom.

"After everyone saw he was OK, it was immediately realized what everyone had just witnessed," Jenkins said. "The sadness couldn't be maintained, and would be overshadowed by the joy of seeing a special fight of two guys that gave us all they had."

All was not lost, even though he was not victorious, the buzz around Sampo began to grow.

After one additional fight for Rumble Time, Sampo would get his first big break, a chance to fight another WEC veteran in Atonio Banuelos at Legacy Fighting Championships. A fight that saw Sampo dominate every aspect of the fight meanwhile rising to No. 3 in the world in the rankings, catapulting past Campuzano.

While he did not end the night with a victory, this fight helped cement Sampo as a legitimate star on the rise.

"I couldn't be prouder and more heartbroken for him that night," Jenkins said.


Photos courtesy of Jimmy Range Photography and Sara Levin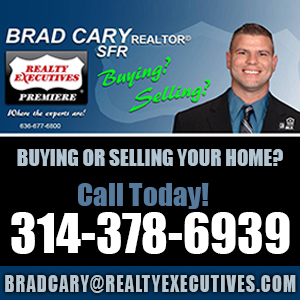 Nemesis Fighting Alliance
| Sat, June 22nd
Casa Loma Ballroom, St. Louis, MO
Shamrock FC 320
| Sat, July 13th
Ameristar Casino, St. Louis, MO
KCFA: Fight for the Troops
| Sat, July 27th
Truman Memorial Building, Independence, MO
Ultimate Blue Corner
| Fri, August 2nd
Harrah's Casino, Kansas City, MO

Tweets about "KnuckleJunkies OR @knucklejunkies"