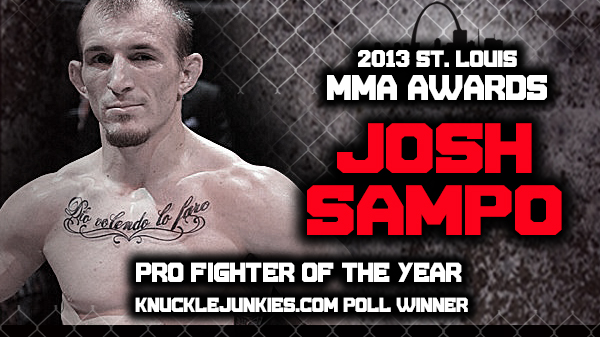 Pro Fighter of the Year: Josh Sampo
Whirlwind? Thats one way to describe it.

Game changing? Most definitely.

Whatever word you want to attach to Josh Sampos 2013, make it a good one.

In a little less than 365-days, Sampo barrel rolled through winning a championship belt, earning a masters degree, and joining the UFC with fanfare, among other memorable pit stops.

The St. Charles MMA flyweight is 11-2 and returns to the Octagon Feb.22 at UFC 170: Rousey vs. McMann when he takes on the highly-touted Zach Makovsky.

Here is the 2013 Pro Fighter of the Year as voted by the fans, in his own words:

"I haven't really reflected over what has transpired over the last 12 months. It's been crazy."

"The Alexis Vila fight was like a huge pillar in my fight career. I think that's what pulled eyes toward me and the gym and everybody in this area. It was like, this guy went into (Vila's) backyard and submitted him on his home turf in his best friends organization. I had Ricehouse and Mike and all of those guys with me and it was a really cool experience to share with them. It's something I'll never forget. We walked out of there with the belt and I was still in shock. I still look at that belt and think, wow, I beat a dude who spent time in the Olympic arena. He's at the pinnacle of sports and he's one of those guys I got to tussle with. It was such an honor."

"Stressful. Super stressful. Grad school, student teaching, all of that stuff and on top of that trying to fight. I would get stressed out and burned out about school and I would be like, I have to go train and that would reset my mental side of it so I could get back to studying and get back to doing all of that stuff. I'm glad that's over with and I have that degree and can always go back to it if I have to but I'm so glad its over. I'm so done with school."

"The title defense was extremely stressful because we were hoping that it was going to happen in August and we trained our butt off getting ready for it then and then it got pushed back so we had a good long camp and we spent the majority of it training one aspect of our fight game that I really need to work on, which I'm glad that we did. But the fight was not anywhere in that realm that we trained. We worked extensively to be on our feet and work angles and that nature and this dude (Sam Thao) just came out of like a video game. Crazy, crazy stuff. So it was hard to adapt to but once we did it was kind of disappointing in the fact that it wasn't a very appealing win. It wasn't one of those amazing fights. It was just take him down and grind it out and go home with the belt again. My hats off to that guy."

"It happened so fast from getting the call to getting to Vegas, fighting, and all of the sudden were right back to my daily routine. I was like, did that happen? The funny thing is me and my boxing coach were planning on flying out to watch that fight. So the fact that we went from watching the fight to actually being in the fights, it was extremely humbling in the fact that I'm glad it happened. It was cool to be in that arena. I tried to keep my mental aspect extremely grounded. I didn't want to think of all of the big things that came along with it. As soon as they locked the cage, its just another opponent."

"I'm trying to be one-percent better than I was yesterday and the work even gets harder now. The weight class is so small and I think me and Alp are now racing to see who gets to the top. We have a chance to make a massive splash really fast. If we fight some of those top dudes and beat them convincingly, were going to shoot to the top as fast as possible."

"One of my favorite quotes is, 'The lion climbing the mountain is hungrier than the lion on top of the mountain', and I'm going to stay as hungry as I can."