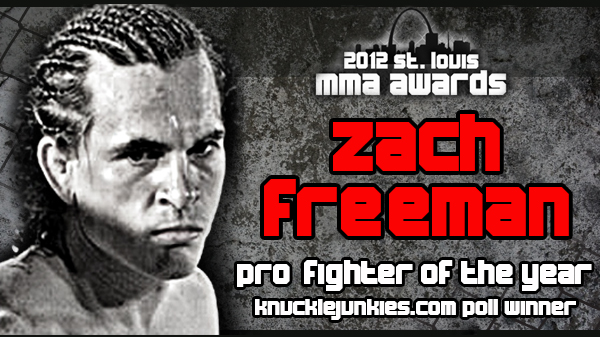 Pro Fighter of the Year: Zach Freeman
It was a roller coaster ride for Zach Freeman in 2012. For his career, Freeman is a perfect 6-0 with half of his wins coming during a four-month stretch this past calendar year. After going to the bitter end through The Ultimate Fighter tryout process, the lightweight started the year with a vicious and violent choke out of Bryant Whitaker. He followed that with another first-round submission win, this time over Strikeforce vet Charon Spain. But the feather in his cap came when he answered critics in October against Aaron Derrow (11-4) at the Ameristar Casino. Freeman had never made it out of the first round prior to that night, but against the gritty, Kansas City-based fighter, Freeman displayed resolve not shown before, winning a decisive unanimous decision. Freeman won Fighter of the Year, edging Jake Collier down the stretch. Here's the Altar Boy, in his own words.

I started off the year in the interview process for The Ultimate Fighter. I was about as close as you can get before you get on the show. I was one of eight alternates. They do the video and picture productions with you just in case and I was just one of the guys that didn't get the opportunity to fight to get in the house.

I was at the gym that night. I was putting in two-a-days. I was going to be very ready to fight to get into the house. I remember I just ran a mile right over five minutes and I went to my locker to take off my plastics and I looked at my phone and I had a missed call. It was one of the producers. I was like, 'Oh man. This is the call.' I listened to my voicemail and she said unfortunately they really liked me, but I didn't get on the show.

It was definitely heart wrenching. We were pretty confident that I was going to be on. It obviously wasn't my time. But it will be in the future.

A lot of people don't know about Bryant Whitaker, but he was 30-3 as an amateur. I tagged him a few times and he then shot in on me and made that mistake.

I remember how tight (the Whitaker choke) was but it never seemed like he panicked; guys who are about to get submitted go into defense-panic mode. He really didn't and just tried to finish his takedown. By the time we made it to the mat, I remember the ref pulling me off of him and I remember him never tapping. He just fell straight back and he was out. I was shocked.

A lot of people don't know, but I had so many injuries leading up to the Derrow fight. Just warming up on pads 10 minutes before the fight, I threw a right hand and it hurt. I couldn't even warm up on pads, that's how bad it was. I had lingering injuries. I tore a ligament in my hand. Ligament injuries are very painful and they're debilitating.

I felt that I was the underdog in that fight. (Derrow) was like 11-3 and he beat some good guys and won a 10-man professional tournament, I mean the guy was legit. A lot of people don't realize that I was the underdog because they're hometown fans. But there was a lot of pressure on me for that.

I fought through that fight without pulling out due to injuries. I got sick the week before. I just overcame a lot. There were a lot of little things adding up and then at the end you have the dieting and losing weight to deal with. I was really proud of myself that I overcame, stayed with it and won. I had never had that much adversity to deal with.

It was all new experience for me, going three, five-minute rounds and just getting out of the first round. I felt I handled it well. I thought my cardio could have been a little better. But to me, if you're not tired at the end of a fight, then you're not fighting hard enough. These guys who are doing pushups after a fight? To me, there is something being left there. There's too much precaution and too much game planning. At the end of the day, it's a fight. I'm trying to impose my will as hard as I can and I'm going to be tired. When I fight, I fight hard. When I punch, I punch as hard as I can.

I think there is a little bit of immaturity there, but to me, that is part of fighting. But I think to be a champion you have to learn that maturity and I want to learn that.

When you're undefeated, you want to keep that. No matter how hard. But part of growing as a fighter too is getting over that, winning and losing. It's really about performing at your best ability.

I have to listen to my body. Your coaches and your teammates are there to push you but you at the end of the day know how you feel and what needs to be done to stay healthy. One injury can set you back a year if not more. I think it's important to know when enough is enough. I love fighting and training but I also learned that work, family, that stuff is more important.

Guys who go into the gym and beat each other up every day real hard, I don't necessarily want to be a part of that. Trust me, when it's time to get ready for a fight, I'm going to be ready and grind. But I think there is more to think about and more to life than just fighting. Now I'm learning to balance all of that and it's hard.

I think what I need to do now is mature mentally in the cage and learn when to punch as hard as I can and when to throw what. It's just about being relaxed and thinking and not just acting. I think that is my next step. I became a better fighter this year because of my gym and my teammates. Just everyone around me has helped me progressed.

Actually Lance (Benoist) had his first loss in his seventh fight and Matt (Ricehouse) had his first loss in his seventh fight. I think that has maybe popped in my head once or twice. But at the end of the day, it's just a fight.

It's important to me to keep that goose egg because that is what's going to get me in the UFC, I think. But then again, you see guys' going in with a few loses. It's not the worst thing and it's not the most important thing. But it's what I'm dealing with and it garners attention.

People will say that they're not scared, but you are fighting another person. It takes guts to do it. You're either stupid because you're trying to be tough and a UFC fighter and you're just one of those, and I don't want to offend anyone, but there is this surge of people who all want to be an ultimate fighter. But it's different for me. I'm doing this because I feel like it's what I'm supposed to do. I'm not trying to prove to everyone that I'm tough. This is something I'm trying to prove to myself.

It isn't all about winning and losing. But losing is my last option.