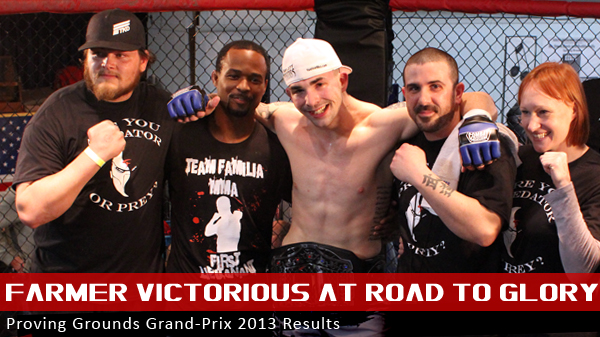 Proving Grounds GP 2013 - Event Recap
On the same day as the NAGA grappling tournament just down the road at UMSL, it was a night of submissions at South Broadway Athletic Club with nearly every fight ending by way of tap out.

All of the quick stoppages made for a quick night with not a single fight going the distance. Fans were out piled out of the venue before 10pm with an exciting 10 fights in the books including three grand prix matches, and four title matches.

Local favorite Jesse Farmer was victorious in the main event. Farmer overwhelmed opponent Roy Davis by closing the distance early, surviving a big sweep, and ending up on top. From there it was all Farmer who controlled his opponent from the mount, raining down punches until referee Dustin Severs put a stop to the match. Farmer improves to 6-1 as a middleweight and should crack the top 10 of the Spire Amateur Rankings.

Harlan Feutral from Battlegrounds MMA scored the big upset in the co-main event. Feutral must have really studied opponent Ronnie Harper's style as he seemed well prepared for Harper's initial offering. Harper secured his trademark double-leg getting Feutral onto his back, but it was Feutral who was able to capitalize on the take down slapping on a tight triangle choke. Harper briefly went unconscious and the fight was stopped early in the first round.

After the fight Feutral announced he would not be defending his newly won Proving Grounds belt as he plans on turning pro on May 3rd.

Daniel Baynton locked on the submission of the night with a beautiful calf cutter on rising prospect Andrew Sanchez. Sanchez moved up in weight to take on Baynton and the size different was simply too much for Sanchez to overcome. Baynton bullied Sanchez to the ground where a the grappler from Berger's MMA saw an opening and dove on the leg submission, ending the fight early in the first.

Zach Wolfe continues his path of destruction dispatching flyweight champion Steve Barbee. Four weeks after he dispatched Wil Alfaro with a brutal arm bar, Wolfe submitted Barbee with a beautiful anaconda choke. Wolfe locked the submission on early with Barbee fighting it over for several minutes before finally tapping to the choke.

In tournament matches for the Proving Grounds Lightweight Grand Prix, Joe Roye advanced with a beautiful armbar over Patrick Sparks. Demarco Montgomery stopped Anthony Livingston via guillotine, and in the most competitive fight of the night, Justin Lankford defeated Ben Huskic by way of guillotine in the second. Huskic took the fight to Lankford early and was getting the better of him on the feet before an ill-timed takedown attempt left Huskic's neck exposed and Lankford ended the fight.

Also victorious on the night were Rodell Thomas, Cody Winistoefer, and Sarah Kain.

Proving Grounds returns June 1st.