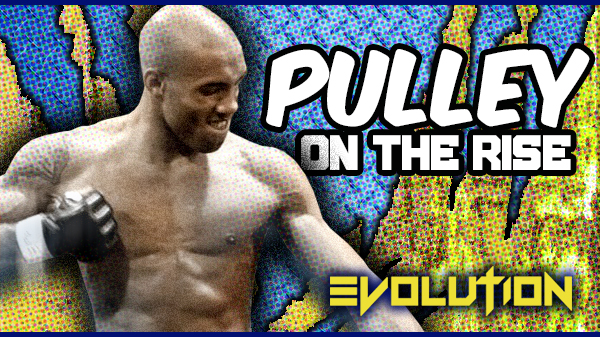 Pulley On The Rise
After a six month hiatus, Hugh "The Wolverine" Pulley returns to the cage Friday against Ben Miller in the co-main event at Rumble Time Promotions Evolution at the Ameristar Casino.

"I'm ready to fight," Pulley said. "I've been planning to fight for a while now. Those six months off I had no control over that, I just couldn't find opponents."

Even though he has had trouble finding opponents, Pulley has not been slacking this whole time. He has been very busy improving in all areas of his game.

"I believe my wrestling kind of lacked," Pulley said. "Within these six months I haven't been working on one specific thing though. I train all areas of my game just in case I get caught."

In his MMA career Pulley has jumped back and forth between different gyms and styles of martial arts. For this fight, there has been his home base of Modern Combat Systems along with stop offs at St. Charles MMA.

"It works pretty well," Pulley said. "Guys get used to you in sparring, but there is a different look at St. Charles MMA. Modern Combat Systems is my home though."

Pulley had an outstanding career as an amateur fighter and is off to a 2-0 start as a professional. As a pro, Pulley only has a combined cage time a little shy of two minutes as each one of his professional victories came by TKO in the first round.

But does Pulley feel a lack of experience?

"No, the experience will come," he said. "I train for five, five-minute rounds. I always make sure I'm ready for five rounds."

Whether it lasts for one round or all three, Pulley looks to step up the competition Friday against Miller.

"I actually wanted to step up my competition early," Pulley said. "Even though this guy has a lot of losses it doesn't mean it won't be a tough fight. Ben Miller is really aggressive but he lies back at the end of his fights. I don't think he has the drive like I have the drive."

Miller has 20 more fights more than Pulley and has won nine of his nearly 30 pro fights. Jared Daniels-Block, the head coach at MCS, was ready to put Pulley in against a grizzled veteran.

"Ben will be in a familiar spot come Friday night and he knows what he's getting into," Daniels-Block said. "Hugh has had early success in the pros and this time I wanted him to fight a guy who has seen the highs and lows of the pros. This makes this fight much more dangerous. All respect given to his last two opponents, but they lacked cage time whereas Miller does not. Hugh has been working his stand up game, diet and upped his camp intensity for this one and knows he needs to keep the pace up in this one. We going for 3-0, all first- round finishes."

Friday will be Pulley's third time cutting to 155-pounds and each time the process seems to be getting more comfortable for the muscular six-footer.

"His first time he missed the mark in his first attempt but then shed the rest given the two hour time if weight is missed, the second he came in heavy and sacrificed purse for the fight to go on, he didn't like that part and this time has dedicated himself to diet and hard work," Daniels-Block said. "These pounds are coming off like butter this time and considering he walks around at 192, the 155 cut seems to be going well."

With an undefeated professional record, Pulley sees himself making a career in the cage.

"My goal is to have four fights by the end of the year," Pulley said. "I see myself in the UFC in the next few years if not a year."

Come Friday, Pulley promises to put on an exciting co-main event and to his fans and had these final words:

"Just be prepared for a good fight," he said.

Rumble Time's Evolution will take place at Ameristar Casino in St. Charles, MO on Friday. Doors open at 6 p.m. with the first fight set for 7 p.m. Tickets can be purchased by calling 314-662-2000 or online by clicking here.

Photo courtesy of Sara Levin Photography.