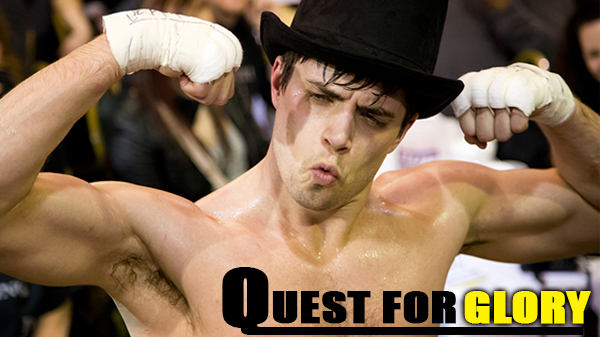 Quest for Glory
Quinton O'Brien is your ordinary office drone by day and a certified bad ass by night.

On August 7 he will realize the dream of every kickboxer on the planet and fight on a live televised event on Spike TV for the world's largest kickboxing league, GLORY World Series.

O'Brien will compete in a one-night, four man, All-American tournament as part of GLORY 23. The event is headlined by kickboxing mega star Raymond Daniels taking on Dutch powerhouse Nieky Holzken. The winner of the middleweight tournament then advances to the GLORY Contender tournament which carries a automatic title shot to whomever can survive to be the last man standing..

Making it to GLORY is the equivalent of getting signed by the UFC or getting called up to pitch for the St. Louis Cardinals. While the possibility of becoming a full time fighter is the dream of many, for O'Brien this is all about validation of his training as he's not ready to give up the corporate gig just yet.

"When I started there wasn't a GLORY," O'Brien said. "I've been at this for 8-ish years. There wasn't a televised show. As soon as that became an option to fight on TV, that became the dream. I'm a guy who's 25 (at the time) picking this up. I work a desk job, I train and coach at night and on the weekends as much as possible. I'm not the guy who makes it. For this, this was my goal. This is my validation that you can do it."

So how does a 33 year-old who has only fought twice in the past two years get his big break? It's all about reputation.

"I think I've fought in St. Louis like once in the past four or five years," O'Brien said. "The fighters around here know who I am and what I do. Beyond that, everybody else probably doesn't. To get here on two pro fights. The background is all in the amateurs. In kickboxing you spend a lot more time in the amateurs than you do in MMA."

And what an amateur career he had winning four national tournaments: the TBAs (Thai Boxing Association) three times and the World Kickboxing Association one time. He also won both the Muay Thai and K1 division of WKA Worlds in Tuscan, Italy in his final year as an amateur.

"Going through all of those tournaments you meet everybody." O'Brien said. "The guy who gave me the call, Eric Haycraft (GLORY matchmaker) was actually one of the guys who cornered me in Italy. He's familiar with me as a fighter. I've been to his gym, been to all the circuits, I've fought his guys. He said they've had their eye on me for a little while and this was a new talent tournament for them and gave me the offer."

Now with around 40 fights under his belt, O'Brien faces his stiffest challenge yet, defeating two professional kickboxers on the same night. O'Brien debuted as a pro last February and fought again in September against fellow tournament precipitant Ariel Sepulveda to improve to 2-0.

If O'Brien is to win the four-man tournament he will need to defeat Casey Greene (1-1 in GLORY) in the first round, and then face the winner of Dustin Jacoby and Sepulveda. Despite having only seen footage of Greene, the other participants are no stranger to O'Brien either, having fought one previously, and having cornered a teammate against another.

"Ariel and I fought in September in New York," O'Brien said. "I got him in a split decision. I'm also familiar with Jacoby as well. I cornered Andrew Sanchez when he fought Jacoby a few years back in Springfield. I've also watched a lot of tape on Greene. Not looking past Greene, but as much as fun as it would be to fight Jacoby and get some revenge for Sanchez. Ariel and I have stayed in touch, if I had a dream match, it would be to go and fight Ariel again. We've laughed about it and talked about it. It'd be a lot of fun."

Working for Boeing, the largest aerospace company in the world, O'Brien punches the clock, but when his work is all done, O'Brien punches people. Winning the tournament would be a nice feather in the cap, but it's back to the 9-to-5 grind regardless.

"For me nothing really changes," O'Brien said. "Boeing is my job. It's what has helped me go to worlds. It's what has helped me travel, allows me to coach people. It makes fighting not a job and something I enjoy doing. If I win I go back to work. I have a lot of work waiting for me when I get back because I've been working a little less, taking some vacation time getting ready for this fight."

Of the 165,000 Boeing employees worldwide, O'Brien is the only one currently signed to GLORY. One might say he's the toughest guy in the company.

Working in the procurement department, if it's a fighter jet and Boeing played some role in building it, there's a good chance O'Brien purchased a part for it. Balancing both a professional business career and a fighting career is something O'Brien is very familiar with.

"My fighting ebbs and flows with my work schedule," O'Brien said. "In 2013 I fought ten times between a couple of national tournaments, golden gloves, and some other fights. Last spring I went pro and hurt my knuckle punching a guy in the forehead, took some time off, then fought again in September. Work got crazy, I was supposed to fight June-ish, it just didn't work with my schedule, but this fight came up and my bosses were nice enough to let me peruse it."

Unlike a lot of people who train hard only when the next fight is scheduled, O'Brien is at it year round.

"There's nothing part time about what I do," O'Brien said. "You see a lot of MMA guys that will have a fight then go off on the deep end on a bender. I train six days a week all year around. The first break I've had from hitting stuff since Italy was when I was in England for work and I got the call from GLORY."

Getting that offer to fight put O'Brien in the somewhat awkward position requesting time off to go and compete on a live televised fighting tournament.

"My direct boss, he was in England with me when I got the call and that there was a potential fight," O'Brien said. "It's not fight culture there, it's not like they're watching it on TV all the time, but they understood. It'd basically be like I was sitting at my desk and the Cardinals come to me and say, 'want to come pitch for us in a month'?" That's kind of what the equivalent is, so they understood."

Making it onto the tournament and realizing his dream is validation for O'Brien that anything is possible.

"If you're a guy who's sitting on a couch, overweight and thinking you might be able to do something, it's really never too late," O'Brien said. "I was 24 or 25 when I started, I was 245-pounds, 50 pounds heavier than what I am now with about three months boxing. I went out and tried it out. It's all about hard work and dedication. Keep it up and don't try and cut shortcuts. The more time you put in and more consistent you are the better things will turn out. "

O'Brien has put in his time, he's gotten the opportunity, now it's time to step out of the cube and into the ring chasing that extra bit of glory.

Photo courtesy of Sara Levin Photography.