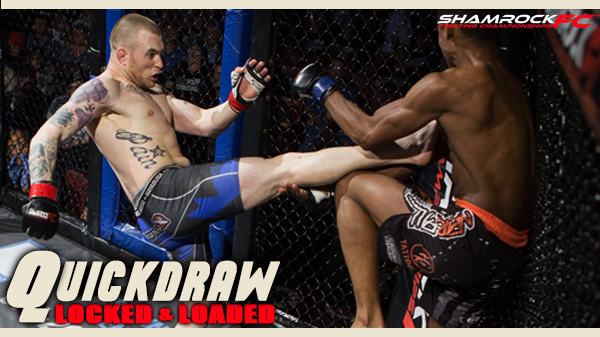 Quickdraw: Locked and Loaded
Brandon Lowe has seen the good, the bad, and the ugly.

The 27-year-old Wood River, IL native grew up waist-deep in poverty with his family in shambles.

"My brother is an ex-heroin addict, and I'm not close with my father," Lowe said. "I have seen and been through a lot of stuff. Wood River is not bad, just a poor, little town and I grew up really poor."

It's a tale that has been told many times; athletics being the guiding light for a young person to better their situation and Lowe is another one of those stories.

"Quickdraw" returns to the competitive arena on Friday on the main card of Shamrock FC: 295 at the River City Casino. Lowe (2-1) will face Malcolm Smith (4-5) in a lightweight showdown.

As an ammie, Smith claimed two amateur welterweight titles; GFL and Spire Regional. Smith fought his amateur career at 185 and 170-pounds and moved to lighter weight classes since turning pro. After beginning his pro career with two bouts at 155, Smith tinkered with featherweight, where he found some success. Smith's run as a pro was against a whos-who and can be the explanation for his see-saw record. He started off 0-2 with loses to Vince Eazelle and Hugh Pulley but then ran off three-straight victories before dropping three of his last four. It has been over a year since Smith has competed.

"I'm not much of a shit talker, and I don't take away anything from anyone," Lowe said. "I don't care what his record says he's a tough dude with nine pro fights. I don't know what he's been up to on his time off, but I do know that I need to be on my A game."

Lowe also knows that Smith is an athletic whirlwind who throws every punch with mean intentions. So he is banking on being the more calm, cool, and collected one once the referee says 'go.'

"I feel faster, smoother, more technical," Lowe said. "I'm very well prepared."

Smith is perceived as the grizzled veteran but he is close in age to Lowe, and they both got into the sport around the same time.

"People know his name more, but we have both been around," Lowe said. "I feel that I'm hungrier than he is and I want it more. I don't think he's fought anyone quite like me."

Lowe tinkered around with other sports before jumping into wrestling in the eighth grade. By the time his senior year rolled around, Lowe was old enough to take his first amateur fight. He had become a fan of the UFC and started training at Brad Jones' War Room, the same gym where he still hangs his bag today.

"People looked at me a little different around the school," Lowe said. "The bullies who were bullying me when I was younger didn't do it anymore."

Lowe is still under the eye of Jones and striking coach Justin Church as well as fitting in time for BJJ with the Head Nod Squad.

"I can do it all, but wrestling is my roots," Lowe said. "I feel that I have the best ground and pound in the St. Louis area. I feel at home on the ground, and it's always my go-to if I need to."

Lowe made his MMA debut in 2008, and he finished his amateur career with a six-fight win streak and a winner of eight of his last nine. He took home three championships belts during his time; Spire, NFA, and Fight Hard. He made his pro debut in November of 2015 at Bellator 145 here in St. Louis. What was to be a fight with Joe Roye turned into a contest against the dynamic Rashard Lovelace. The notice came five weeks before fight night, and Lowe had a rough weight cut, stripping 15 pounds off the day before weigh-ins. On that night, Lovelace scored a first-round TKO, and Lowe quickly found himself behind the eight ball as a 0-1 pro.

"That was a big change in the level of my opponent," Lowe said. "Rashard's a beast, and I don't like making excuses. I just sucked it up and took the loss."

He righted the ship quickly. A unanimous decision win over Montuelle Prater came in April 2016.

"My top pressure is hard to deal with, and he was carrying my weight for most of the fight," Lowe said. "I physically broke him. His coaches had to carry him out of the cage."

Lowe took nearly a year off before fighting again. At SFC: 286, Lowe put together a bruising TKO victory over Auhston Midkiff in a lightweight bout. Lowe went on three separate offensive barrages, often with Midkiff turtled up. After the third one, and once back on the feet, Midkiff was leaning in on a takedown attempt, and Lowe landed a violent elbow at 4:40 in the first round. In the heat of the moment, the placement of Lowe's elbows were questioned, but subsequent replay footage showed that they landed clean.

Like many up-and-coming professional fighters, Lowe's week is jam-packed trying to juggle a work week plus fitting in training.

He works at World Wide Technology as a lab technician. A typical day could start with a fasted cardio session before work. After clocking out, he has a couple of hours to catch his breath before training begins from 6-8 pm.

This day-to-day routine is the life he has chosen and the life that he loves, and it's the life that puts his past in the rearview mirror.

Weigh-ins for SFC 295 are Thursday at 5:30 PM at River City Casino. Shamrock FC will be giving away dinner for two and two tickets to the event at the live weigh-ins.

For ticket and pay-per-view information, visit the Shamrock FC Store.