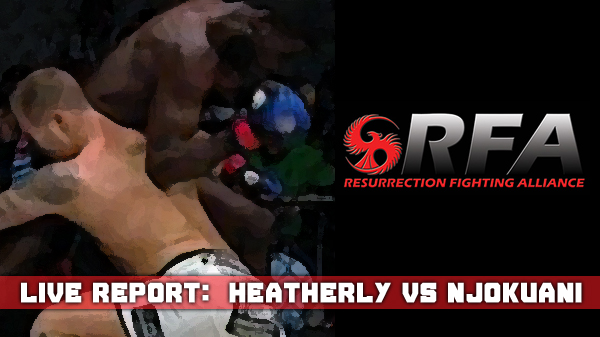 RFA 13 Live Report: Heatherly vs Njokuani
Lincoln, NE -- It was a sight that no fight fan wants to see.

A fighter face down on the canvas for several minutes, taken off on a stretcher with the seriousness of the injury unknown.

At Friday night's RFA 13, Chris Heatherly was that fighter.

With that being said, Heatherly could have hardly scripted a better start to his fight with Chidi Njokuani.

After coming up empty on his first takedown attempt, Stump, pulled off a nice trip of Njokuani. Once on the floor, Heatherly smothered from half guard and kept Njokuani immobile. Heatherly worked a nice kimura before giving it up and taking Njokuanis back. While going for another submission attempt, Heatherly slid off the top onto the canvas but soon worked his way to his feet, displaying a significant strength advantage over the 6-foot-4 fighter out of Las Vegas. Heatherly had Njokuani pinned against the fence, primed for another takedown, when Njokuani landed a thunderous and illegal, 12-6 elbow to Heatherlys spine region.

As soon as the referee came in to separate the fighters and warn Kjokuani, Heatherly crumpled and stayed down for several minutes. After ringside personnel and officials evaluated the situation, Heatherly was taken off on a stretcher and the bout was ruled a no contest.

Thankfully, it appears that the only damage sustained is a possible broken rib.

"I'm not a doctor but I say we probably have a broken rib," Heatherly said. "My legs went numb. It was a scary situation. The first thing was I wanted to get up and keep fighting but when you are taking in deep breaths and it feels like someone is stabbing you in the back, its kind of a hard choice. The doctor asked if I could continue, I thought I could. He advised that its a bad thing to continue and that's what happened. My performance was good for my confidence but its hard to go out on national TV and have something like that happen to you where you're carried out of the ring."

If the injury is far from serious, the Berger's MMA product is eager to get back after it.

Friday was his RFA debut and more than anything, the first three minutes of the fight solidified what hes believed all along.

"I want a rematch," Heatherly said. "If it ends up being a bruise or something along that line, I would like to get back and get another fight. This was supposed to be one of the No. 1 prospects in the world at 170 and I feel like Im right there with him."