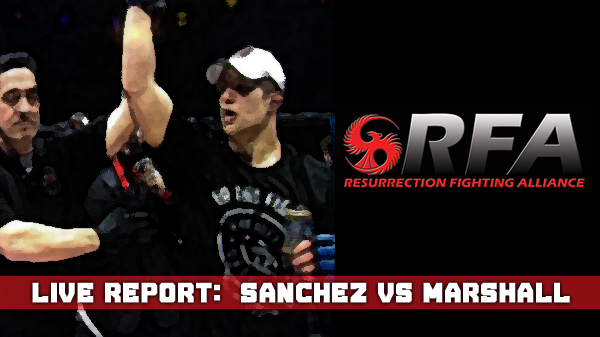 RFA 13 Live Report: Sanchez vs Marshall
Lincoln, NE - Andrew Sanchez did what Andrew Sanchez does.

In the co-main event of RFA 13, aired live on AXS-TV, Sanchez faced crowd favorite Miles Marshall in a middleweight No. 1 contender bout.

From the onset and doing what many expected, Sanchez's vaunted ground attack suffocated Marshall and simply overmatched the son of Lincoln to earn a second TKO victory. With the win, Sanchez will fight Kevin Casey for the middleweight belt.

"I'm going to (mess) Kevin Casey up," Sanchez said. "You better believe it. It's going to be a great fight to show off my striking, not that I think hes better than me on the ground but I think I can destroy him on the feet."

Though lauded for his groundwork, Sanchez popped a quick jab early in the fight that let Marshall know that he is more than just a wrestler. Soon after securing his first takedown of the fight, "El Dirte" went to work with the ground and pound along with landing some soul-sapping knees to the midsection. Marshall soon gave up his back and Sanchez greeted that with wrap-around shots the often found their mark.

"I knew after seeing his fights that if hes pushed hell gas out but I was pretty damn tired myself," Sanchez said. "Every punch I threw was 100-percent and I was trying to take his head off but I knew he was more tired."

Sanchez started the second with a punishing right hand that sent Marshall sprawling to the cage. Sanchez followed with a takedown and took the back once again and the beginning of the end was on. Sanchez rained down punches by the bushel, some blocked, but most werent and the referee called the fight 1:25 into the second round.

"I'm not really surprised. I'm not saying I was going to walk through him but it went according to plan, Sanchez said. I was watching for his big punch and I saw everything he threw coming. I saw it a mile away. He loads up and he doesn't really set up and I tagged him on the feet. It was just complete domination and I'm happy with my performance."

Sanchez's striking, while not sparkling, was effective. Along with the solid jab, he landed a teep that winded Marshall and then there was the big right hand that led to finishing the fight.

Friday night was a culmination of a head-spinning week for the 25-year-old Belleville, Ill resident who trains at Finney's MMA. Not only was there the ramifications of the bout with the winner getting a title shot and the fight shown live on national television, but Sanchez was the subject of a heavy amount of press with MMAJunkie.com and Sherdog.com among others running feature stories on him.

"The whole trying to live up to the hype, I did that before against Dustin Jacoby (his lone career loss)," Sanchez said. "I really tried to block it out and enjoy the experience and not put pressure on myself. The week was pretty smooth, mentally. I had a pretty good weight cut. I got sick last weekend and I was pretty freaked out but I got well enough."