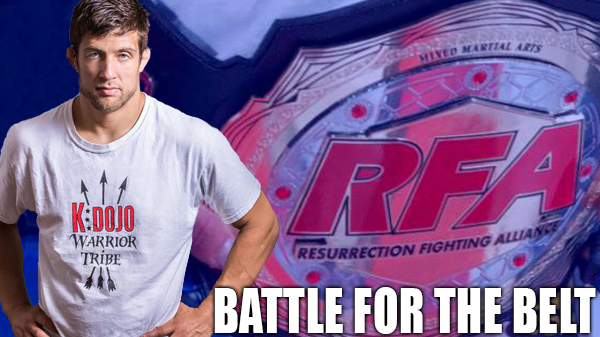 RFA 28: Battle for the Belt
Andrew Sanchez is a college graduate, a virtuoso on a chess board, and can play the most intricate scales on a guitar.

But when it comes to talking about his RFA middleweight championship fight Friday night against John Poppie he is significantly less refined.

"Tell the St. Louis fans to expect me to beat the f*ck out of this guy," Sanchez said. "As long as my mind's clear and I'm focused on task, I'm going to f*ck this guy up."

RFA 28 will be held at the Chase Park Plaza and aired live on AXS-TV. Sanchez and Poppie are the evening's main event.

For Sanchez, this is his second crack at a RFA title. El Dirte (6-2) suffered the second loss of his career last summer at the hands of Kevin Casey. Sanchez's only other loss came via split decision to GLORY kickboxing star Dustin Jacoby in Sanchez's fourth pro fight.

Poppie, a Wisconsin native, is riding a four-fight win streak and enters his RFA debut 6-1.

"This is a title fight and they just don't give them to anyone," Poppie said. "The recognition, the exposure, this is a good opportunity for me."

El Dirte comes home

It's hard to believe but it has been three years to the month since Sanchez has fought on St. Louis soil. The last time he competed locally was a win over Darryl Cobb at a Fight Hard MMA event. Come Friday night, friends, family and former training partners will see for themselves the work that he has put in.

"It's a little overwhelming," Sanchez said. "The place is going to be crazy. There's pressure but I do well under pressure. It makes me a go-getter. It's going to make winning that much better."

Sanchez grew up nearby in tiny Shiloh, IL, and after a decorated wrestling career at McKendree University, where he was a four-time NAIA All-American and two-time national champ, he dove into MMA. While here, Sanchez trained with two of the best gyms St. Louis has to offer, first with St. Charles MMA/Vaghi Jiu-Jitsu (where he earned a Pan Am BJJ purple belt championship) and then at Finney's MMA. But he was always a man without an island, a combat sports vagabond, and when he felt things getting stale he knew a move was in order.

He is now based far away from the empty streets of small town Illinois. Six months after the Casey loss, Sanchez headed to Fairfield, New Jersey to a mostly-unknown gym, K-Dojo. K-Dojo is packed with Russian-born wrestlers, grapplers, and fighters. Sanchez has landed a teaching gig while living at a fighter house.

"I downloaded an app to help me speak Russian," Sanchez said. "I know a few words but I can't communicate in it. It's a hard language."

While chatting is somewhat limited, Sanchez and his teammates, especially grappling ace Rustam Chsiev, are fluent in no-nonsense, balls to the wall training.

"They don't take it easy on me," Sanchez said. "I'll do five rounds of wrestling with Rustam and he's like no training partner I have ever had. We've pushed really hard this camp. My biggest fear is getting tired and there is nothing more we could have done. I'm definitely in shape."

Sanchez has also found a coach, K-Dojo founder Murat MK Keshtov, who has been a perfect fit.

"Before, I always wondered around when it came to training," Sanchez said. "Murat is starting to know my tendencies. We've tightened up my striking. I don't get hit like I used to and that makes me more confident."

In Poppie, Sanchez sees an opponent custom fit for him. Sanchez won't have to go searching for the ground game as Poppie will likely bring the wrestling to him.

"In my mind it's the perfect match up for me," Sanchez said. "His style is my style but I'm much better at it. Guys who come forward and grind are tough fights. I feel like I shouldn't be, but I'm always a little worried."

After landing in town early this week, Sanchez has made just a few stops and visits. There is time for catching up after Friday. He's getting another crack at a coveted RFA title and it's an opportunity he's not taking lightly.

"Friday night is going to be the culmination of every training session of my life," Sanchez said. "I've left and now I'm coming back to show what all this hard work has been for. This guy is going to have to break my arm off to beat me."

Embrace the grind

Poppie isn't afraid of a hard day's work.

Most weeks he spends 40 to 50 hours painting houses and also working at a supplement store. His early mornings and late evenings are filled with training.

"I wake up, train, go to work, then back to training until about 10:30 then repeat the next day," Poppie said. "I'm completely exhausted. Hopefully, with this fight I can pick up some more sponsors so I can train a little more."

Poppie attended a small high school where he was a three-time state qualifying wrestler and state champion his senior year. Two months after graduation he had his first MMA fight.

"It was behind a strip club at dusk with shitty lighting," Poppie said. "This was five or six years before Wisconsin had regulations."

Poppie stayed an amateur until he turned 22. As a pro, he jumped out to a 4-1 record and tried out for the Ultimate Fighter in the fall of 2013.

"I"m glad I didn't make it," Poppie said. "I wouldn't have done so well. My conditioning wasn't there and I was just patching together my training."

Poppie, who has fought both middleweight and light heavyweight, recently made the move from Lacrosse to Madison where his first real gym, Chosen Few, was waiting for him. Now he finds himself days away from the most important fight of his career.

"The RFA matches up really well. We both have submission and TKO finishes," Poppie said. "We will have to see who has the better hands. It's going to be tough either way."

Though Sanchez, who has four previous RFA appearances, is the more decorated and hyped fighter, Poppie and his team feel they have found chinks in the armor.

"He's well-rounded but in some areas he has holes that I can capitalize on," Poppie said. "My coaches think I'm the better wrestler. If I can keep it a rough fight, grinding, clinching, elbows, and knees then we like our chances."

For tickets to RFA 28 go to www.metrotix.com or call 314-662-2000.