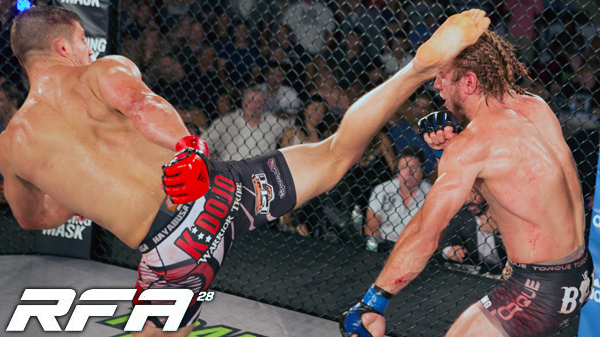 RFA 28: Sanchez vs Poppie - Recap
Multiple head kicks, spinning back fists, Andrew Sanchez version 2.0 is a devastating product.

Sanchez (7-2) won the vacant RFA Middleweight Championship Friday night when he butchered John Poppie (6-2) en route to a third round TKO victory at RFA 28 inside the beautiful Chase Park Plaza.

Sanchez, who cut his teeth on the St. Louis MMA scene but now fights out of K Dojo in New Jersey, lost a 2014 bid for the RFA strap to Kevin Casey. But after winning his first comeback fight earlier this year was offered a second chance at gold.

"I got another shot at it," Sanchez said. "I didn't know if I was going to be here or not and for it to happen in my hometown of all places, it's one of the best moments of my life."

Sanchez mashed Poppie to the ground to start the first and moved from side control to mount. He started in with the ground and pound until Poppie bucked Sanchez off and got the action back to the feet. The two traded before Poppie started what would eventually be a tide of blood flowing.

Sanchez fired off a head kick and landed a big right hand to start the second round. Sanchez, known for his top-shelf grappling, got the fight to the floor. With elbows that thundered like Godzilla's footsteps, the damage on Poppie's face increased. Poppie started to gush so much, commentators ringside remarked how they could smell the blood. Referee Mike England called for a doctor's evaluation and was Poppie allowed to fight on.

Sanchez, meanwhile, went back to his spinning wheel of offense, landing jabs, a spinning back fist and kicks before he dropped Poppie briefly with a heavy left.

With blood on the canvas and Poppie in zombie-mode, Sanchez put together the winning combination in the third, landing a solid back fist that had Poppie on shaky ground and then two big right hands as England called the fight.

"It's been a long time coming," Sanchez said of his first fight in St. Louis in three years. "I almost tried to ignore (the crowd) but I couldn't help but have a smile on my face. Afterwards, it was insane. A beautiful thing."

Ken Porter knew it was make or break time.

In the co-main event, Porter faced former RFA flyweight champ Matt Manzanares in what ended up being a razor thin bout.

After two rounds that could have gone either way, Porter made his move.

After shaking off an early guillotine early in the third, Porter postured and worked in some damage, including a cut on Manzanares, When it was said and done, Porter (9-2) manufactured enough action to earn him the split decision win (30-27, 28-29 and 29-28).

The first round was plenty of movement and stance switching but little if any actual engagement. Porter hit a takedown early in the second but the seasoned Manzanres was able to limit any damage. Once back on the feet there was more in and out, bobbing and weaving.

"The third round, I felt I needed to dominate," Porter said. "I took him down. I felt real comfortable on the ground. I thought about passing a few times but he didn't like the ground and pound from the second round and in the third round I kept smashing him down with elbows."

Though a winner of two-straight, Javon Wright had a about a year's worth of ring rust on him when he took on American Top Team's Thiago Moises in a featured featherweight bout.

Moises showcased slick jiu-jitsu all night and submitted Wright with a rear naked choke in the second round.

Moises was able to land the takedown and took Wright's back in the first round and eventually worked a heel hook. The 20-year-old Moises took Wright's back again in the second round. Moises baited Wright with strikes before sinking in the choke for the win.

Wright dropped to 6-4 while Moises improved to 6-0.

Jake Roberts was one of St. Louis' top-flight prospects, winning all 12 of his amateur and pro fights via submission. Roberts recently moved to Arizona and began training at the MMA Lab. Roberts had his toughest fight to date as a resilient Chuka Willis was there until the end.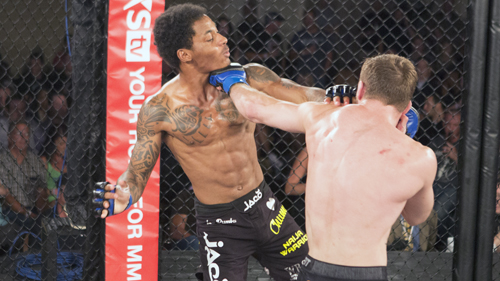 Roberts, who was cut early over his right eye, worked a nice knee in the clinch in the beginnings of the first round. A right hand from Roberts sent Willis to the floor briefly and in a rough, tight rest of the round, Roberts was effective from the clinch.

Willis landed a leg kick early in the second, something he also began the fight with, but Roberts returned the fight back to a gritty affair, landing short elbows in the clinch as well as knees.

Roberts started the third round with more clinch work and pressing against the fence. But Willis started firing away shots and having some of his best success of the night. Roberts would secure a takedown and got to mount but Willis quickly got back to his feet. Roberts closed the round with a headlock takedown and landed a sharp right.

Roberts improved to 5-0 as he won a 29-28, 30-27, 30-27, unanimous decision. Willis dropped to 4-2.

Adam Osmoe continued his impressive 2015. Osmoe improved to 3-0 and earned his second consecutive finish when he tapped out Jimmy Donahue in the first round.

The pair went after it from the jump as Donahue opted to trade and stay in the pocket with the hard swinging Osmoe and it worked out. Donahue rattled Osmoe and swarmed. Osmoe eventually landed a takedown. Donahue went for a reverse triangle and then a traditional triangle before Osmoe slammed Donahue a couple of times, including picking him up and pressing him against the cage. Osmoe slammed Donahue to the mat and began raining down punches. Donahue (6-6) gave up his back and Osmoe jumped on the choke.




Travis Draper had to improvise.

After hurting his hand early in round one in his lightweight bout with Joey Valadez, Draper (3-1), out of St. Charles MMA, wrestled his way to a split decision victory over Joey Valadez (2-2)

"Taking him down and beating him up, I definitely won with the wrestling," Draper said. "I planned on standing with the guy. I hurt my hand in the first and when you have to change up the gameplan that's what you have to do. I hit with with a nice little double jam somewhere around the temple and I felt a nice little tingle go up my arm. I'm definitely not completely happy with my performance. I could have done better."

In the evening's first pro fight, it was rising St. Louis prospect Ty Flores grinding through to a unanimous decision over Colby Tierney

Tierney (3-2) had been out of action since the fall of 2011 showed ample toughness and manufactured a respectable closing flurry.

Flores, out of Berger's MMA who improved to 2-0, was smothering for the first two rounds. In the first, he caught a body kick and scooped up Tierney for a takedown. He eventually transitioned to mount and took Tierney's back, peppering in shots all along.

Flores continued to press for most of the second round. In the third, Flores attempted an arm bar and Tierney came back with strikes. The spurt wasn't enough a Flores road out the decision victory.

Dakota Bush was typical Smith Pit MMA, sharp, crisp, and effective.

Bush won the Spire State Lightweight title with a dramatic TKO in the second round over Derek Clardy.

"That was the goal to get a big finish like that," Bush said. "To put some leather on him and it happened. We put some jabs in his face in the first round and tried to drag him into deeper waters. There was a lot of work put in with Jake Collier and Patrick (Smith). I don't think there is anyone who is going to stop me if we keep at it like this."

After a tight, even first, Bush's jab allowed him to dictate range. After landing a nice knee on the break, Bush came with through with a strong right hand to close.

Bush improved to 9-1 while Clardy dropped to 12-7.

"I kept patient and it all came in to play," Bush said. "Patrick was telling me at the end of the first round that we wanted me to throw leg kicks and then a big right off of it and keep punching on transition. I threw the knee and the left hook and got the finish from there.

Andrew Wiltse proved he is more than just a jiu-jitsu ace.

The grappling prodigy from Mt. Vernon, Il, landed a crushing one-two combination early in the third round that sent Ross Campbell (11-2) cascading to the canvas.

It was just the third fight in the MMA career of Wiltse, a IBJJF blue belt world champion, and he started the fight as expected.

Campbell pressed Wiltse to the cage and kept him there briefly before being drug to the floor. Campbell fought out of an armbar (though rumored to have hyper extended it in the process) but Wiltse was quick to his waist and got the fight to the ground again

Campbell landed some effective shots early in round two before Wilste jumped on a guillotine attempt. From there, the Pedigo Submission Fighting product slithered down to Campbell's legs to work from there.

Campbell was having his best round in the third and he laded solid strikes before Wiltse retaliated with the best finish of this young career, a combo that sent Campbell to the canvas and giving Wiltse the KO win.

"It was just a one-two," Wiltse said. "Obviously my striking needs some work. I've been working on it but I don't feel comfortable enough to stand there and just strike with someone."

Friday was the RFA's debut in St. Louis and the event aired live on AXS-TV.

All photos courtesy of Jimmy Range Photography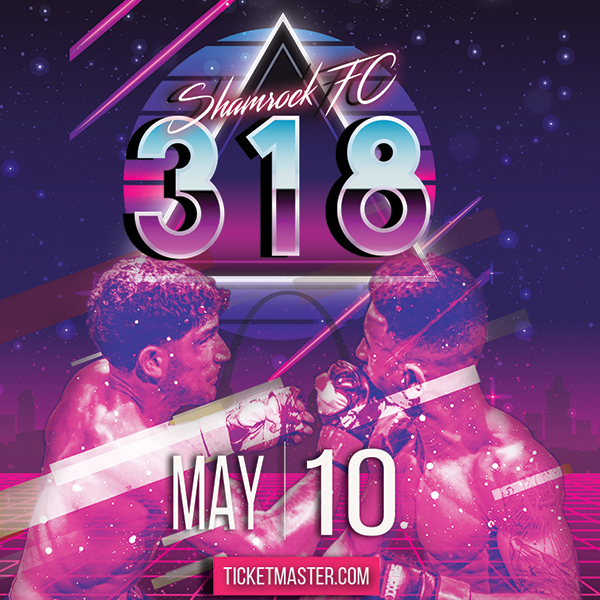 KCFA
| Sat, August 24th
Independence Event Center, Independence, MO
Shamrock FC: 322
| Fri, September 6th
River City Casino, St. Louis, MO
Sub 5
| Sat, September 21st
TBA
Nemesis Fighting Alliance
| Sat, October 5th
Casa Loma Ballroom, St. Louis, MO

Tweets about "KnuckleJunkies OR @knucklejunkies"