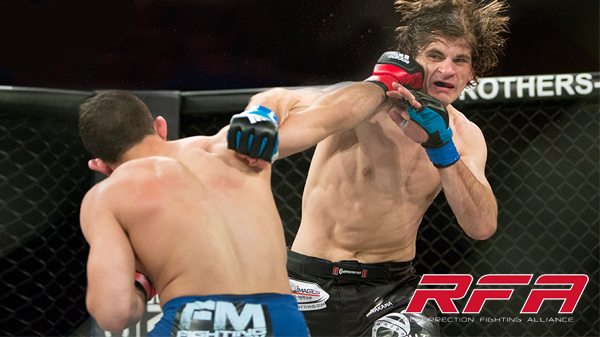 RFA 44: Freeman vs Moises - Recap
A wealth of mixed martial arts talent was on display as RFA 44 was held Friday night at the St. Charles Convention Center. Professional fighters representing the top gyms in the country flew into town to face some of the region's top talent on a card televised live on AXS-TV.

In the main event, RFA lightweight champion Thiago Moises successfully defended his title against "The Alter Boy" Zach Freeman by winning a 49-46, 49-26, 50-45 unanimous decision.

Freeman showed the resolve, grit, and toughness that few have displayed in competition as Freeman broke his hand in the first round and fought through possible other fractures that occurred later in the fight.

In Freeman's best round, the first, he landed a heavy uppercut and pressed the action against the cage and landed knees. The action was stuck on the cage until the three-minute mark, and once separated, to the center they went where Freeman chased and landed solidly with a right. Moises clubbed Freeman down as the fight went to ground. Freeman tried an omoplata and after a scramble, got back into Freeman's guard. Once back to the feet. Freeman ended the round with nice dirty boxing.

In the second round, Moises started to find his range. Early on, Freeman found his distance with strikes, particularly leg kicks and the jab. But Moises caught Freeman coming in twice with short rights. Then a third with more snap. Moises found the target for his right hand, time and time again throughout the round. At the 40-second-mark, Moises started to put the pressure on, landing a knee and multiple hooks towards the round's end.

Upping the volume to start the third, Moises landed a big right that sent Freeman to the floor. Moises swarmed on top at 2:30 mark. Once back on the feet, Freeman took a wild shot for a takedown. Moises defended, spun around on top but at 40-second mark but Freeman locked down the offense with his guard game.

In the fourth, Freeman was absorbing shots but still had a spring in his step and was waiting to land. Moises scored a very nice takedown around the 2:50 mark. Freeman closed the action with is guard game but at the same time could muster little attack off the bottom.

Freeman got his first and only takedown of the fight to start the fifth that briefly changed the momentum. Freeman got to Moises' back but the Brazilian squirted free. When Freeman slipped to the floor, Moises swarmed into Freeman's half guard. Freeman fought off his back as Moises landed a right going into his guard.

The win improves Moises to 9-2 and was his third defense of his RFA lightweight title, Freeman drops to 8-2.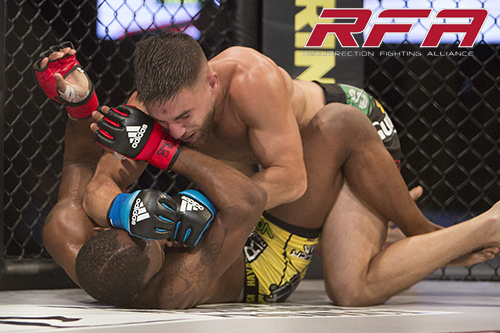 In the co-main event, flyweight Nick Urso's strong top game led to a unanimous decision win over Ken Porter.

In the first round, Urso, out of Jackson-Wink MMA, pressured Porter against the cage and got a takedown. Urso attempted a rear naked choke with a body triangle.

Porter went for a guillotine late but Urso spun out and he ended the round on top throwing ground and pound,

In the second, after an early exchange, Porter snagged another guillotine attempt. Again, Urso spun out and applied pressure from top. Urso controled most of the round on top but doing little to no damage.

Porter made things interesting with a minute left in the third round when Urso fell into a Porter triangle. Porter worked the submission to varying degrees and switched to an arm bar that Urso defended just before the bell sounded, ending the round.

The decision improved Urso to 9-2 while Porter dropped to 9-3.

Lightweight Drakkar Klose remained undefeated (6-0) with a 30-27 unanimous decision win over Hugh Pulley.

Pulley took nearly everything Klose had to offer in the first round. Klose, known for his stone fists and four KOs, landed heavy rights on multiple occasions but Pulley nary budged. In what foreshadowed the next 12 minutes of the fight, Klose kept Pulley's back to the fence and the two worked clinch ad nausea to rounds end.

Klose kept Pulley stuck during most of the second and landed multiple foot-stomps. The two would trade occasional heavy shots, especially in the first round, with Pulley swinging wildly but showing impressive head movement

Pulley (6-3) showed flashes of offense. He landed a nice trip near the 2:50 mark in the third round. He landed multiple elbows while Klose leaned in on a single leg attempt.

Zach Fears (5-2) weathered an uneasy first round to get a convincing win over previously unbeaten lightweight Adam Osmoe.

In the first round, Fears landed early but Osmoe followed with one of his patented takedown. From half guard, Osmoe was more pressure than damage but in control nonetheless. The first ended with an odd scramble as Fears ended up on Osmoe's back. Osmoe stood and walked Fears near the center before flipping him to the ground to end the round.

"It was really just another fight for me," Fears said. "I was confident in my ability and knew what I could do. I knew he was going to be strong so I just held back and more or less waited him out. I knew he'd be tired going after that first round going after those takedowns so hard, so I just sat back and made it work. It showed because in the second round he was breathing heavy and I knew I could pick it up from there."

Fears had a noticeable swagger to him after landing cleanly to start the second. Osmoe was able to get a spinning single leg that was short lived as Fears scrambled back to his feet. Eventually back to the ground, Fears, who improved to 6-2, landed elbows to the side before grabbing up a very deep guillotine that the muscle-bound fireplug Osmoe (4-1) defended soundly before tapping.

It was a bit of a homecoming for Fears who grew up in nearby O'Fallon, MO before moving to Poplar Bluff, MO to attend high school.

"I'm originally from up here," Fears said. "I've trained with St. Charles MMA and Andre's Academy, I'm very familiar with the area and trained at multiple locations up here. For the last couple years I've been training with Rich Clementi down in Slidell, Louisiana."

In the only fight to not feature local talent, Joey Miolla improved to 9-2 with a rear naked choke win over TJ Brown (7-3) in a battle of talented featherweights.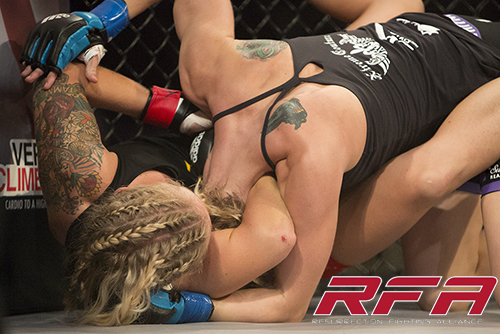 Kelly D'Angelo knows how to make a debut.

D'Angelo submitted fellow strawweight Emily Whitemire at 3:46 in the second round to kick off the main card.

The pair came out and traded often while circling. Whitemire (1-1) picked up a takedown and was plenty strong on top. Whitemire, from Xtreme Couture MMA, kept D'Angelo flat for minutes and mixed in a smattering of punches. Referee Mike England stood the fight up at the 1:03 mark and D'Angelo pressed the action into the clinch.

D'Angelo was landing crisp from the start of the second round and was building momentum from the onset. Whitemire charged forward and took the fight to the ground. From there, D'Angelo tried an inverted triangle and moved over to Whitemore's arm before Whitemire got the fight back on the feet.

"It's not something I particularly drill, but I end up there a lot for some reason," D'Angelo said. "I guess I landed in that and I thought I needed to do something with it. It was a good first round. In the past I've come in too aggressive. So I came in like 'be patient, be patient'."

During a scramble, D'Angelo laced up Whitemire's neck and got the guillotine tap at 3:46 in the round.

"I've had problems in the past landing it," D'Angelo said. "The hips are the secret. I heard my corner yell 'get your hips, move you hips', and I knew as soon as I got that angle I had it locked in."

Enrique Gonzalez provided pressure and toughness by the bushel against Luke Nelson out of Watson MArtial Arts, earning a 30-27 unanimous decision win.

The first round began with plenty of clinch work with Nelson defending a takedown and landing two nice rights. Nelson tried a throw but Gonzalez ended up taking his back and transitioned to mount Nelson squirted free and connected a short, crisp shot close to the rounds end.

Gonzalez started the second round with a takedown and made his way to side control. From there he landed a couple of elbows. Nelson whizzer'd his way up. Gonzalez grabbed his neck and landed an elbow against the cage. Nelson landed two kicks to the body. Gonzalez followed with a trip and ended up in half-guard. Once to the feet, Gonzalez kept active and effective

Gonzalez started the third by walking Nelson down and scoring with his boxing. He scooped up a single leg as Nelson started to tire. Once back up, Nelson threw a head kick, slipped, and Gonzalez hacked away at this legs with kicks. Gonzalez got Nelson against the fence and drove knees into his legs, then drug down and ended the fight in dominant position.

Sean Woodson was victorious mid-way through the first round. Woodson dealt with an ill-fated shot by Kevin Brown and cinched up a guillotine to get the early tap.

Two amateur bouts kickstarted the card.

Corbin Howard made quick work vs Aaron Harvey. Howard got the fight to the floor almost immediately. From there, his set his sites on an arm and once he broke Harvey's grip, got the kimura tap at 1:29.

A fight that was added to the card the night of between Damian "D-Man" Newman and Luis Felipe out of Watson Martial Arts. Newman, normally a bantamweight, was fighting up to lightweight and Felipe took advantage of the obvious size advantage.

The pair had several nice exchanges during a close first round. In the second, Felipe began to land the heavier shots and Newman started to tire. Felipe defended a takedown Felipe ended up taking Newman's back from there he got the TKO stoppage with six seconds left in the round.

All photos courtesy of Jimmy Range Photography