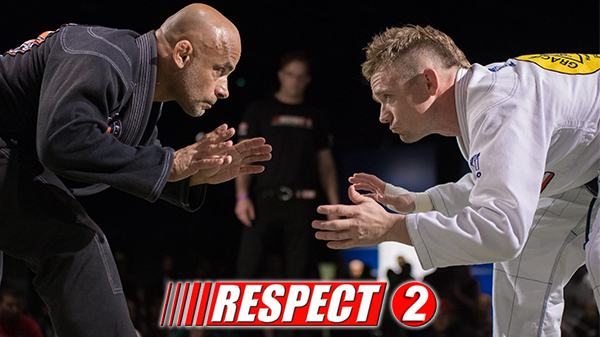 Respect 2 Preview
With a highly successful first debut under their wing, the promoters for Respect Professional Jiu-Jitsu are back with Respect 2 this Saturday at the Moto Museum in downtown St. Louis.

The brain child of MMA promoter Patrick Smith and Royler Gracie black belt and tournament organizer JW Wright, Respect brings a fight card loaded with black belts, jiu-jitsu super fights and an undercard of some of the area's best brown, purple, and blue belts.

"The first time you do a show you hope your vision is realized by the consumer," Wright said. "I had a really high expectations for that show. I hoped everyone who watched that thought 'holy cow this is something special.' It felt like you were in Japan watching Pride. I knew we had to set the tone. We wanted to go out there and have some great fights."

Because of the unique rules of the event: seven minute matches with no advantages, of the fifteen fights on the card, there were no draws.

"They were out there scoring points, looking for the submission." Wright said. "Those guys on the card, I can't thank them enough. They put on a great show. You come to a show I want you to be entertained, I want it to be a spectacle. I want you to think 'holy moly, I don't want to talk.'

"If you were at that last show, it was so quiet in there." Wright continud. "Everyone had respect for the competitors because they were educated consumers. That's what' we're going to bring to the table again. All these fighters have made a name for themselves or are up and comers "

Due to the positive buzz created by the first event, Wright had numerous requests for competitors wanting to take part in Round Two.

"Building the card is the toughest part," Wright said. "The amount of black belts who have contacted me asking how do I get on this show is overwhelming and that's because no one else is doing what we're doing. I've been to Metamoris. I've seen all these other shows. They're not as good, production value isn't as good, and matches are as good. Everyone at the first show wanted to come back again."

One of the marquee matches on Respect 2, Megaton Dias vs. Chris Hauter, exemplifies Wright's match making process.

"To have Chris and Megaton on the card is amazing," Wright said. "To have two guys who carry themselves with so much respect. They got to where they are at by caring themselves a certain way, and that's what I want represented at our show."

Gracie Humaitia black belt Jena Bishop and opponent Karen Atunes will be the first women added to the main card, something Bishop doesn't take lightly.

"I'm really excited about it. I think it's awesome Jay is having women on the show." Bishop said. "I think women's jiu-jitsu is really growing and I'm excited to be the first woman black belt on the card."

Bishop rose through the BJJ ranks at a time when women competitors were hard to come by.

"There wasn't anyone for me to compete against coming up as a white belt, I always had to travel," Bishop said. "This is the first time I've ever competed in St. Louis. I will have a lot of my family there who have never seen me compete in person before so I'm really excited about that."

A world champion at the brown belt level, Bishop has dialed in her training for Antunes.

"This is my first time competing in an event like this." Bishop said. "It's easier to prepare since I know who I'm fighting in advance. At World's or an event like that you don't really know until a couple days before."

One of the area's top black belts on the competitive circuit, Kyle Watson, will return for Respect 2 after successfully winning his match at the inaugural event against Piet Willhelm.

Watson, owner of Watson Martial Arts in midtown on the SLU campus, understands the pressures of competing at home and in front of his students.

"It's a double edged sword." Watson said. "It's awesome to compete in front of your students and lead by example, but the other thing is there's a little more pressure because all of your students are watching. It's a lot easier to go off to some city and where they'll never see you compete but there is still some pressure because you want to do well for them. It's a great thing and I love to compete so I don't let the competition nerves get to me."

A black belt under Jack McVicker and Megaton Dias, Watson is thrilled to be competing alongside one of his mentors on the fight card.

"It's amazing." Watson said. "I texted Megaton just a couple weeks ago to say how excited I was to be on the same card as him. It's honor to be on the same card not only with Megaton but some of these other guys I've looked up to coming up the ranks. To compete alongside one of my coaches is really outstanding."

Facing Watson will be Roli Delgado, another former Ultimate Fighter Contestant and Respect alumni. Delgado defeated Jason Bircher in February setting up a match-up between two guys with UFC experience, and thanks to the show's wide exposure have become household names.

"It's pretty neat how that came about." Watson said. "I don't know Roli really well personally but I know about it and have the utmost respect for him. We've come up the ranks around the same time and I know we've been in the same division a few times but never faced each other. I know he's very skilled with great leg locks and he has a good reputation. I'm definitely training hard and taking him seriously, but I think it will be a great one for the fans."

Also joining Watson on the fight card is one of his star pupils, Josh McKinney. McKinney will take on Zach Freeman in a highly anticipated purple belt match-up of two talented grapplers with contrasting styles. Freeman, a Vaghi BJJ product, has made a name for himself in pro MMA, with a 9-1 mark. McKinney can typically be seen on the top of the podium of national jiu-jitsu tournaments around the country.

"Josh is one of my standout students," Watson said. "I try and guide him the best I can but he's also a hard worker and training five to six days a week. He's young, he only 21 years old. He won the Pans at blue belt and won several other big tournaments. It's impressive to see how far he's come in such a short time and to have him on the same card is an honor as well. "

St. Louis standout Ezra Lenon will face the winner of a four-man Fuji tournament held earlier in the day. We hope to catch up with Lenon to talk about the match and his exciting 2015 later this week.

With only a few tickets remaining, the promotion partnered with Budo Videos to provide a web stream for event.

"We've only got about 20 tickets left," Wright said. "So if they want to go to the show they need to go to CageTix quickly or if they want to watch it streamed live go to BudoVideos.com Budo Videos is really is the number one resource in high level streaming. We're super excited to have them come out and take care of our stream."

No announcements have been made regarding a Respect 3, but Wright admits there are plenty of options on the table.

"I can't decide what market we want to go yet," Wright said. "We will be leaving St. Louis for the next one. Jiu-jitsu around the United States is growing rapidly. California, New York, Texas, Florida, There is a lot of high level jiu-jitsu in Chicago and I have a lot of friends there, but Texas is calling me, San Diego is calling me. I foresee Respect Jiu-Jitsu becoming one of the premiere shows across the country, but we'll always have on in St. Louis because it's home."

To find out more about Respect Professional Jiu-Jitsu or find out how to watch live visit: http://respectjiujitsu.com

Black belt matches
Gianni Grippo vs Jeff Curran
Megaton Dias vs Chris Haueter
Jena Bishop vs Karen Antunes
Ezra Lennon vs Fuji Tournament Winner
Queiroz Suyan vs Jared Weiner
Kyle Watson vs Roli Delgado
Shawn Woods vs Omar French
Mark Commean vs Mark Vives
Mike harris vs Nick Sanders

Color belt matches:
Nick Schrock John Gutta
Jon Perrine vs Josh Litteton
Deryck Ripley vs David Lopez
Josh McKinney vs Zach Freeman
Clay Mayfield vs Kirk Huff
Lyanne Perez vs Laura Uyeda
Alexis Andrade vs Nicholle Stoller

Respect 2
Saturday, October 17th
The Moto Museum, St. Louis, MO

Photo courtesy of Karl Lund and sponsor John Beal Roofing.