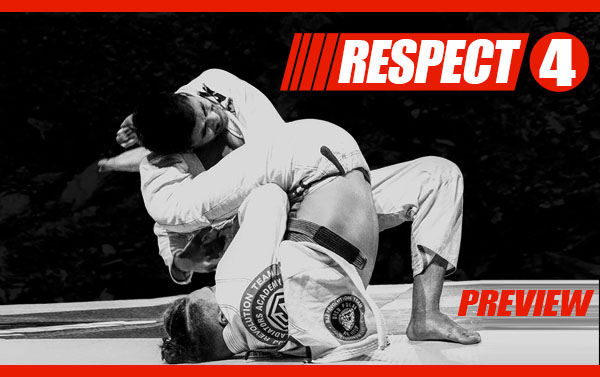 Respect 4 - Preview
On Saturday, the St. Louis-based Respect professional BJJ promotion makes its first-ever trip to Kansas City for Respect 4 at the KCI Expo Center.

Watson Martial Arts will send four team members, Kyle Watson (black belt and owner of Watson Martial Arts), Josh McKinney (brown belt and owner of HeadNodHQ), Chris Heck (purple belt), and Trevor Ratzky (purple belt), to compete in a series of gi jiu-jitsu super fights.

Respect events are unique, and for the competitors, the mentality is different. At most BJJ tournaments the spectators are watching the multiple competitors on multiple mats. When you compete at Respect everyone is watching your one match.

Respect began when JW Wright, instructor, and owner of Gracie Humaita St. Louis, took on the risk and workload because he saw an opportunity.

"As fans of sport jiu-jitsu in general Respect is what we all want," Ratzky said. "Respect feels like a well-produced MMA event with walkout music, fans dressed up, bright lights. It was a lot of fun for me as a fan and now I get to be up there on the stage so many years later."

This year's Respect event comes with unique challenges for team Watson along with added pressure.

"For me the unique challenge is that it is in my backyard, there is that extra layer of pressure, my students are going to be there, a lot of my peers will be there, a lot of people from the community who may or may not be jiu-jitsu people but know me will be there, my family will be there, so there is that added pressure, there is no anonymity. But none of it gets to me that much," Watson said.

"I think it is a little more pressure than a typical tournament," Heck said. " At tournaments, there is usually a bunch of other mats going on at the same time, in this situation it is going to be the whole room focused on my match. The pressure will be higher and that makes it more exciting, I think, you get more pressure from your teammates too because you're competing for your gym."

Respect events are coveted opportunities for top BJJ competitors and fans. The super fight format differs from the traditional tournament model in that each competitor is guaranteed an opponent and match in their weight class and skill bracket. They are then given a central stage for their match.

Preparing for Respect is different than preparing for a tournament in that when you only have one opponent to focus on you can make a really focused effort to try to hone in on strengths and weakness of your opponent.

BJJ is an individual sport and an individual match it is great to have your team backing you up. Going into battle together so to speak, gives the Watson squad an added layer of encouragement.

"That is one thing about jiu-jitsu I enjoy, the camaraderie of it," McKinney said. " If you didn't have the team aspect of jiu-jitsu I don't think it would be nearly as fun. But the fact I have Trevor with me, we've trained together since he was a white belt, Chris who joined Watson Martial Arts as a blue belt and is nearing a brown belt, Kyle my coach, and Nick Sanders with whom I train twice a week. Having that many guys I'm friends with that I can cheer on, warm up with, and just like have a good time with, hanging out with those guys is such a fun opportunity."

Respect is an investment in the future of gi BJJ as a spectator sport at a time when several major figures in the grappling world have voiced skepticism.

In a recent interview Andre Galvao said "It's hard (for gi BJJ to be included in the Olympics) maybe due to the rules, which are very complex" and in another interview Craig Jones, promoting Australian Boa Super 8 super fights, said "What attracts me to no gi is that nobody really cares about gi Jiu-Jitsu from a spectator's point of view "

In an interview for Bjjee.com ACBJJ's president Zaurbek Khasiev, an Eastern European BJJ super fight promoter, said "I have been saying for awhile now that I don't like them fighters giving up the entertainment of combat to get the win by the points. If things keep going this way we ... will no longer make BJJ super fights. ... No one is interested in watching two guys hugging each other for 15-25 minutes without even attempting to spice up the battle or submit their opponent. "

When choosing a fighter to support consider Watson who is donating all of his winnings to charity. Imaginary Friend Society & Pediatric Brain Tumor Foundation.

"I'd just like to thank JW Wright for putting on a local event of this caliber that allows so many people to showcase their talent," Watson said. "It is awesome that JW is looking at the mid-Midwest, Kentucky, Indiana, Missouri, Kansas, places around here, so thank you to JW for giving everyone the opportunity and thank you to the fans who support these shows, and thank you to my students who continue to challenge themselves as much as I do."

For more information on Respect or to see the entire fight card, visit: http://facebook.com/respectbjj

There will also be a Fuji BJJ tournament in Kansas City on July 21st the day of Respect 4. Registration is open. Tickets for Respect can be purchased through cagetix.com/respect.