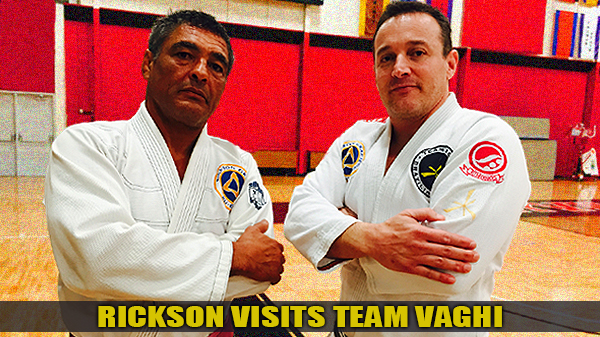 Rickson visits Team Vaghi
Legendary grappler Rickson Gracie has only one jiu-jitsu seminar scheduled on his 2015 calendar and that seminar happened in St. Louis over the weekend.

Gracie was here in support of his long-time student and confidant Rodrigo Vaghi, a fifth stripe black belt under Rickson and the founder of Team Vaghi Brazilian Jiu-Jitsu.

Vaghi has a growing number of affiliations spread across the Midwest including three in St. Louis and one in nearby Mount Vernon, IL. You can traces his lineage back to the original Academy in Rio de Janeiro where he trained under Rickson.

"I feel very proud to come here and see (Rodrigo's) work." Gracie said. "I'm very happy to come and support his community here, very proud of his achievements. I know Rodrigo has been doing a great job. I know the Midwest has needed information from me, so a lot of people come. I'm very proud to confirm that Rodrigo has been doing an outstanding job promoting jiu-jitsu here as the way it should be."

The emphasis of Gracie's nearly three and a half hour seminar was self-defense and the practical application of jiu-jitsu in your daily life. Leverage, connection, and practicalness was woven into every technique throughout the seminar.

"Part of the community is using a diluted jiu-jitsu because they focus more on jiu-jitsu competition." Gracie said. "The jiu-jitsu competition, those days the goal is to make the medals. Stalling, making the positions that are not realistically efficient on the street or in life. I believe proper way to teach jiu-jitsu is when we involve the more realistic aspect of jiu-jitsu."

Gracie stressed the importance of finding a proper instructor.

"A lot of the fighters who become famous and professional after they come from the competitive life, they don't have the information required to make a full-potential academy," Gracie said. "They just going teach what they do good. It's not because they are a bad person, but they don't have the full aspect of information. I highly recommend for students to seek out teachers who know about self-defense and know about street jiu-jitsu, not only competition jiu-jitsu."

With over 150 people in attendance, men and women, children to adults in their 60's, the broad appeal of jiu-jitsu was apparent. Gracie drew a large crowd who seemed to soak in every word.

"I think jiu-jitsu is for everybody." Gracie said. "In every level, anyone can absorb good positive things from jiu-jitsu. From the defensive perspective to the emotional control perspective, the capacity to be effective on the street or in the tournaments, jiu-jitsu is a great tool. From the shy ones trying to become tough, or the tough ones trying to become more solid and technical, it's a great tool to favor society as a whole."

One of Gracie's most-well known students (albeit off of the mat) was in attendance, Maynard James Keenan, the front man for the multi-Grammy Award winning rock band Tool, and more recently A Perfect Circle, and Puscifer.

Keenan has a strong connection to St. Louis and Team Vaghi having trained for many years with long-time friend and associate Todd Fox, a second degree Vaghi black belt.

"I've known Todd since 2002. We've toured together, we've trained together, we're friends and colleagues," Keenan said. "I'm kind of Team Vaghi sorta since I come out here a lot to train with Todd. Also I train with Luis (Heredia) at Maui Jiu-Jitsu, I train with Henry (Akins) at Dynamix in LA. I'm basically one step away from the source since I always train with Rickson black belts."

Despite a recent hip replacement, Keenan was back on the mats decked out in the familiar Vaghi tree adorned on his blue gi.

"I'm taking it easy, taking it slow." Keenan said. "I'm officially back on the mats a month ago. No real sparring or anything yet, positional stuff, working through technique. On the ground, sparring is a little more difficult because it's still healing. Oddly enough I can do stand-up: throws, getting thrown, getting tossed on my ass."

Keenan's attraction to the sport is drawn from a journey of personal discovery and growth.

"Any sport in general, whether it's jiu-jitsu or high school wrestling, those are very individual sports," Keenan said. "We tend to wave flags a little bit, kind of have this weird mob mentality when it comes to organized sports which I think is ok. I think you kind of have to have that warrior's mentality to go out there and do well. I think at the end of the day it's much, much, much, more about you understanding what your limitations are, what your strengths are, what did you learn today, how much did you do better today than you did yesterday. At the end of those matches when you're waving your flag, chanting your team's whatever, I think it's really important to thank your opponent for being there for you to learn more about yourself."

Keenan continued.

"I'm from Michigan," Keenan said. "Every local high school kid in that area, we're all snow shovelers. Doesn't matter what team you're on or what your mascot is, we're all snow shovelers and we all bust our ass to get to practice. You have to shovel snow to get there. Understanding that mentality that we're all snow shovelers, using that metaphor, it applies across the board on all the mats. When you go into another school, yeah you're just another guy, but you're there to learn about yourself and help another guy learn about himself."

The seminar was obviously very special for Team Vaghi black belt Tracy Taylor who has a special affinity for his Vaghi family and for Rickson, whom he's named his son after.

"Forever I didn't have any family here in St. Louis and Rodrigo didn't either." Taylor said. "We spent a lot holidays together. The ones we didn't spend together I spent with the other black belts here because that was my family. The reason I didn't move was because of my jiu-jitsu family, that's all I said and I treat them like family. Rodrigo's my son's Godfather, his name is Rickson. It's the family business."

Taylor's take-away from the seminar:

"Never been to a Rickson seminar before, but had many conversations with him." Taylor said. "I think the thing that is best about anything you get from him whether it's a seminar or conversation, is that everything is practical. Typically when you go to a seminar it's a move or recreating positioning. This was more about philosophy, more of an idea that you can recreate in multiple positions throughout your career."

Lineage and family is obviously important to Vaghi, who specifically brought in his mentor to reinforce the Rickson Gracie legacy to his students old and new.

"I'm very proud because for so many years I've been putting out the word how much it means to be representing Rickson." Vaghi said. "I've been with him since I was 14 years old and it's a different experience now to be able to give that experience to my students. They've always heard about it but never had the chance to meet him. I've been talking to him and we're planning next year to do a much bigger event."

Much like Gracie, Vaghi echoed the importance of jiu-jitsu as self-defense.

"I believe a little bit of the identify of jiu-jitsu got lost," Vaghi said. "I love competition and have been competing since I was a little kid, but when I started jiu-jitsu self-defense was a big part of the class. It's not a coincidence that the military started using jiu-jitsu in their combatitives programs. People go to other martial arts thinking jiu-jitsu is just a sport and that's not true. For the government to choose from all the other martial arts, and to choose jiu-jitsu as the one to teach as self-defense, it shows a lot of credibility."

And that jiu-jitsu is for everyone.

"That is the main lesson I want my students to learn," Vaghi said. "Jiu-jitsu is not only that dog fight, you can achieve much more. I have students that are 64, 63. If you asked me when I was 20 if that would have been possible I would have said that would be very hard since I had that competition mentality. Today I feel much more fulfilled than when I was younger, I feel can touch and change people's lives in a much better way."

With students traveling in from all over the Midwest for the seminar, it was almost a family reunion of sorts for the extended Team Vaghi family.

"I'm very happy," Vaghi said. "It was such a short notice to do everything with the new opening of the school, and to be able to put 150 people in here, just my students, it's a great achievement. I'm very happy. I've been proud of being a man of one flag, carrying it my whole life. My goal now is to unify all my students and from that we all honor my master, my teacher. I want to keep raising his name to the top as I always have been."