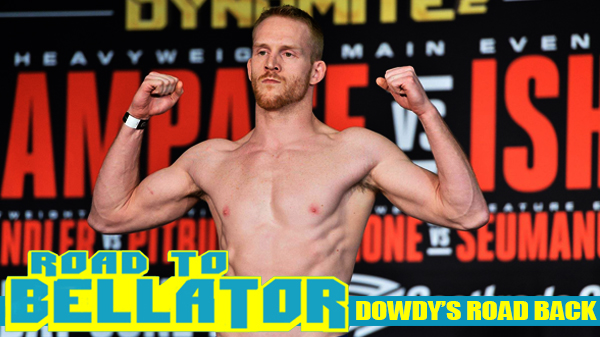 Road To Bellator - Dowdy's Road Back
Nobody personifies the mantra "Seize the Day" quite like Jordan Dowdy.

April 13th's match-up against Jeff Crotty will be his third St. Louis Bellator fight in only the company's fourth trip to the Gateway City. Whether it was against highly touted local pro Adam Meredith, or the nationally known Guilherme "Bomba" Vasconcelos, Dowdy was offered big opportunities, and he took them without thinking twice.

"Nobody wanted to fight Bomba," Dowdy said. "There were other welterweights in this area that had that opportunity that said no. I said yes. There was a three-fight deal on the line with Bellator. At 3-1, I thought, what do I have to lose, and took the opportunity."

While the fight didn't go Dowdy's way, he did have the Brazilian Jiu-jitsu black belt in danger with an armbar early on before ultimately being submitted at 4:59 in the first round.

"This almost doesn't really count for anything," Dowdy said, "but I came so close to almost submitting or breaking the arm of a two-time world champion. If I had bit down on the back of the neck with the back of my knee, I could have taken his arm with me. I took his back at one point. I had never worn the gi up until that point. It was more of an athletic, catch wrestling, scrambling type of thing."

Despite the loss, Dowdy came away from the bout with a hard learned lesson.

"I was so eager to beat the hell out of him and just put some elbows on him," Dowdy sais. "It was a good learning opportunity, and I'm proud of it, even with the loss, because I knew I wasn't afraid to take the opportunity that others were."

Learning under the bright lights in the area's biggest stage, Dowdy tested himself with big challenges.

"From 2016 to now, that Bellator fight against Adam Meredith," Dowdy said. "He's the only guy that I really felt that beat me. Those were opportunities that I was eager for. He was another guy that nobody wanted to fight, and I wanted that, I wanted those challenges. I wanted to see how far I could fast track my career. It didn't work out in my favor, and I don't think I was ready for that. This time, I do feel I'm ready."

Meredith at the time was 4-1, and considered by many to be the area's top dog at welterweight. Dowdy was a sizable underdog in this fight.

"Those were high risk, high reward opportunities on the second largest MMA promotion within a year or year and a half of me turning pro," Dowdy said. "It would have been stupid for me to turn those down. One thing goes another way, how quick can I rise. I could be the next guy in the area that everyone is talking about like a Sampo was, like an Alp was. Like Zach Freeman was when he submitted Aaron Pico. You have to take the risks to get those rewards because that's what the game is."

Since the Meredith loss, Dowdy has focused heavily on improving his ground game. Joining up with Steve and Josh McKinney at the Headnod Squad, Dowdy began donning the traditional jiu-jitsu gi for the first time in his career. It didn't take long before he was promoted to blue belt.

"Looking back on those chances, things just didn't work out my way," Dowdy said. "Now I feel I have shored up a lot of the things I can do. Now I'm ready for those opportunities as they come. Whereas before I was a little young and I didn't understand the game. Now I feel everything is coming together and I'm ready to be built for another run."

Despite a few curves on his road to Bellator, Dowdy is back, better prepared for another big opportunity.

"Those fights on Bellator, I'm well-reasoned and understood I wasn't the favorite," Dowdy said. "Nobody wanted those fights, and I took those. I understood what those were. That said, I want my moment as well. So I've been working my ass off so that the next time an opportunity like this knocks I can have myself there. Not just skill-wise, but marketing-wise, persona-wise to carry some kind of clout so that I can generate a buzz around it. I wanted to prepare for it mentally, physically, and when the time comes act like I've been there before."

Dowdy and Crotty share a close personal friend in Aaron Highfill. Highfill, who has been in the corner for most of Crotty's fights, and up until recently was one of Dowdy's main training partners, up until Highfill decided to take time off to spend with his new family.

"When I first found out who I was fighting, I texted Aaron," Dowdy said. "He said 'that sounds like St. Louis MMA for you.' He said he wasn't going to give either of us any tips or anything, and I was like that's cool because I wasn't going to ask you because I respect you enough for that. He just had a healthy baby girl, so congrats to him. Other than Jeff isn't my enemy, he's just an opponent. I know he wanted on Bellator too and didn't care who he fought, and I can respect that."

Mutual respect aside, Dowdy understand that Crotty is an opponent and not one to be taken lightly.

"The thing about Jeff is, he's not the most skilled guy, not the most technical guy," Dowdy said. "But he's going to be in your face the entire time. He doesn't quit. He will have nothing left in his gas tank and just keep coming. You really can't say anything bad about him. He's going to show up, he's going to fight, and he's going to leave it all in there. As cliche as that sounds, you really have to respect a guy like that. Even if you're a lot better than that person, if you go out there and try to finish and blow your wad, he's still going to be there hanging around. I know he's going to be in there until I get a submission or the ref pulls me off of him."

Crotty's resilience should be a concern for Dowdy who has often been labeled as a kill or be killed type of fighter. All five of Dowdy's professional wins have come via stoppage in the first round.

"Pacing is definitely something that we will be working," Dowdy said. "There's no point in getting into a rush here. When it comes to skill for skill, I don't think anyone can argue he has more skill than me. When it comes to being clean, being technical I think I have the advantage there, why would I need to rush. He's going to try and take me down, and I think he's going to try and close the distance and get me down which is funny because everyone is having a hard time doing just that. I think I can wear him down, and from there pick my shots."

It will be only the third fight for Crotty since November of 2015. Since that time, Dowdy has competed six times.

"He's had a layoff," Dowdy said. "I don't expect anyone to be like they just got off the couch. I'm going into it acting like he has been training like I have. If I do anything other than that I'm setting myself up for failure."

Dowdy expects another tough challenge with Crotty, and on paper, the two make an intriguing match-up.

"I don't think you're ever truly ready, when you look back on past performances unless it went 100% your way," Dowdy said. "It's when you're facing adversity that you being to question yourself. I've had to do that more times than not. I don't have a padded record, I'm not fighting bums in Iowa. I'm not shielding myself from opportunities, I'm trying to see what it's like to be thrown into the fire and what I have to work on from there. I think I've done that."


Dowdy hopes the third time is the charm, and April 13th will bring his first win under the Bellator lights.

"Right now I think I've built myself up enough to compete at a high level, and I'm going to go in there an execute," Dowdy said. "I'm going to find my flow state, I'm not going to overthink it, and just find my moment."